About Product
Format
Height
Absorption factor according to DIN 52212
in mm
in mm
125 Hz
250 Hz
500 Hz
1000 Hz
2000 Hz
4000 Hz
1000 x 500
20
0,09
0,14
0,28
0,59
0,87
0,86
1000 x 500
30
0,11
0,23
0,53
0,92
0,90
0,99
1000 x 500
40
0,15
0,39
0,69
0,92
0,90
1,01
1000 x 500
50
0,19
0,53
0,81
1,00
0,94
1,01
1000 x 500
80
0,36
0,98
1,19
1,01
1,03
1,04
All absorption factor measurements were carried out on polyester acoustic foams by the Institute of Technical Acoustics (ITA), Aachen University. Incidental absorption factor results greater than 1 may occur with the practical measurement methods used by the ITA. They originate from the fact that the operative surface of absorbers slightly exceed the geometrical surface.
Properties
With this wall or ceiling absorber, high absorption levels can be achieved with comparatively low material thickness. Due to its broad absorption spectrum, this plain acoustic foam panel is highly versatile.
Note
Please note that this aixFOAM product is invariably made to order due to the variety of available options we as a manufacturer are able to offer. Thus all our customers receive their personal aixFOAM - acoustical absorption product, explicitely delivered as requested according to their needs and demands.
Tolerance
This product is manufactured according to DIN 7715 Teil 5 P3.
Packaging Unit
subject to material thickness (please see category "Format" of the calculation window under the heading Prices).

Background information on the foam panel SH001
Here some background information about our foam panel: SH001 features a highly efficient acoustic absorption that can be used in a lot of different areas. Because of that, SH001 acoustic panels by aixFOAM are assembled in studios, offices, rehearsal rooms, HIFI rooms etc. due to their excellent sound insolation. Because of its high absorption grade the sound insulation wall and the sound insulation ceiling creates a reliable and especially high acoustic absorption after DIN 52212. This is especially necessary in rooms where it is important that no noise/sound "leaves" the room (e.g. rehearsal rooms, offices). The panels can be installed both on the wall and on the ceiling. Our highly modern CNC machines guarantee a production on the highest quality standard.
The smooth surface of SH001 ensures optimal conditions in professional or semi-professional music and film environment.
The demand of acoustic optimisation in these areas is growing steadily. The individually selectable material-strength of the acoustic product leads to a large operational range of SH001. Besides its obvious use in for example rehearsal rooms, our SH001 is especially used as a filling in acoustic wall covers. In case of a use without fabric lining, we advise installing a shadow gap. Our aixFOAM products are designed for a very big range of application so that the suitable product can be chosen after the individual conditions.
Options
Application
Functionality of the sound absorber with smooth surface SH001
The absorber SH001 with smooth surface achieves – also with a rather small material strength – a very high absorption rates and is extremely versatile due to its large absorption spectrum.
Installing the foam panels you should consider a shadow gap (a 3-5cm wide gap between the panels). The subsurface shows through these gaps, this can lead to a very interesting space composition.
But also other patterns or the combination with other aixFOAM products is possible. Please adhere to the fact that combination of different materials (e.g. polyester- and polyether foam) is not recommendable due to their different shades of colour.
Assembly suggestion convoluted foam
In the following examples we will show you some potential solutions. Your possibilities are almost endless: besides these examples there is a large number of individual solutions that are suitable for your personal needs. A purposeful assembly can help you improving the sound quality of for example your home cinema.
These examples are just suggestions and can also be realised with other aixFOAM acoustic products.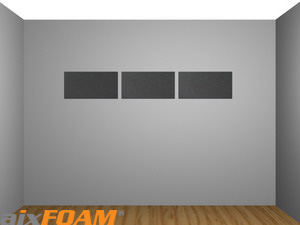 The animation shows an arrangement of 3 absorption panels (SH001) with shadow gap.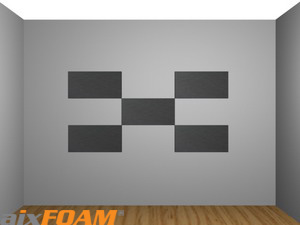 This animation shows an arrangement of the absorption panels (SH001) in a chequerboard pattern, if required more parts can be added.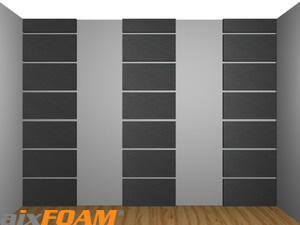 In this model several tracks were positioned in a way that an optical constant distribution all over the wall is achieved. Within the track there are small shadow gaps between the absorption panels.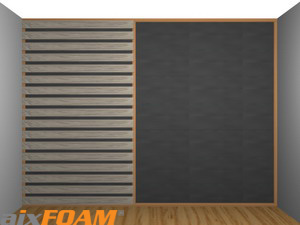 In this arrangement of-the-shelf wooden panels were used. These panels were assembled on a construction made of wooden baulks. There has to be a gap of at least 30% (empty space) between the panels in order to achieve an optimal absorption. At this juncture a shadow gap between the absorption panels is not necessary.
Regardless of the shape and variation you assemble the acoustic panel: of course you can also hide it, for example behind a curtain. You will also find suitable acoustic textile that underlines or even improves (depending on the frequency) the effect of your absorber in the aixFOAM-online shop. It is almost impossible to see a difference between aixFOAM acoustic textile and conventional wallpaper. The textile is assembled on a wooden construction.
Application Areas
Application areas
Noise reduction in offices, sound optimisation in recording studios, HIFI rooms, rehearsal rooms
Colors
Colour
anthracite, light grey, raspberry red, orange (with protection against UV-yellowing)
Accessoires
You may also be interested in the following product(s):