About Product
Format
Height
Absorption factor according to DIN 52212
in mm
in mm
125 Hz
250 Hz
500 Hz
1000 Hz
2000 Hz
4000 Hz
1000 x 500
20
0,09
0,14
0,28
0,59
0,87
0,86
1000 x 500
30
0,11
0,23
0,53
0,92
0,90
0,99
1000 x 500
40
0,15
0,39
0,69
0,92
0,90
1,01
1000 x 500
50
0,19
0,53
0,81
1,00
0,94
1,01
1000 x 500
80
0,36
0,98
1,19
1,01
1,03
1,04
All absorption factor measurements of have been taken at polyester acoustic foams by the Institute of Technical Acoustics (ITA), Aachen University. Incidental absorption factor results greater than 1 may occur with the practical measurement methods used by the ITA. They originate from the fact that the operative surface of absorbers slightly exceed the geometrical surface.
Properties
With this acoustic foam, high absorption levels can be achieved with comparatively low material thickness. Due to its broad absorption spectrum, it is highly versatile.
Note
Please note that this aixFOAM product is invariably made to order due to the variety of available options we as a manufacturer are able to offer. Thus all our customers receive their personal aixFOAM - acoustical absorption product, explicitely delivered as requested according to their needs and demands.
Tolerance
This product is manufactured according to DIN 7715 Teil 5 P3.
Packaging Unit
subject to material thickness (please see category "Format" of the calculation window under the heading Prices).

Foam insulating material:
aixFOAM is producer and system supplier of special insulating material (acoustic foam) for noise control respectively for sound insulation. For decades we have been concerned with room acoustics and in our wide product line-up you will find lots of different sound absorbers for miscellaneous room acoustic areas. For example offices, call-centres, studios, rehearsal-rooms, living rooms, home cinemas etc. But also technical acoustics noise control is getting more and more popular like for example in machines, server rooms, computer-casings, workshops, vehicles, boats and many more. We individually produce the suitable insulation material according to your requirements. One of many insulation-options is the installation of foam panels with smooth surface. This foam, often recognized as "classis" acoustic foam, is available in several different colours and with an optional flame-retardant. Even with small material strengths these foam boards boast high absorption grades and are versatile. Because of these features the foam boards have a wide field of application. aixFOAM supports its customers – we would like to advise you and give you technical consulting.
Options
Application
Functionality of acoustic foam panels with smooth surface
The aixFOAM acoustic foam panels with smooth surface (SH0011) boasts high absorption grades, even with small material strength, and is versatile due to a wide field of application. We will now show you some sketches with assembly suggestions in the area of machinery-construction.h.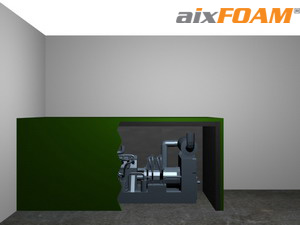 This graphic shows a machinery-panelling with the absorption board SH0011.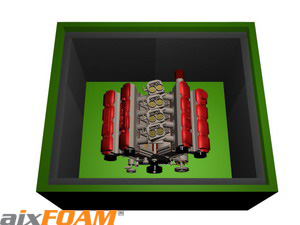 This graphic shows an engine-insulation with the absorption board SH0011.
Application Areas
Application areas

Sound insulation in engine housings
special insulation against noise in engine spaces
Sound absorption of electrical and electronic appliances
Sound insulation in electronic equipment
Colors
Accessoires
You may also be interested in the following product(s):