About Product
Format
Height
Absorption factor according to DIN 52212
in mm
in mm
125 Hz
250 Hz
500 Hz
1000 Hz
2000 Hz
4000 Hz
1000 x 500
30 (15/15)
0,10
0,21
0,50
0,90
0,98
0,93
1000 x 500
40 (20/20)
0,11
0,32
0,63
0,90
0,91
0,95
1000 x 500
60 (30/30)
0,16
0,54
1,01
0,99
1,01
1,02
All absorption factor measurements of have been taken at polyester acoustic foams by the Institute of Technical Acoustics (ITA), Aachen University. Incidental absorption factor results greater than 1 may occur with the practical measurement methods used by the ITA. They originate from the fact that the operative surface of absorbers slightly exceed the geometrical surface.
Properties
By the profiled surface (convoluted foam) and the microporous structure of these acoustic foam panels, air particle oscillation is decelerated and converted into thermal energy. The product ranks among the classical absorbers and is extremely versatile.
Note
Please note that this aixFOAM product is invariably made to order due to the variety of available options we as a manufacturer are able to offer. Thus all our customers receive their personal aixFOAM - acoustical absorption product, explicitely delivered as requested according to their needs and demands.
Tolerance
This product is manufactured according to DIN 7715 Teil 5 P3.
Packaging Unit
subject to material thickness (please see category "Format" of the calculation window under the heading Prices).

Convoluted foam SH0021:
SH0021 is acoustic convoluted foam that is available in two different materials - polyester & polyether (with or without flame-retardant) - as well as in different material strengths between 30mm and 60mm. convoluted foam is primarily used for acoustic insulation, the demand is growing. Depending on the material strengths SH0021 can reach absorption grades between 0.10 and 1.02. This already covers most of the favoured sound insulation or isolation. These special fields of application for this kind of convoluted foam affect several forms of sound insulation. Besides that it can be installed in the machinery-encapsulation or, if large enough, inside of the machine itself with the help of an optional installation device, leading to a sound insulation of the affected machine. This might be necessary due to legal sound regulations at the working place. The convoluted foam panels can also help you reducing the sound emissions of electrical devices such as servers in server rooms.
Sound insulation of engines and engine bays deployment in the area of vehicle- and boat construction
Furthermore SH0021 convoluted foam is deployable when it comes to the acoustic insulation of engines and engine bays and therefore in the area of vehicle- and boat construction. In addition to that the panels can be attached to sound-insulating doors. Sound-insulating can be found in machine rooms as well as in discothèques, cafés, rehearsal rooms and in laboratories. In our days these doors are and important part of noise regulations.
What everyone should know about convoluted foam!
Options
Application
Functionality convoluted profile/surface
The aixFOAM convoluted foam SH021 reaches high absorption rates even at low material strengths and is versatile deployable due to its wide absorption spectrum.
The vibration of the sound particles (sound) is slowed down by the surface of the panel and by the special structure of the material (porous) and turned into heat energy. The convoluted acoustic foam is listed among the classic absorbers and is versatile. The following images show you possibilities how to use the convoluted acoustic foam panels.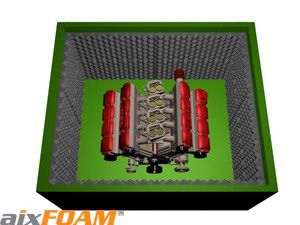 This image shows an engine insulation with the absorption panel SH0021.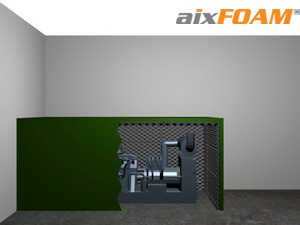 This image shows a machine-panelling with the absorption panel SH0021.
Application Areas
Application areas
Machinery-encapsulations, engines, electrical devices, machine rooms, engine bays, sound insulating doors, compressors etc.
Colors
Accessoires
You may also be interested in the following product(s):