About Product
Format
Height
Absorption factor according to DIN 52212
in mm
in mm
125 Hz
250 Hz
500 Hz
1000 Hz
2000 Hz
4000 Hz
1000 x 500
50
0,13
0,25
0,50
0,75
0,88
0,94
1000 x 500
70
0,14
0,40
0,75
0,98
0,98
1,02
1000 x 500
100
0,18
0,61
1,06
1,01
1,01
1,10
All absorption factor measurements of have been taken at polyester acoustic foams by the Institute of Technical Acoustics (ITA), Aachen University. Incidental absorption factor results greater than 1 may occur with the practical measurement methods used by the ITA. They originate from the fact that the operative surface of absorbers slightly exceed the geometrical surface.
Properties
By the pyramid-shaped profile and the special microporous structure of these acoustic foam panels, air particle oscillation is efficiently converted into thermal energy. Manufactured utilising our state-of-the-art CNC cutting equipment, this product ranks among the most professional solutions in the area of acoustic absorption. The panels effectively reduce reverberant sounds and eliminate reflexion. Positioned adequately and accurately, they will provide for brilliant room acoustics results. Its acoustical as well as its optical effects make this aixFOAM product highly recommendable.
Note
Please note that this aixFOAM product is invariably made to order due to the variety of available options we as a manufacturer are able to offer. Thus all our customers receive their personal aixFOAM - acoustical absorption product, explicitely delivered as requested according to their needs and demands.
Tolerance
This product is manufactured according to DIN 7715 Teil 5 P3.
Packaging Unit
subject to material thickness (please see category "Format" of the calculation window under the heading Prices).

More background information on pyramid foam:
Some more background information about pyramid foam: How can pyramid foam (SH003) help you optimizing your room acoustics? The reverberation of the noise is the dying away after turning off the source of the sound. Hereby reverberation emerges due to repetitive reflection of the sound which becomes gradually weaker. This minimization is partly caused by the fact that with each reflection the part of the sound energy is turned into heat energy because the sound wave causes friction when coming up against air particles. The main aim of an acoustic procedure is the reduction of the reverberation and the weakening of low frequencies and suchlike. At this especially pyramid foam proved itself in the past and everyone who deals with the issue of sound insulation is unavoidably confronted with pyramid foam. It is not only optically appealing but also highly effective when it comes to sound insulation and it fulfils all modern requirements. A growing demand of sound minimisation and the wish for "noise-partition" is satisfied by pyramid foam and it is not possible to think of sound insulation area without thinking of pyramid foam.
Our SH003 can – based on a complex physical effect – optimise every room acoustic effectively. You can only experience clear sound in optimised rooms!

For a professional assembly we recommend our assembly-/ hanging-cassettes in combination with our vibration dowels.
.
Options
Application
Operating mode of pyramid foam
On the pyramid-shaped surface of our aixFOAM pyramid foam (SH003) the vibration of the air particles is turned into heat energy due to the special pore-structure of the material. This product shortens the reverberation time immensely and eliminates reflexions. When sufficiently and well positioned you achieve a brilliant room acoustic. The acoustic and optic impression of this product makes it absolutely recommendable.
Assembly suggestion pyramid foam
Because of its large application area our aixFOAM pyramid foam (SH003) is widely deployable. We will show you some assembly-suggestions in the area of room acoustics. You should consider a so called "shadow-gap", a combination with other aixFOAM products or a panelling with different materials as shown in the following examples.

The shadow-gap is a very interesting design element: by leaving an at least 5cm wide gap between the foam panels an optical appealing impression is achieved.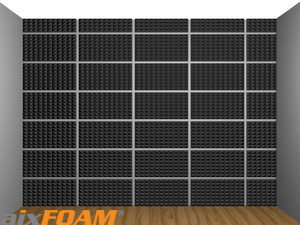 In this image for example you can see a wall completely covered in absorption panels (SH003) with a shadow-gap.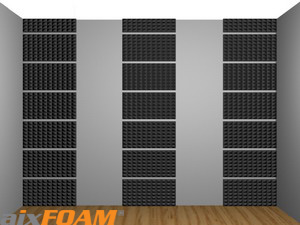 In this example several tracks of absorption panels (SH003) were arranged in a way that an evenly distribution on the complete width of the wall is achieved. Within the tracks there is a small shadow-gap between the single absorption elements.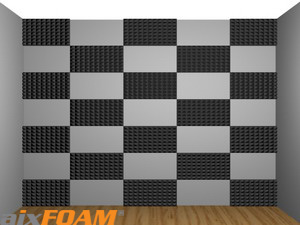 Exemplarily this graphic shows a completely panelled wall in a chequered pattern.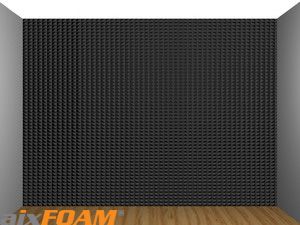 In this arrangement the absorption elements (SH003) were assembled all over the wall, without a shadow-gap or suchlike.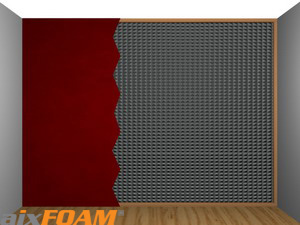 In order to cover the pyramid foam (SH003) you can use a so called stretch-cloth. In so doing the cloth is attached to a wooden structure.
Application Areas
Application areas
high end, HIFI rooms, recording studios, rehearsal rooms
Colors
Colour
anthracite, light grey, raspberry red, orange (with protection against UV-yellowing)
Accessoires
You may also be interested in the following product(s):