About Product
Format
Height
Absorption factor according to DIN 52212
in mm
in mm
125 Hz
250 Hz
500 Hz
1000 Hz
2000 Hz
4000 Hz
500 x 500
20
0,09
0,14
0,28
0,59
0,87
0,86
500 x 500
30
0,11
0,23
0,53
0,92
0,90
0,99
500 x 500
40
0,15
0,39
0,69
0,92
0,90
1,01
500 x 500
50
0,19
0,53
0,81
1,00
0,94
1,01
500 x 500
80
0,36
0,98
1,19
1,01
1,03
1,04
All absorption factor measurements of have been taken at polyester acoustic foams by the Institute of Technical Acoustics (ITA), Aachen University. Incidental absorption factor results greater than 1 may occur with the practical measurement methods used by the ITA. They originate from the fact that the operative surface of absorbers slightly exceed the geometrical surface.
Properties
This in different shapes available design sound absorber significantly stands out from standard not only by its variety of available colours but also due to its remarkable shape. Apart from its appealing appearance, SH006 Design convinces with high absorbance properties in the mid-frequency range. This aixFOAM acoustical foam is surface-coated with top-quality water-repellent acoustic felt in different colours. As a result, effective sound absorption is united with an appealing visual appearance.
Note
Please note that this aixFOAM product is invariably made to order due to the variety of available options we as a manufacturer are able to offer. Thus all our customers receive their personal aixFOAM - acoustical absorption product, explicitely delivered as requested according to their needs and demands.
Tolerance
This product is manufactured according to DIN 7715 Teil 5 P3.
Packaging Unit
subject to material thickness (please see category "Format" of the calculation window under the heading Prices).

Background information on room-acoustic absorbers:
Some background information around room-acoustic absorbers: There are several different ways to absorb sound with acoustic absorbers. Concerning acoustics the so called "wideband-absorbers" are probably the most popular absorption bodies. As their name implies they always absorb a wide and therefore large frequency-spectrum. The absorption is realised with the help of a simple flow resistance. These sound absorbers are also known as "porous absorbers", because the porous material features a flow resistance, which puts up resistance to the movement of the air particles – and kind of insulates it. In so doing the vibration of the air particles is choked off and as a result of that they are strongly limited in their spreading. Especially in the area of ceiling- and wall coverage SH004 with large material strength is highly effective. The unwanted bass-sounds are lessened which enables you to enjoy your optimal sound without limitations. Experts go along with each other about the most important feature of an absorber: a coarse-pored structure like in SH004. Generally professional acoustic foams are considered to be great sound-insulators and are more and more noted (in a positive way) in the world of acoustics. Because of the large variety of colours and shapes and also because of their high effectiveness, professional acoustic foams set new standards in terms of design and purpose. Experience the unlimited possibilities of acoustic absorbers!
Options
Application
Operating mode of cuboid sound absorbers
The aixFOAM cuboid sound absorber (SH004) is versatile due to its large absorption spectrum and achieves high absorption values – even at low material strengths.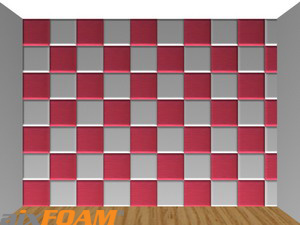 This graphic shows one of many possibilities how you can arrange different coloured absorption panels without a shadow gap or suchlike.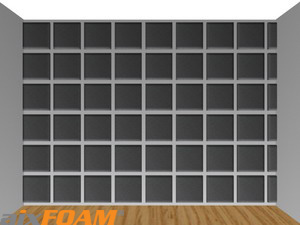 In this image you can see an example of a wall, completely covered with cuboid absorption panels (SH004) with a shadow-gap.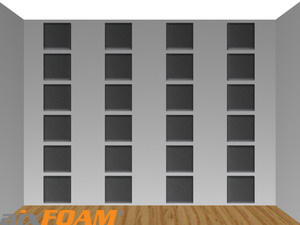 This graphic shows an arrangement of aixFOAM cuboid sound absorbers (SH004) in tracks with a shadow-gap.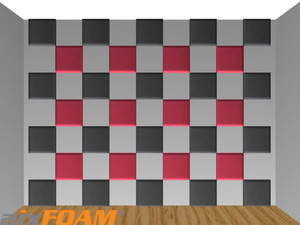 This graphic shows one of many possibilities how you can arrange different coloured absorption panels (SH004) in a chequered pattern.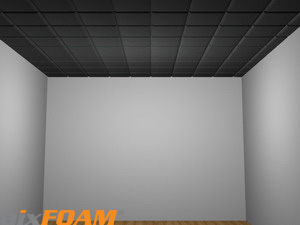 This graphic shows cuboid absorption panels (SH004) without a shadow gap, durably affixed to the ceiling.
Application Areas
Application areas
Recording studios, HIFI rooms, rehearsal rooms, offices
Colors
Colour
anthracite, light grey, raspberry red, orange (with protection against UV-yellowing)
Accessoires
You may also be interested in the following product(s):