About Product
Format
Height
Absorption factor according to DIN 52212
in mm
in mm
125 Hz
250 Hz
500 Hz
1000 Hz
2000 Hz
4000 Hz
1000 x 500
35 (20/15)
0,06
0,23
0,54
0,80
0,85
0,87
1000 x 500
45 (20/25)
0,08
0,29
0,62
0,83
0,85
0,85
1000 x 500
65 (30/35)
0,11
0,49
0,91
0,97
0,92
0,88
All absorption factor measurements of have been taken at polyester acoustic foams by the Institute of Technical Acoustics (ITA), Aachen University. Incidental absorption factor results greater than 1 may occur with the practical measurement methods used by the ITA. They originate from the fact that the operative surface of absorbers slightly exceed the geometrical surface.
Properties
By the trapeze-shaped surface and the microporous structure of these acoustic foam panels, air particle oscillation is decelerated and converted into thermal energy. This highly versatile new trapezoid form unifies highest acoustical quality and an appealing visual appearance.
Note
Please note that this aixFOAM product is invariably made to order due to the variety of available options we as a manufacturer are able to offer. Thus all our customers receive their personal aixFOAM - acoustical absorption product, explicitely delivered as requested according to their needs and demands.
Tolerance
This product is manufactured according to DIN 7715 Teil 5 P3.
Packaging Unit
subject to material thickness (please see category "Format" of the calculation window under the heading Prices).

Background information on trapezoid acoustic panels:
Note some background information on our trapezoid acoustic panels: Our sound absorber SH005 (trapezoid acoustic panel) is eminently suitable for the high-end area. The trapezoid profile raises the positive acoustic features and leads to an optimal sound-experience – even in small rooms. The frequencies can individually adjusted to the listener because our aixFOAM sound absorbers support supports and improves the musical acoustics. Also for HIFI rooms an acoustic (trapezoid) product is an important aspect: even when the room-symmetry is problematic, the right positioning of SH005 leads to ideal room acoustics. Because of different material strengths it is possible to individually adapt our products to the given situations. In sound studios acoustic products are of course unavoidable and for a professional sound quality the employment of sound absorbers is absolutely necessary. Our products fulfil the highest acoustic requirements and another big plus is: because of the different colours a comfortable room atmosphere is achieved. Also the sound absorber is a fundamental element for rehearsal rooms. The result is, due to the versatile assembly options, ideal for all room sizes. Since rehearsal rooms are often located in residential areas, aixFOAM sound absorbers are, besides their sound optimising features, great sound insulators. With the help of the optional accessories the assembly on the ceiling is easily realisable. This highly effective sound absorber with modern surface and different material options finds, after your individual request, its usage in room acoustics.
If you combine this product with our assembly-/ hanging cassette and our vibration dowels you will obtain your individual, high-class wideband absorber.
Options
Application
Operating mode sound absorber trapezoid profile
The targeted deployment of aixFOAM sound absorbers with trapezoid profile (SH005) influences the room acoustics in a positive way. The new trapezoid-shape is versatile and combines high effectiveness with an appealing design.
Arranging the absorption panels you should consider a so called "shadow-gap": by assembling the panels with a distance of at least 5 centimetres between them, an optically very appealing result is achieved.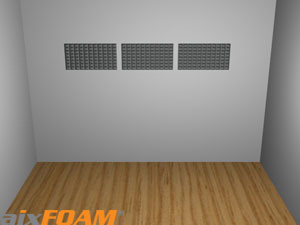 This graphic shows an arrangement of 3 absorption panels trapezoid profile (SH005) with a shadow-gap.
Application Areas
Application areas
Loudspeakers, HIFI rooms, recording studios, rehearsal rooms, ceiling and wall coverings
Colors
Colour
anthracite, light grey, raspberry red, orange (with protection against UV-yellowing)
Accessoires
You may also be interested in the following product(s):