About Product
Characteristics
The aixFOAM pendant system basic serves the suspension of aixFOAM pendant assembly cassettes.
By means of this pendant system, you have the possibility of suspending the aixFOAM sound absorber of your choice, in combination with the aixFOAM flat-mounted or pendant assembly cassettes, either horizontal suspended from a ceiling, or vertically from a side walling. The suspension cords have a maximum length of around 1000 mm, and can be individually shortened upon erection, so that the aixFOAM sound absorber can be optimally placed.
1 kit aixFOAM pendant system basic consists of:
4 pendant cords (1 metre length) plus all necessary wall- or ceiling-hooks, all bolting-parts and oscillating plugs for an aixFOAM assembly-/pendant cassette.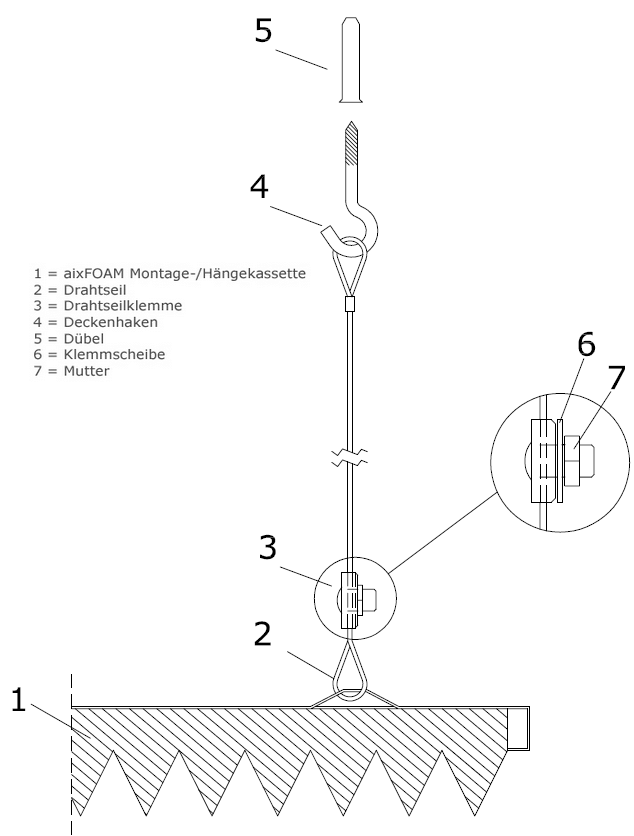 Options
Application Areas
Areas for use
The aixFOAM pendant system basic serves the suspended erection of the aixFOAM flat-mounted or pendant assembly cassettes.
Colors
Accessoires
You may also be interested in the following product(s):
Assembly/Suspension Cassette

Makes an acoustic image from each sound absorber

Elegant anodised aluminum frame (silver matt)
Backside with patented, impact-enhancing hole structure
With prefabricated mounting aids for wall and ceiling mounting in portrait and landscape format
Perfect...

Art.nr.: Hängesystem-Style

aixFOAM pendant system style

aixFOAM Hängesystem Style - Easy assembly of the acoustic elements

Accessories for aixFOAM mounting / suspension cassette
Material nickel plated

...

Art.nr.: Schwingungsdübel

aixFOAM Oscillating Plugs

Mounting accessories for wall mounting of aixFOAM Acoustikrahmen

Only suitable for wall mounting
Ideal for uncoupled mounting of acoustic frames
Anchors for the reduction of body noise
available in the color black

...