Convoluted foam
Convoluted foam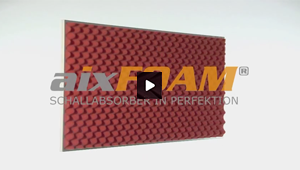 If you want to understand the effectiveness of convoluted foam, you also have to deal with the science of acoustics. The science of acoustic deals – roughly speaking- with the theory of sound and its spreading. This includes the primary origin of the sound as well as its spreading and inducement.
Against this, the room acoustic deals with the effects of the rooms constructional features on the spreading of the sound in this specific room. The main exercise of the room acoustic is to guarantee, that the acoustic characteristics are as suitable as possible for its intended use.
The probably best known appliance to reach this aim is the so called convoluted foam (also known as egg foam). It is produced with a very complex compression cut-process. PUR- (polyurethane) foams always serve as a resource.
The density of the material is of special importance. It should weigh about 30KG/m³ and it is essential to use foam on polyester-basis. Acoustic foam on polyester-basis is a lot more effective than the cheaper foam on polyether-basis. Specific questions about the features of the acoustic foam can help you to find the right product which leads to optimal room acoustics. Indispensable is the question about a certain acoustic product´s reliable acoustic measurement of its absorption-degree. Missing measurements, or also so called "in-house measurements" definitely separate the wheat from the chaff.
Also the composition of the convoluted foam plays an important role: The convoluted foam is subdivided into a basis and a nap (see illustrations below). In order to gain an acoustic satisfying result, the basis should constitute at least 50% of the product´s height. This is necessary to guarantee the optimisation of the overall-sound and the spatial distribution of the reverberation as well as the reverberation time. Another important point is that the overall material thickness of the convoluted foam product should not be less than 30mm. Convoluted foams with a lower material thickness, despite the psychological effect, do not achieve the expected sound optimisation.
To fit the convoluted foam, we suggest a bonding using the self-adhesive back of the product. The main advantage of this self-adhesive back over other (fluid) adhesives is obvious: the acrid fumes of the adhesive stay in the pore-structure of the foam which leads to a very long time of evaporation fumes and therefore to a health risk.
aixFOAM relies on a special self-adhesive back which makes an easy installation possible and is also unproblematic for a layman. Alternatively we offer an aluminum frame, a very exclusive possibility of installation that turns every absorber into a premium product.
Profit from our experience of many years - since 1958 we have been engaged into the topic of "sound insulation" and "sound absorption". We compile individual and customized system-solutions. With the help of highly-modern CNC-cutting devices we are able to produce foam products of almost any shape and color.
What you should know:
aixFOAM acoustic foams on polyester basis have an acoustic modified, special pore structure.
aixFOAM acoustic products are always measured in the echo chamber of the RWTH Aachen university.
aixFOAM convoluted foam has an optimal proportion between basis and nap.
aixFOAM self-adhesive back does not contain any solvents and is therefore completely odourless.
For the shipment and handling of your ordered goods, the following charges apply:
Prices within Germany:
Oder value below 250,00 €: 19,00€ fixed shipping and handling fee
Oder value exceeding 250,00 €: delivery free of charge
Foreign Shipment:
As international shipments are significantly more cost-intensive than domestis shipments, we are compelled to engage you in sharing these costs. To be able to offer optimised shipping and handling fees for your order, they can only be calculated and indicated during the ordering process. We make every effort to charge the lowest possible transportation costs, therefore we utilise the services of several carriers for shipments. On remittance, please kindly note that all transfer charges incurred are at your own expense.
Currently, we serve the following countries:

| | | | |
| --- | --- | --- | --- |
| Belgium | Italy | Poland | Spain |
| Bulgaria | Latvia | Portugal | Czech Republic |
| Denmark | Liechtenstein | Romania | Hungary |
| England | Lithuania | Sweden | Austria |
| Finland | Luxembourg | Switzerland | Turkey |
| France | Netherlands | Slovakia | Serbia |
| Ireland | Norway | Slovenia | |
Can't find your country?
In this case please let us send you your order by email:
We will contact you promptly.
Customer Pickup:
We are sorry we cannot offer customer pickups as, for cost optimisation reasons, our processes are exclusively aligned to deliveríes. Customer pickups are associated with additional costs we would be reluctant to charge you with.