About Product
Bass absorbers: product details
Product details about bass absorbers: Low frequency absorbers (bass absorbers) consist of open-pored, polyester-based acoustic foam with flame-retardant.
Leg 460mm: lower critical frequency of 28Hz
Leg 250mm: lower critical frequency of 50Hz
Properties
Bass Traps achieve an outstanding absorption effectiveness in the range of low frequencies. This is based on the fact that in the corners of rectangular rooms, acoustic pressure is maximised while particle velocity is minimised. These low-tone absorbers are best positioned behind loudspeakers in the corners of a room. Depending on need and ceiling height, 2 absorbers can be stacked on top of one another. By the utilisation of this Bass Absorber, a considerably more precise and dry bass response can be achieved. For interesting layout examples please see our online consultant..
Note
Please note that this aixFOAM product is invariably made to order due to the variety of available options we as a manufacturer are able to offer.
Thus all our customers receive their personal aixFOAM - acoustical absorption product, explicitely delivered as requested according to their needs and demands.
Tolerance
This product is manufactured according to DIN 7715 Teil 5 P3.
Packaging Unit
subject to material thickness (please see category "Format" of the calculation window under the heading Prices)
Acouctical Measurement Method
The RWTH Aachen did research on the absorption capabilities of our bass absorbers. The following data illustrates the more than satisfying results. You will find further information on the measurements in our online-adviser.
Results for a large Corner Bass Trap, positioned in the corner of a room: Four absorbers were measured, each positioned in one of the four corners of the room.
Further background information on Bass Traps:

For the production of aixFOAM Bass Traps we intensely address highly complex foaming-processes of PUR (polyurethane)-acoustic foams. These foams all consist of polyurethane with defined pore-size – whereas they feature a fine-pored, heterogeneous structure. These different pore-canals are the most important element of the physical process that is to say turning sound energy into heat energy – the foundation of the acoustic process we (and of course our Bass Traps) profit from.
But: in order to attain a preferably high acoustic effect, the usage of the right materials is essential. For that reason all our sound insulation-products are exclusively manufactured out of special, high-quality acoustic foam and are offered – according to the application area – in different material strengths. Principally one rule is true for all absorption-elements: the higher the material strength, the higher the sphere of action.
The acoustic measurements of the institute for technical acoustic (RWTH Aachen) illustrate the enormous absorption grade in lower frequencies. You will be surprised by the special mode of operation of our corner-absorbers.
Options
Application
Functionality of the corner-absorbers:
Low-frequency-absorbers or so called "Bass Traps" are very effective when it comes to the absorption of low frequency-sound. Therefore, this kind of absorber is called bass absorber. Due to the special arrangement in the corners of a room they are also called edge-absorbers. All three terms describe the same room-acoustic product.
But why are edge absorbers so effective in low frequencies?
This is based on a proven maximisation of the sound pressure and minimisation of sound-speed in the corners of rectangular rooms. The low-frequency absorbers are positioned in the vertical room-edge behind the speakers. According to demand and height of the room you can also place one absorber on top of another one. With the help of edge absorbers you can achieve a way clearer and more precise rendition of bass.
The effectiveness of the aixFOAM low frequency absorbers was proven by measurements implemented by the institute for technical acoustics of the RWTH Aachen in a reverberation room. The edge absorbers with a leg-length of 460mm feature at 100Hz an equivalent absorption surface of remarkable 3m².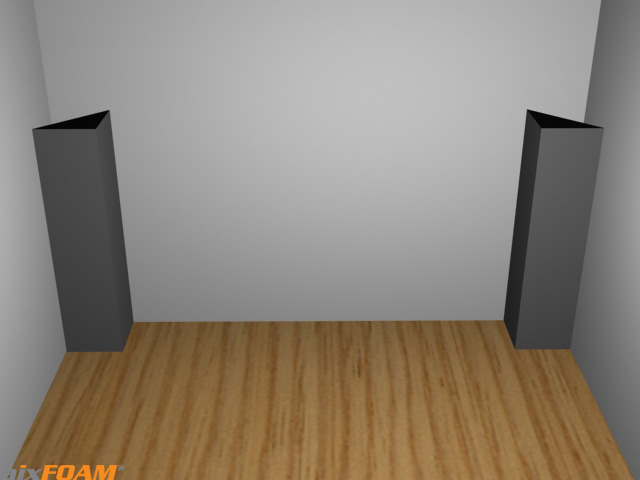 In this arrangement 2 edge absorbers (SH012) were positioned on top of each other.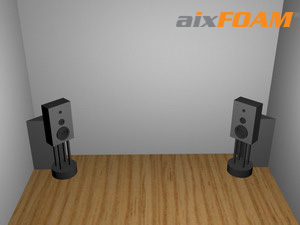 This is an example of application of edge absorbers. A pair of speakers was positioned in front of the edge absorbers.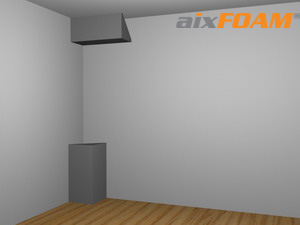 This example of application shows an arrangement of an edge absorber in the corner of a room, a second one was installed on the ceiling/wall.
Application Areas
Application areas
High end, HIFI rooms, recording studios, home cinema
Colors
Colour
anthracite, light grey, raspberry red, orange (with protection against UV-yellowing)