About Product
Format
Height
Absorption factor according to DIN 52212
in mm
in mm
125 Hz
250 Hz
500 Hz
1000 Hz
2000 Hz
4000 Hz
1000 x 500
20
0,05
0,09
0,30
0,48
0,91
0,90
1000 x 500
30
0,08
0,10
0,42
0,75
0,99
0,80
1000 x 500
40
0,12
0,22
0,75
0,89
0,91
0,85
1000 x 500
50
0,18
0,30
0,83
0,92
0,88
0,91
Properties
This special sound insulation product is purpose-built for the absorption of mostly low frequencies. Moreover, due to its heavy mass, insulation properties with regard to structure-bourne sound are good. In order to obtain a washable closed surface, we recommend to laminate the seams between single panels with our aluminium tape.
Temperature Resistance
-40 C° to +100 C° long-term (bears higher temperatures short term)
Chemical Resistance
aliphatic and aromatic hydrocarbons, oil, fats, fuels.
Note
Please note that this aixFOAM product is invariably made to order due to the variety of available options we as a manufacturer are able to offer. Thus all our customers receive their personal aixFOAM - acoustical absorption product, explicitely delivered as requested according to their needs and demands.
Tolerance
This product is manufactured according to DIN 7715 Teil 5 P3.
Packaging Unit
subject to material thickness (please see category "Format" of the calculation window under the heading Prices).

Background information on heavy foam panels:
It is always good to have some background information on acoustic absorbers such as heavy foam panels: Growing demands of sound insulation leads to the improvement of the effectiveness of acoustic foams. Heavy foam was especially developed for the absorption of low frequencies. It is listed among the so called "diaphragm-absorbers" whereas a very thin foil has the function of a diaphragm which is vibrating because of the sound energy. This vibration is then absorbed by the heavy foam core of the product. This characteristic predestines it for the application field of machinery-construction and other technical areas. Heavy or to be precise noise-causing devices like for example boat engines are panelled in order to cushion the vibrations. The same concept is applicable for the encapsulation of machines and for the acoustic insulation of air shrouds. Our SH0081 consists of special heavy foam that features a high density (mass). Therefore it also features a very wide absorption spectrum (including body-borne and airborne sounds). Every customer has several different options according to requirement regarding the later function/usage of the product. The products are individually custom-tailored. You can choose between different material strengths; these of course have an influence on the absorption grade. An essential option is the equipment with acoustic heavy-foil. This very flexible foil features very high absorption grades and is therefore versatile. Its high area density guarantees good dampening characteristics – especially when it comes to strong vibrations. The composition of the material also makes the product highly suitable for the deployment in low temperatures (of course also for high temperatures). It is laminated within the absorption panel SH0081 or attached below the foam. It can also be ordered as a separate product and is also highly effective when used on its own. We offer several different installation options like aluminium-tape that covers the small gaps between the panels.
Options
Application
Functionality of heavy foam absorption panels with surface lamination
The aixFOAM heavy foam absorption panels with surface lamination (SH0081) are versatile due to a high absorption range. With the following images we will show you assembly suggestions for this product in the area of machinery construction. The surface is washable/wipeable and is resistant to aliphatic and aromatic hydrocarbons, oils, fats and fuels.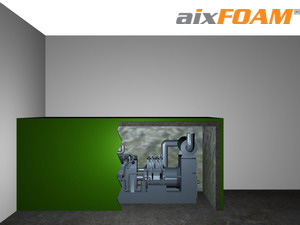 This image shows a machine-casing with the heavy foam absorption panel with aluminium lamination (SH0081).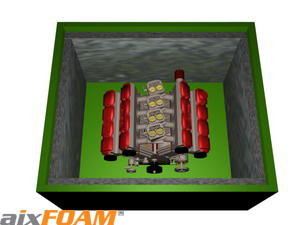 This image shows an engine insulation with the heavy foam absorption panel with aluminium lamination (SH0081).
Application Areas
Application areas
boat engine compartments, engine housings, air ducts
Colors
Accessoires
You may also be interested in the following product(s):