Retrofitting sound insulation for windows
In larger cities in particular, increasing environmental noise is becoming a burden for residents. Rising population figures and the associated growing vehicle density ensure that the background noise grows steadily. While walls and ceilings in new buildings and refurbished buildings are usually reliably insulated against sound and modern soundproof windows are installed, old buildings often still have outdated windows and thin walls. In order to effectively reduce noise and create more peace and quiet in everyday life, it is necessary to retrofit soundproofing.
The window as sound conductor
Sound insulation of windows is a particular challenge when it comes to soundproofing buildings. Due to their nature, these easily become sound bridges. This means that as soon as airborne noise such as street noise hits a window, it is converted into structure-borne noise and it starts to vibrate. If a rigid connection to the masonry is available, the window transmits the sound directly into the building. There the sound multiplies and travels through walls and ceilings in order to be converted back into airborne sound. As a result, sound waves enter the building and can be perceived as a disturbance.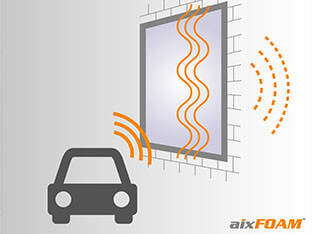 Without soundproofing/ sound insulation, windows inadvertently transport noise into the building.
Special soundproof windows ensure quiet
Of course, it is easiest to use special soundproof windows when renovating a building. These windows usually consist of several panes with different thicknesses. This causes the panes to vibrate differently and reduce noise. But the gaps are also used to decouple the sound by filling them with soft composite materials. In addition, there are often intermediate layers e.g. made of soundproofing PVB film (soundproofing film, noise protection film) for use in the window. The disadvantage: Soundproof windows are relatively expensive due to their special nature and manufacture.
How do you retrofit windows with soundproofing?
If measures for sound insulation such as installing an external roller blind do not achieve the expected noise reduction, the window can be soundproofed in various ways. A distinction must be made here whether window functionality, i.e. transmission of light or opening/closing, should be retained.
Permanent or mobile soundproofing in the window area?
If window functionality can be dispensed with in everyday life, permanent insulation withsound absorbers is recommended. If window functionality needs to be preserved primarily and soundproofing is only required at certain times, e.g. at night, mobile soundproofing is recommended.
For the effective soundproofing of a window, we recommend flat sound absorbers with the greatest possible material thickness, e.g. our SH006 designer absorber with easy-care felt surface in 8 cm material thickness.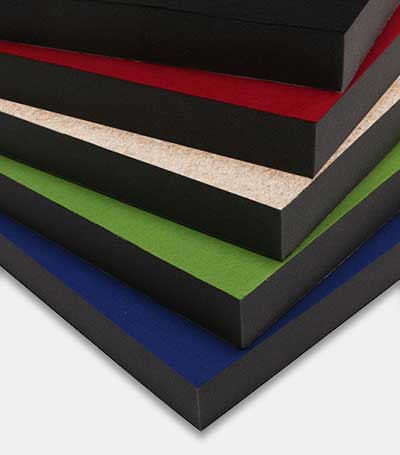 Design acoustics absorber square
Sound absorber in different surface colours
Discover the FELT with its fine felt surface, one of our most popular sound absorbers for the living area and interior design.
About the product
Install window soundproofing yourself - here's how!
The following contains brief instructions for the soundproofing of a window with our FELT sound absorber in 8 cm material thickness.
Step 1: Measure the window
To ensure that your soundproofing has the right size later, first determine the exact dimensions of your window. Then subtract at least 2 cm in height and width so that you can easily insert the soundproofing in the window later on. (e.g. window width: 88.5 cm - 2 cm = 86.5 cm / window height: 101 cm - 2 cm = 99 cm)
Step 2: Wooden board with sealing tape
As the base for the sound absorbers, you will need a simple wooden board and rubber sealing tape from your building supplies retailer. In order to prevent structure-borne noise from being transmitted from the window to your mobile soundproofing solution, it should be decoupled from the surrounding components. Therefore, attach the rubber sealing tape along the edges of your wooden board.
Step 3: Easy installation of sound absorbers
The sound absorbers can then be cut to a thickness of 8 cm and glued to the board. As a rule, acoustic foams can be cut with conventional household appliances such as an electric kitchen knife or a carpet knife. Our self-adhesive aixFOAM sound absorbers are particularly suitable for this, since you do not need any additional adhesives for installation.
Step 4: Handles on the back
For mobile soundproofing, which can be removed at any time, we recommend attaching handles for removal. Simply mount the handles on the back of your wooden board. You can usually get handles from a hardware store.
Step 5: Install soundproofing
Now you can easily place your mobile soundproofing in the window. Please note the following information.
Important information on retrofitting a window with soundproofing
When retrofitting a window with soundproofing, it's important to note in which direction the noise insulation should take place. Are you trying to prevent noise from penetrating into the building or to stop it from leaking to the outside?
The side with the sound absorbers should always point in the direction of the noise source.
1. Soundproofing to prevent sound leaking in

So if you want to insulate street noise from the outside, the sound absorber should point in the direction of the window, towards the street.

2. Soundproofing to prevent sound leaking out

On the other hand, if you want e.g. to isolate music from the rehearsal room to stop it leaking out, sound absorbers should be directed away from the window and into the room. In this case, of course, no handles can be attached to the rear of the soundproofing for the mobile, removable soundproofing. Alternatively, you can, for example, attach fabric loops to the back, which you can then hang over the soundproofing so that you can pull it out if necessary.
Sound absorbers from the manufacturer ensure more quiet
If you have any questions or need support with the sound insulation of your windows, we at aixFOAM will be happy to assist you. As a manufacturer of high-quality acoustic foams with over 60 years of experience, we help you choose your soundproofing solution and ensure that you can enjoy peace and quiet where you need it. Visit us in our online shop or call our service hotline.
Infobox
Windows are a particular challenge when it comes to soundproofing buildings. Due to their nature, they easily become sound conductors and transport noise into the building.
Permanent or mobile soundproofing of windows
Soundproofing solutions made from acoustic foam provide effective soundproofing that can be installed both permanently and on the move. This allows the soundproofing to be adapted to the respective needs and local conditions.
aixFOAM ensures more calm
With us you will find the right solution for the subsequent sound insulation of your windows. With our high-quality acoustic foams, we help you find peace - wherever you want.
Need help?

Call us or send us an email. Together we'll find the right acoustic solution via a free consultation with our specialist planners.
+49 2403 / 83830 - 22
Monday to Friday
08:00 o'clock untill 17:00 o'clock
sales@aixfoam.com
Daily, 24 hours a day
aixFOAM shop
Visit our aixFOAM store and find your suitable sound insulation: less noise and better acoustics with sound absorbers directly from the manufacturer.
Find your sound insulation