Art.nr.

Gives shape to your room acoustics

Acoustic elements for wall designs in various shapes

Contour cut in two different shapes
In many attractive, bright colours
Ideal for sound insulation in nurseries, paediatrician waiting rooms, children's rooms, play rooms

...

starting at

Price per package unit
incl. 19% VAT

Art.nr.

Six corners against noise

Acoustic elements for creative space design

Contour cut in hexagonal shape, Ø approx. 28 cm
in 20 modern colours
Ideal for soundproofing in offices, call centres, meeting rooms, living rooms, surgeries, law offices, schools and much more.

...

starting at

Price per package unit
incl. 19% VAT

Art.nr.

Terribly cute. And highly effective.

Acoustic elements for wall designs in various shapes

Contour cut in three different shapes
In 20 attractive, bright colours
Ideal for sound insulation in nurseries, paediatrician waiting rooms, children's rooms, play rooms

...

starting at

Price per package unit
incl. 19% VAT

Art.nr.

Free ride for good acoustics

Sound absorber motif for various wall designs

Contour cut in the following shapes: Locomotive and carriage
Format: 100 cm x 50 cm
In 20 attractive, bright colours
Ideal for sound insulation in nurseries, paediatrician waiting rooms, children's rooms, p...

starting at

Price per package unit
incl. 19% VAT

Art.nr.

Every piece fits

Contour cut jigsaw pieces with acoustic felt textile surface
jigsaw size 56 x 50.5 cm
available in 20 modern colours
suitable for different applications such as sound insulation in offices, call centres, living rooms, children's rooms

...

starting at

Price per package unit
incl. 19% VAT

Art.nr.

Eye-catcher and sound absorber

Acoustic absorbers with coloured acoustic felt surface (circle/ ellipse)

Available in 20 colours, from trendy-elegant to classic-modern
Available in different thicknesses and fire protection classes
Varied uses, e.g. for sound insulation in offices, cal...

starting at

Price per package unit
incl. 19% VAT

Art.nr.

The flexible all-rounder

Sound absorber in different surface colours

Acoustic core in anthracite with low-maintenance felt surface
Format 100 x 50 cm in various material thicknesses
available in 20 different felt colours
Different fire protection classes
Flexible uses in all appl...

starting at

Price per package unit
incl. 19% VAT

Art.nr.

Basic model for optimised acoustics

Rectangular acoustic panels made from a fine-pored acoustic foam

Colour in anthracite, raspberry red, orange, light grey
Different fire protection classes
Format 100 x 50 cm in various material thicknesses
Can used flexibly, e.g. sound insulation for off...

starting at

Price per package unit
incl. 19% VAT

Art.nr.

Impact sound insulation of aixFOAM

Rollware with white, smooth surface
Roll width: 100 cm
Easy to process
Applicable as impact sound insulation, impact sound absorption, impact sound insulation, decoupling body sound

...

starting at

Price per package unit
incl. 19% VAT
Children's room sound insulation & noise insulation
How does noise occur in the children's room?
Briefly close your eyes and imaging the following background noise: Parts of the metal construction kit crash to the floor, the new toy drum is tested, the games console rings with penetrating sounds and lions' roars, happy screeching and noisy arguments echo through the home. What you just imagined is the typical background noise in a children's room. Together, all these sounds turn into noise. A permanently high noise level in the children's room not only becomes a problem for parents and children, it can also annoy the neighbours.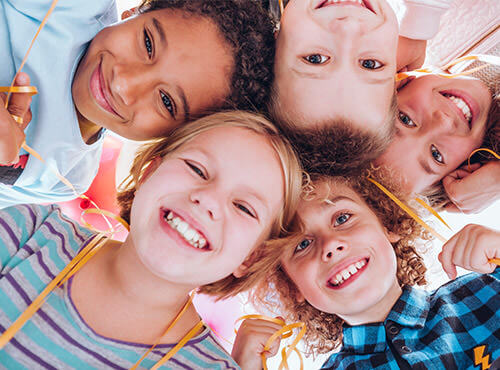 How does sound insulation ensure more peace in the children's room?
The use of sound insulation on the wall or ceiling of the children's room helps to reduce noise. aixFOAM sound absorbers have an open-pore structure and therefore are perfect for damping disturbing noise in all frequency ranges. Sound can penetrate deep into the material and this is effectively weakened.
When soundproofing the children's room, it is sensible to proceed gradually. This means only fitting a few soundproofing mats first of all as broadband absorbers on the walls and / or ceiling. This prevents "over-dampening" and unnatural room acoustics while simultaneously saving you money. In most cases it is sufficient to cover 20 – 30% of the wall and ceiling area with sound insulation.
The use of footstep dampening should already be considered when planning the flooring. This prevents the transfer of structure-borne sound when walking or running around.
Sound insulation in a child-friendly design
Apart from good room acoustics, the design of the sound absorbers in the children's room is also particularly important. Sound insulation panels in a conventional rectangular shape are less attractive and child-friendly for the little ones. We at aixFOAM have therefore developed sound absorbers, which not only have excellent sound absorption coefficients, but also have attractive shapes.
Our design absorbers with low-maintenance felt surfaces are available in 15 different colours and brighten every children's room as cute hippos, clouds, hearts, jigsaws or butterflies.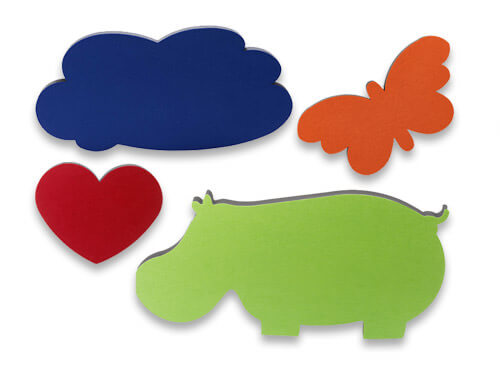 How can effective soundproofing prevent noise reaching the children's noise?
Sound insulation in the children's room is frequently not only about dampening noises in the room, but also keep noise out.
Retrofitting sound insulation to doors is frequently sensible because these construction elements easily become sound transmitted because of their structural features. Our aixFOAM sound insulation mats with a flat surface such as the SH001 or a combination of an anti-drumming mat and heavy acoustic foam are ideal for reinforcing the material of the door and interrupting noise transmission. The sound absorbers can be easily stuck to the door leaf thanks to the practical self-adhesive kit.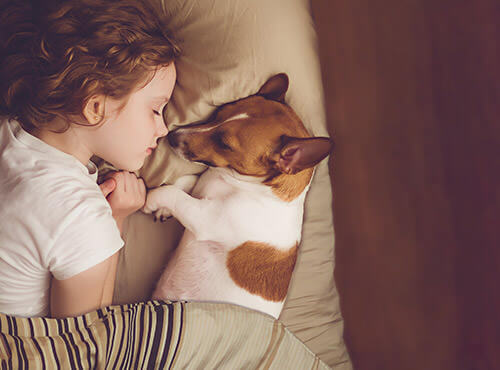 Why is aixFOAM your ideal partner for soundproofing in the children's room?
As a manufacturer of high quality sound absorbers, we at aixFOAM look on 60 years' experience. As a result, we know what works as sound insulation in the children's room and have optimised our foam acoustic elements for this. From us you get brand quality "Made in Germany".
aixFOAM felt absorbers bear the Ökotex seal for special environmental friendliness and with child-friendly motives are ideal for use in children's and teenagers' rooms. Thanks to the large selection of colours and motives, the absorbers can be combined well and used therefore as elements of the room design.
Now it's your turn: Get sound insulation for the children's room – direct and cheap from the manufacturer!
Choose your sound absorbers conveniently in the aixFOAM Online Shop or contact our experts if you have any questions. In free advice, we are happy to help you to find the right sound absorbers for your application. As a result, you get the optimum sound insulation solution for your children's room, guaranteed.