Art.nr.

Flexible flat sound insulation mats

Rectangular plate (100 cm x 50 cm) with flat surface
Breitbandabsorber
Colour: anthracite
Suitable for sound absorption. In the fields of mechanical engineering, vehicle construction, machine housings

...

starting at

Price per package unit
incl. 19% VAT

Art.nr.

Acoustic convoluted foam for industrial sound protection

Industry standard for noise reducing foam
Rectangular plate (100 cm x 50 cm) with convoluted profile ("egg crate pattern")
Colour: anthracite
Versatile, e.g. For machine housings, motors, electroni...

starting at

Price per package unit
incl. 19% VAT

Art.nr.

Highly effective acoustic foil for body sound insulation

Rectangular acoustic plates (100 cm x 50 cm) with self-adhesive back
Ideal for minimizing material vibrations
Flexibly applicable in technical fields of application, e.g. Car body and vehicle cons...

starting at

Price per package unit
incl. 19% VAT

Art.nr.

Absorption foam with acoustic felt lamination

Rectangular acoustic panel (100 cm x 50 cm) with robust textile surface lamination
Textile color black / absorption foam in anthracite
Suitable for use e.g. In mechanical engineering, for claddings, cabins, ...

starting at

Price per package unit
incl. 19% VAT

Even more choices?

Higher fire protection, more design, printable elements and much more can be found in our ARCHITECT LINE.
Art.nr.

Highly effective sound insulation with duromere acoustic foam

Rectangular plate (100 cm x 50 cm) with homogeneously porous surface
Extraordinary heat and / or flame resistance according to DIN4102 B1 (without acoustic heavy foil lamination)
Chemically r...

Art.nr.

Highly effective convoluted foam made from duromere acoustic foam

Rectangular acoustic plate (100 cm x 50 cm) with homogeneously porous surface with knurled profile
Exceptional heat and flammability according to fire protection class DIN4102 B1 (withou...

Even more choices?

Felt-laminated acoustic elements, classic acoustic foams and much more can be found in our CLASSIC LINE.
Soundproofing in the switch cabinet and housing
Switch cabinets or other installations with electrical components generate noises when running, which in some cases are perceived as loud or even disturbing. The housings, which mostly comprise lightweight metal or plastic, quickly start to vibration and emit an irritating drumming. If the noise pollution gets too much, it becomes sensible to retrofit the switch cabinet with sound insulation.
Above all when used in industry, where a large number of machines and devices drives up the sound pressure level, statutory regulations (e.g. workplace directives, noise protection ordinance) apply, which promote corresponding sound insulation measures.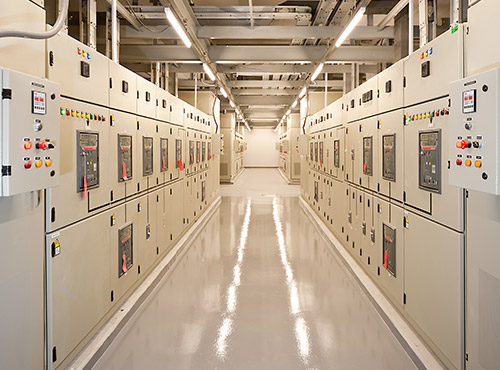 How can switch cabinets and housing be dampened properly?
Firstly the exact cause of the noise should be identified in order to find a suitable method for switch cabinet sound insulation. If the noise is caused by components such as fans or processors, sound insulation mats should be used to absorb direct sound (air-borne sound). If the noise is due to vibrations or material vibrations in the housing (structure-borne air), switch cabinet anti-humming measures are sensible.
Sound absorbers against direct sound / air-borne sound
In order to absorb direct sound, the housing of the switch cabinet should be clad with open-pore sound insulation mats such as acoustic insulation mats with smooth surface or the nubbed foam for technical dampening. The incident noise is guided deep into the absorbers and neutralised.
Sound absorbers with special surface laminations such as the acoustic panels with a robust textile surface also protect the sensitive components from dirt and dust accumulations, which is sensible above all in the industrial area.
In order to simplify installation even in narrow housings and difficult positions, all our aixFOAM sound absorbers are available with practical self-adhesive kit.
Housing anti-drumming, remove material vibrations
In order to reduce switch cabinet material vibrations, the material of the housing must be reinforced. This is called "anti-drumming". For switch cabinet anti-drumming, elements with a high intrinsic weight are recommended, above all our anti-humming mats made from heavy acoustic foil.
The heavy acoustic foil have an above-average surface weight, is wafer-thin and very flexible. Thin-walled housings should ideally be fully clad with the self-adhesive foil.
The heavy foil can also be combined with porous sound absorbers made from acoustic foam in order to dampen direct sound at the same time as dampening material vibrations.
It is also possible in the our product configurator to order your sound insulation mats directly fro the factory with a heavy acoustic foil lamination. Simply choose the corresponding option for this.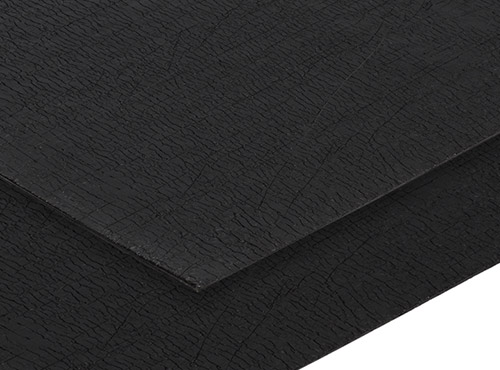 Heat development and fire protection when soundproofing inside the switch cabinet – what has to be noted?
When soundproofing switch cabinets, the heat development plays a large role. The many technical components in the housing and the high packing density increase the risk of a short circuit and overheating.
In order to keep heat development and fire risk low, the sound absorbers should be installed with sufficient distance from the components in the switch cabinet. When dampening the cabinet, ensure there is sufficient airflow and also a corresponding heat removal in order to prevent heat build-up in the housing. Additionally, it is sensible to install a separate air or cooling duct in the housing along with the soundproofing.
In order to ensure the necessary safety in an emergency, our aixFOAM sound insulation mats are available in various fire protection classes. Above all, our sound absorbers from the "Engineer Line" with the highest fire protection class DIN 4102 B1 are recommended for use in switch cabinets and housings. Ideally, you should find out about possible required fire protection conditions when planning your switch cabinet.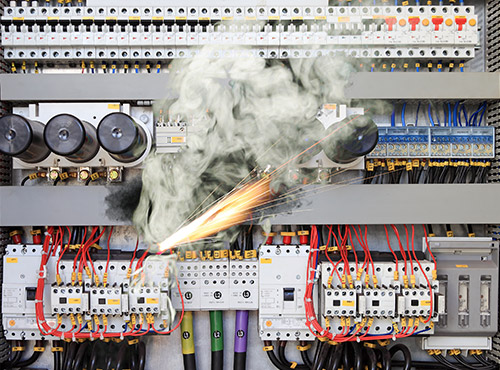 Why are sound absorbers from aixFOAM the best solution for dampening your switch cabinet or housing?
As a manufacturer of high quality sound absorbers, we know that is critical for effective soundproofing in the switch cabinet or housing. In order to meet these requirements, we have developed sound absorbers that are specifically suitable for this use.
As a result of 60 years' experience and constant optimisations of our sound absorbers, we have succeeded in developing effective and flexible acoustic elements, which are ideal for use in switch cabinets and housings. They reduce material vibrations and noise and are available in various fire safety classes and material thicknesses. Choose your favourites from several profiles. Thanks to various installation options, such as the practical self-adhesive kit, the sound absorbers can be installed particularly easily in the housings and switch cabinets.
Now it's your turn: Get the right soundproofing for your switch cabinets and casings!
Whether for retrofitting or directly for building a switch cabinet: Now choose the right sound insulation from our aixFOAM products for switch cabinets and casings or use our free advice service. Our experts will support you with your projects and help you find the optimum solution for your requirements.