Art.nr.

Flexible flat sound insulation mats

Rectangular plate (100 cm x 50 cm) with flat surface
Breitbandabsorber
Colour: anthracite
Suitable for sound absorption. In the fields of mechanical engineering, vehicle construction, machine housings

...

starting at

Price per package unit
incl. 19% VAT

Art.nr.

Absorption foam with acoustic felt lamination

Rectangular acoustic panel (100 cm x 50 cm) with robust textile surface lamination
Textile color black / absorption foam in anthracite
Suitable for use e.g. In mechanical engineering, for claddings, cabins, ...

starting at

Price per package unit
incl. 19% VAT

Art.nr.

Acoustic convoluted foam for industrial sound protection

Industry standard for noise reducing foam
Rectangular plate (100 cm x 50 cm) with convoluted profile ("egg crate pattern")
Colour: anthracite
Versatile, e.g. For machine housings, motors, electroni...

starting at

Price per package unit
incl. 19% VAT

Art.nr.

Highly effective acoustic foil for body sound insulation

Rectangular acoustic plates (100 cm x 50 cm) with self-adhesive back
Ideal for minimizing material vibrations
Flexibly applicable in technical fields of application, e.g. Car body and vehicle cons...

starting at

Price per package unit
incl. 19% VAT

Art.nr.

Heavy Foam Absorption Panel

Rectangular plate (100 cm x 50 cm) with flat surface
Multicolored gray foam
For various fields of application, e.g. Machine housing, insulation of motors, engine rooms, machine insulation

...

starting at

Price per package unit
incl. 19% VAT

Even more choices?

Higher fire protection, more design, printable elements and much more can be found in our ARCHITECT LINE.
Art.nr.

Highly effective convoluted foam made from duromere acoustic foam

Rectangular acoustic plate (100 cm x 50 cm) with homogeneously porous surface with knurled profile
Exceptional heat and flammability according to fire protection class DIN4102 B1 (withou...

Art.nr.

Highly effective sound insulation with duromere acoustic foam

Rectangular plate (100 cm x 50 cm) with homogeneously porous surface
Extraordinary heat and / or flame resistance according to DIN4102 B1 (without acoustic heavy foil lamination)
Chemically r...

Even more choices?

Felt-laminated acoustic elements, classic acoustic foams and much more can be found in our CLASSIC LINE.
Soundproofing for loudspeakers and loudspeaker production
Loudspeaker manufacturers – but also individualists and DIYers excited by technology – know how important a balanced soundproofing is for the optimum sound in loudspeaker production. They invest lots of resources in refining their models and insist on high quality materials when selecting the loudspeaker dampening.
Sound absorbers inside the loudspeaker box reduce casing vibrations, unwanted sound reflections and passage noise and improve the loudspeaker sound. Especially when building loudspeakers, the loudspeaker dampening should be planned in advance. Subsequent dampening is relatively expensive and therefore should be avoided.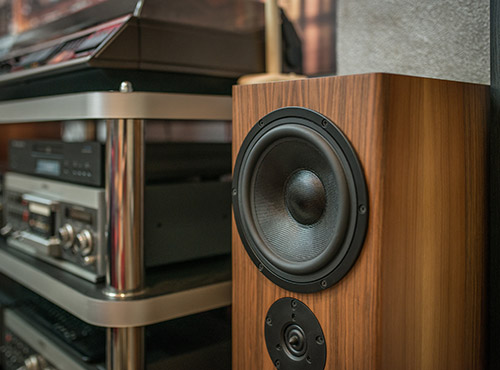 How can loudspeakers be dampened properly?
When dampening loudspeakers, two problems typically have to be considered: Firstly the sound should be optimised, distortions prevented and passage sound stopped, and secondly the vibrating by the loudspeaker's should be minimised.
Improve sound and prevent passage sound
Above all, high frequency sound waves are not only emitted from the front of the loudspeaker as desired, they also occur at the rear of the membrane and escape from the side walls of the speaker. Additionally, the sound is reflected from inside the casing of the loudspeaker. As a result, the tones overlay each other in the loudspeaker casing and a distorted sound occurs.
In order to prevent these reflections and sound passage to the outside, the casing should be filled with acoustic wadding or acoustic foam flakes or clad with open-pore sound insulation mats, which absorb the sound waves. Sound absorbers such as the acoustic sound insulation mat with smooth surface, the acoustic panel with robust textile surface or the nubbed foam are idea for technical insulation.
Sound insulation mats should be used in particular for loudspeakers with bass reflector pipes because unlike flakes or wool they are not pushed outward over time.
For a particularly simple application, aixFOAM sound absorbers are fitted with practical self-adhesive kit that greatly simplifies installation in loudspeakers.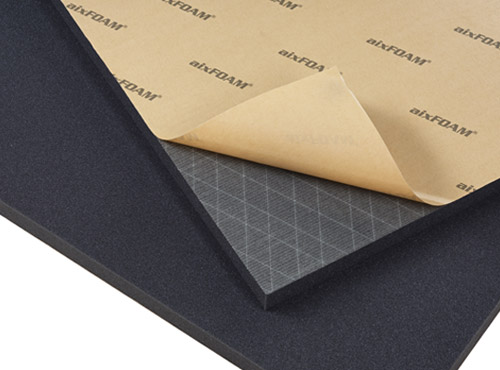 Remove vibrations / oscillations of the loudspeaker casing
The thin-walled and relatively light casings of the loudspeakers start to vibrate above all if there are high-energy bass frequencies. These material vibrations and self-resonance can be prevented by reinforcing the material of the casing.
Our thin and flexible heavy acoustic foil is ideally suited for this. The heavy foil has an above-average surface weight and thanks to the self-adhesive reverse can quite easily be stuck to the inside of the loudspeaker.
If necessary, the heavy acoustic foil can also be combined with porous absorbers so that a highly effective sandwich element is created to dampen the loudspeakers, which has an anti-drumming effect for the casing and also removed sound distortions and passage sound.
It is also possible in the aixFOAM product configurator to order your sound absorbers directly fro the factory with a heavy acoustic foil lamination. Simply choose the corresponding option for this.
How can loudspeakers be decoupled from the floor
Another problem known to many HiFi fans and system owners is the transfer of vibrations into the floor. Above all, loudspeakers with a heavy bass, such as subwoofers, generate strong vibrations that can be heard especially in rooms below as a dull pounding. In order to avoid unnecessary arguments with other residents in the building or the neighbours, the loudspeaker should be decoupled from the floor.
This is achieved most simply with an underlay made from heavy acoustic foam, which prevents the transmission of structure-borne sound through the floor. The sound insulation panels should then also be covered with a panel of stone (granite, slate, etc.) or wood in order to prevent the loudspeaker from sinking into the absorber. The sound insulation panel absorbs the vibrations from the loudspeaker and noise does not reach other rooms.
Alternatively, for large speaker systems a separate riser can be built, which should also be decoupled from the floor sufficiently. In this case, ensure that rigid structural elements are not in direct contact with the floor.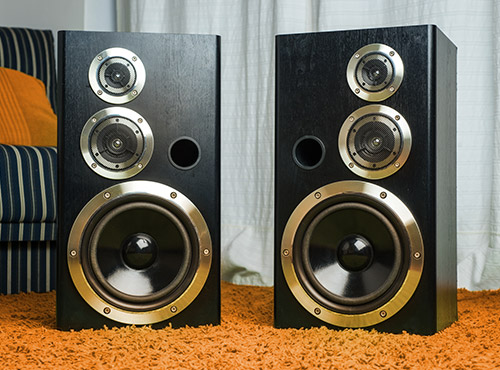 Why are sound absorbers from aixFOAM the best solution for dampening your loudspeakers?
As a manufacturer of high quality sound absorbers, we know how important a balanced sound dampening is in loudspeaker production because it frequently decides the final sound of the loudspeakers. In order to meet these requirements, we have developed sound absorbers that are specifically suitable for this use.
As a result of 60 years' experience and constant optimisations of our acoustic materials, we have succeeded in developing effective and flexible sound absorbers, which are ideal for use in loudspeaker casings. They reduce self-resonance and sound reflection and are available in various fire safety classes and material thicknesses. Choose your favourites from several profiles. Thanks to various installation options, such as the practical self-adhesive kit, the sound absorbers can be installed particularly easily in the housings of your loudspeakers.
Now it's your turn: Get the right soundproofing for your loudspeakers!
Whether retrofitting a manufacturer model or fitting your home made loudspeaker: Choose the right sound insulation now from our aixFOAM products for the loudspeaker or use our free advice service. Our experts will support you with your projects and help you find the optimum solution for your requirements.
Customer reviews:
»Before ordering the anti-drumming foil I had an intensive, very informative conversation with one of your engineers. This conversation was decisive for my selection. I clad the inside of a large bass loudspeaker with the foil. The product met all of my expectations and was very good to work.«
Reinhold K., Altmünster