What is a shadow gap with regards to sound absorber installation?
When assembling our aixFOAM sound absorber panels, we usually recommend the use of a shadow gap, but what exactly is it and why is it useful?
A shadow gap is generally a gap between two components (or sound absorbers) that visually separates the elements from each other.
In architecture, it is used, for example, with visible cladding or wood coverings. This allows, for example, a different coloured background to be visible between the panels or along an adjacent wall or ceiling, creating an interesting visual effect.
Why is a shadow gap useful for sound absorber installation?
There are several good arguments for the use of a shadow gap during sound absorber panel installation.
Optical aspects of a shadow gap
All aixFOAM sound absorbers are made of a highly elastic pore material. As a result, the elements are very effective sound absorbers. However, the material also possesses a certain push-and-stretch ability, which can result in slight visible differences between the individual absorber panels. This natural deviation is called tolerance, which is even described in a separate DIN standard (DIN 7715 Part 5 P3).
If the individual absorber panels are now glued directly to each other, the possible differences between the panels – even if they are extremely small – become clearer. In order to achieve uniform installation, it is advisable to glue all sound absorbers in place using a shadow gap of at least 2 cm for visual reasons.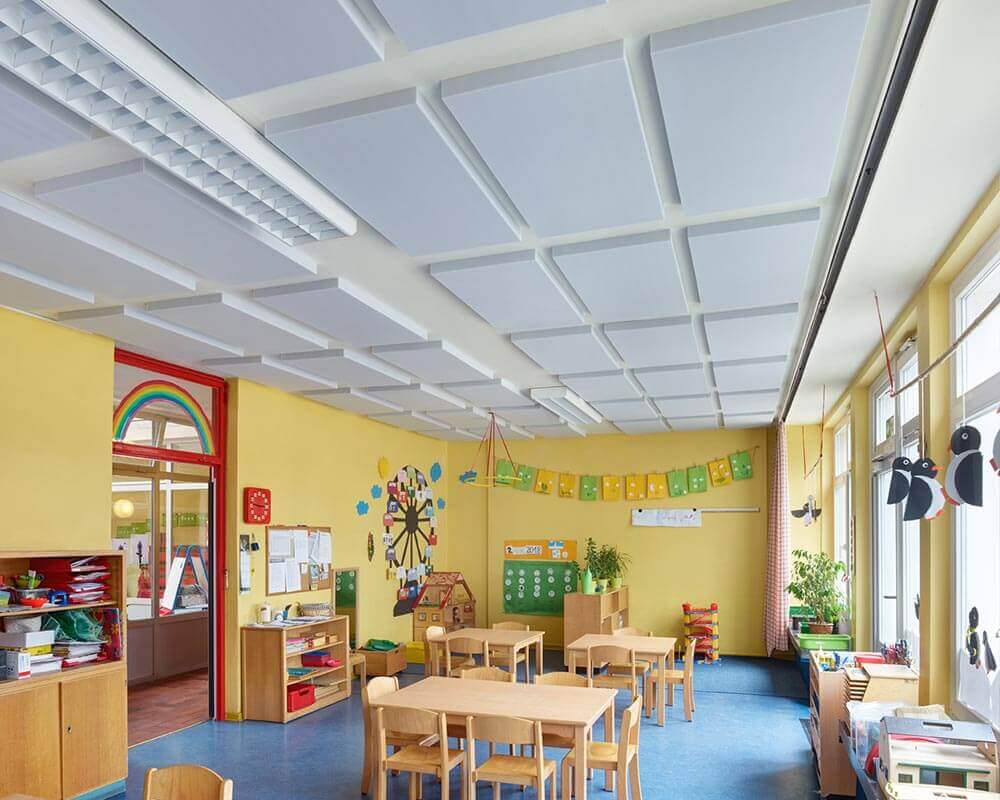 Sound absorber FLAT Plus with shadow gap on a kindergarten ceiling
We recommend the use of a shadow gap, particularly classic egg crate foam installations. Due to the large number of projections on the absorber panel, it is almost impossible to position two panels together without a visible transition.
A shadow gap is also useful for our FELT sound absorbers with felt covering. Otherwise, the different fibre directions of the felt fabric (especially in the case of marbled shades) may result in an uneven image.
More effective sound absorption due to the edge effect
The shadow gap not only influences the appearance of the sound absorbers, it also changes their acoustic properties.
Installing a shadow gap increases the absorption surface of the elements, because the sound can hit the absorbers from several sides. This "edge effect" improves the sound absorption.
Some of our aixFOAM sound absorbers, such as the SMOOD box absorber, have flattened (bevelled) edges, which allows the sound to hit the absorber from all sides, even when mounted without a shadow joint. This means that, acoustically at least, a shadow gap is optional when installing these absorbers and is solely dependent on the aesthetic preferences of the viewer.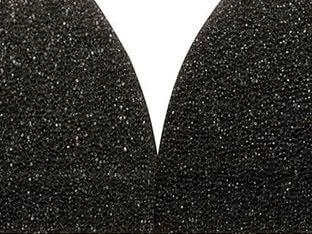 Sound absorbers with bevelled edges, such as the SMOOD, can be installed without a shadow gap.
Mounting recommendation for aixFOAM sound absorbers
This overview contains a summary of installation recommendations for our aixFOAM sound absorber panels.
What is the best way to install the sound absorbers with a shadow gap?
To achieve an accurate and uniform appearance when installing the sound absorbers, first plan the arrangement of the absorbers precisely. Outline them with pencil on the wall or ceiling. Use a spirit level or, ideally, a laser level to align the reference edges.
When outlining the absorber arrangement, make sure that the pencil strokes are completely obscured by the panels later or can be easily removed.
As a guideline, the shadow gap should have a minimum width of 2 cm.
One of our customers documented the ideal installation process with his absorbers using shadow gap.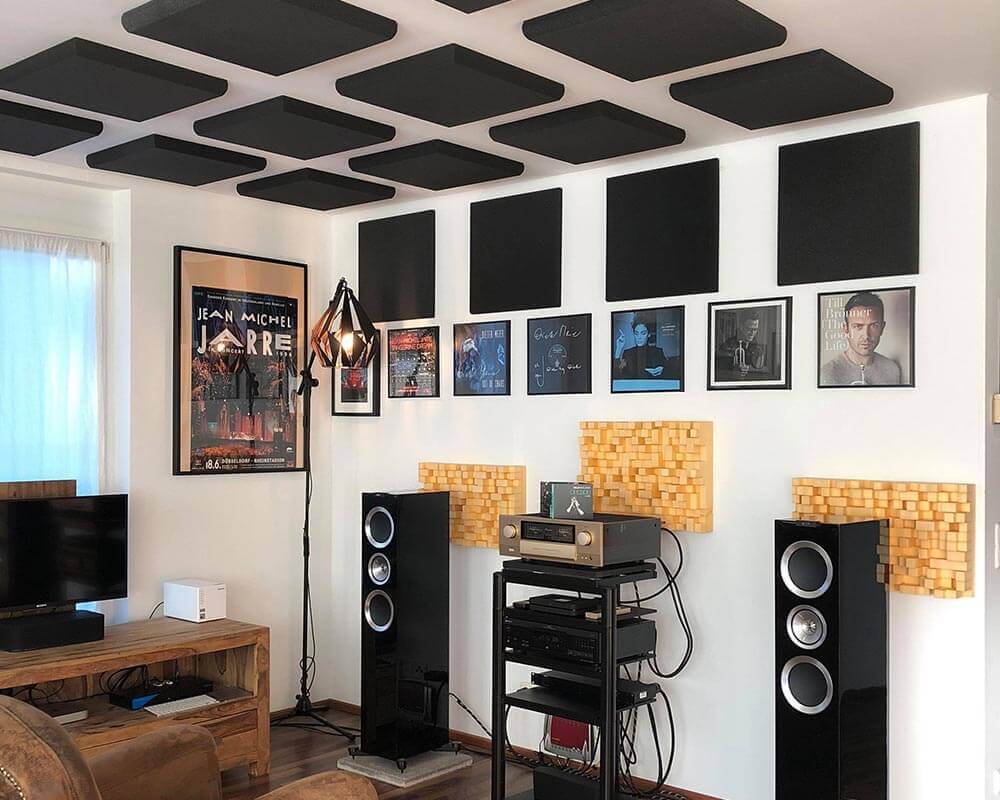 A uniform installation pattern with shadow gap on the ceiling and in the adjacent wall area
We'll support you during selection and installation of your sound absorbers.
If you have any further questions about the installation of our aixFOAM sound absorbers or including a shadow gap, please contact our acoustic consultants. We are happy to help you with a free consultation.
Infobox
A shadow gap is a gap that visibly separates two elements from each other.
Visible separation
Sound absorbers are made of flexible acoustic material, which can lead to low manufacturing tolerances. Therefore, for aesthetic reasons, a shadow gap of 2 cm is advisable for all sound absorbers.
Improved sound absorption
In the case of sound absorbers without flattened (bevelled) edges, a shadow gap should always be used, as this is the only way to maximise that the absorption surface and therefore the absorption effect.
Careful planning and installation
Careful planning is important before installing your sound absorbers, irrespective of whether you are including a shadow gap. First, outline the planned arrangement on the wall or ceiling.
Need help?

Call us or send us an email. Together we'll find the right acoustic solution via a free consultation with our specialist planners.
+49 2403 / 83830 - 22
Monday to Friday
08:00 o'clock untill 17:00 o'clock
sales@aixfoam.com
Daily, 24 hours a day
aixFOAM shop
Visit our aixFOAM store and find your suitable sound insulation: less noise and better acoustics with sound absorbers directly from the manufacturer.
Find your sound insulation