Optics
Smooth surface
Felt surface
Structured surface
Acoustic fabric surface
Fastening system
Self-adhesive
Suspension system
Mounting cassette aluminium, anodised
Cable system
Products without fixed mounting
Noise source
Air-borne sound, high frequency
Air-borne sound, medium frequency
Air-borne sound, low frequency
Matching products: Reset Filter
Classic Line
Classic sound absorbers for improved sound, less noise and reverberation
Professional Line
Exclusive designs as well as acoustic elements with soundproofing and flame protection Plus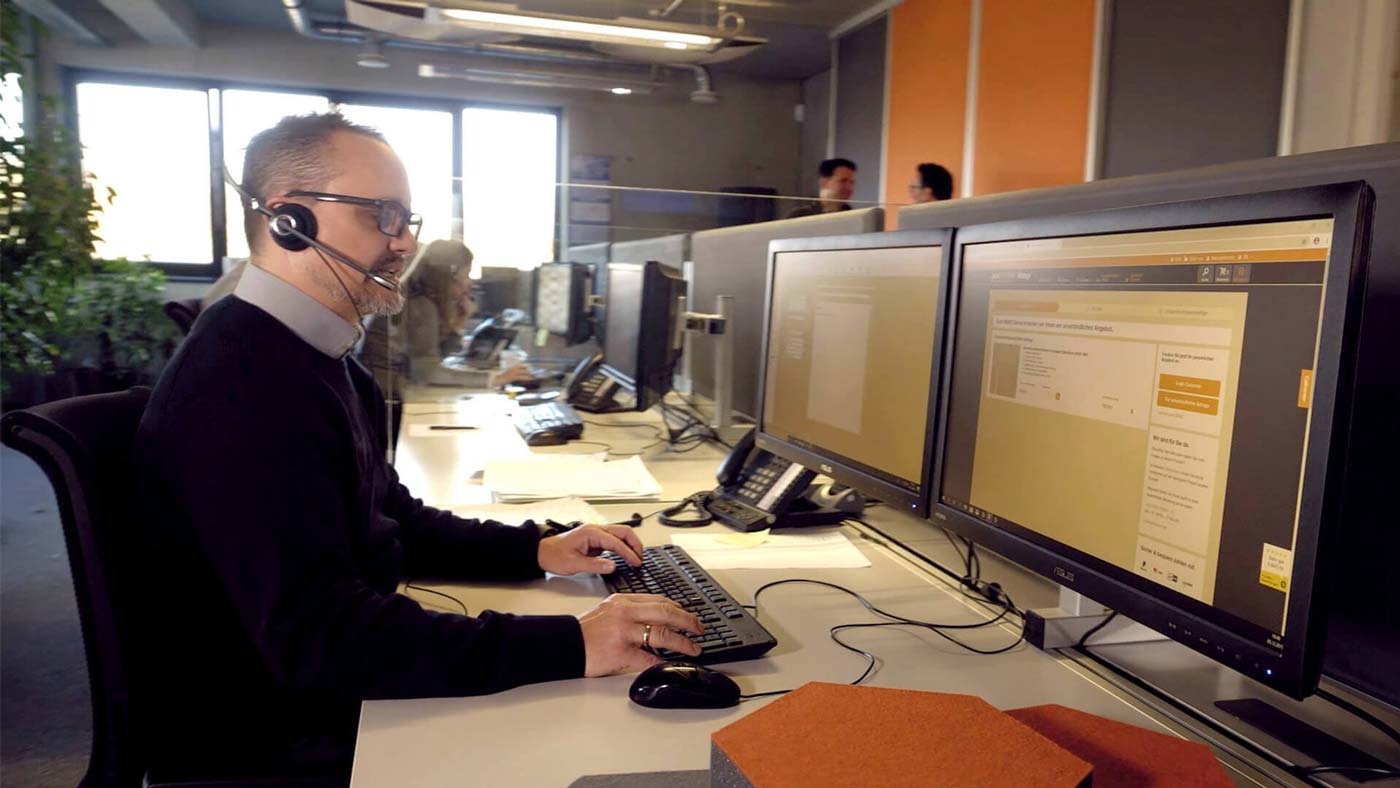 Individual service requests
Are you a major customer? Do you need different delivery quantities than in the shop? Do you have special requirements for packaging or special shipping and delivery conditions? Talk to us!
To contact page
Sound insulation for restaurants, bars, cafés or discos
How do poor acoustics occur in restaurants, cafés or bars?
Music, conversation, cutlery noise, ringing telephones. These are all typical everyday noises in gastronomy and altogether create one thing – noise. Solid materials such as stone, concrete, glass or wood also increase reverberation times and reverberation in the room. Incident sound is reflected by these surfaces, thrown back into the room and stays longer inside. This leads to an overlaying of noises and raises the sound pressure level.
In practice, a sound pressure level of more than 80dB(A) results in a disruptive environment in the restaurant or bar. In order to be able to talk above this noise level, the guests speak louder, creating more noise and a vicious circle. This phenomenon is called the Lombard effect.
When the tables remain empty: Without sound insulation, the acoustics in a restaurant or café are frequently poor. Reverberation and noise worsen the atmosphere and are less inviting for a relaxed chat and stay.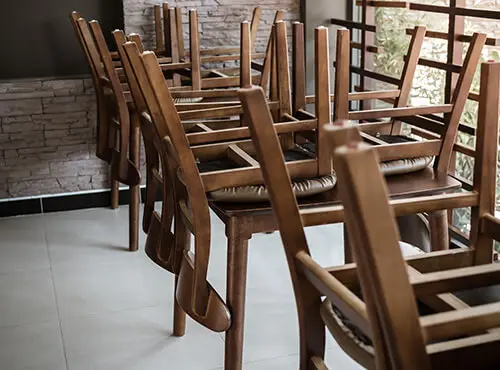 How can sound insulation in gastronomy improve the room acoustics?
The use of acoustic elements and sound absorbers in restaurants, bars or cafés reduces reverberation and disruptive sound, considerably improving communication and intelligibility. In addition, the absorbers reduce noise, thereby creating more space for peace and a pleasant ambience for the guests. A pleasant atmosphere with good acoustics invites people to feel good, linger and return. A permanently high noise level, on the other hand, causes stress and increases the health risk.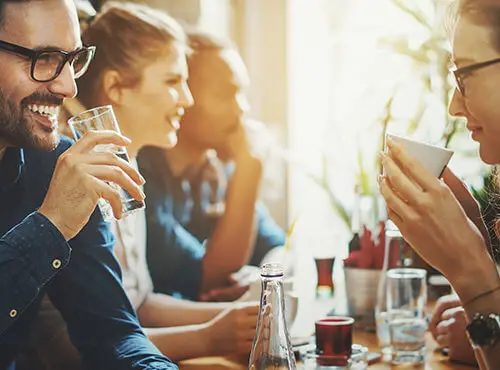 Room acoustics have a critical impact on the guests. Sound insulation in the restaurant, café or bar increases intelligibility and improves communication. This lengthens the stay and the increases the well-being of the visitors.
Acoustic sail or hanging cassettes for wall and ceiling
There are various possibilities for fitting sound insulation for optimising the room acoustics in restaurants, cafés, pubs or bars. Apart from system solutions such as fitting an
acoustic ceiling
, the use of suspended acoustic elements or acoustic sails is also a good way to dampen sound. Fitted above tables or seating areas, the sound absorbers block the noise at the source.
Sound absorbers in aluminium hanging cassettes are another alternative for improving the room acoustics in a pub. With a cable system or vibration anchors, the absorbers can very easily be fitted to the ceiling or wall, and also removed again later without problems. This is recommended above all in leased or rented bars or if the design of a room is frequently changed in order to create variations for the visitors. If the sound insulation mats are stuck directly to the wall and ceiling, the base or the sound absorbers themselves may be damaged when they are removed.
Colourful sound absorbers in hanging cassettes fit into modern room design, lower noise and ensure improved room acoustics in bars, pubs, cafés or restaurants.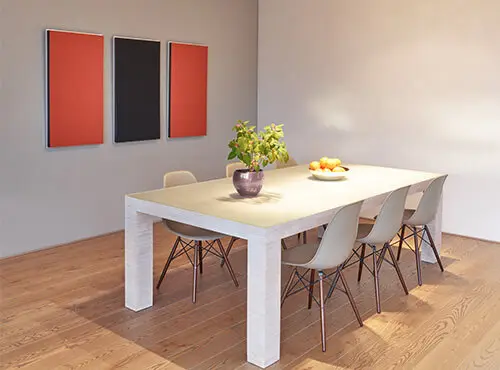 Invisible sound insulation, noticeably better room acoustics
Apart from the option of including the sound insulation panels actively in the design of the pub by consciously placing them as visible acoustic elements, the sound insulation can also be fitted almost invisibly in the restaurant, café or bar. Installing the sound absorbers under tables or chairs, for example, is suitable here. Sound absorbers with practical self-adhesive kit can be easily cut and stuck underneath the furniture. Ideally, it should be ensured here that the acoustic foam panels are fitted such that the guests cannot constantly touch them with their fingers. This prevents premature wear.
Another particularly elegant and highly effective method for soundproofing in the restaurant, café or bar is a full wall cover. Flat sound absorbers are stuck to the wall and then tightened using plastic profiles and a special acoustic material. The sound waves can penetrate the acoustic fabric almost unhindered. The result is a high level of sound absorption and maximum discretion.
How does the soundproofing and noise dampening in the disco and club work?
When improving room acoustics, discos and clubs represent a particular challenge. On one hand the sound quality inside should be optimised, and on the other hand outside noise pollution due to the drumming of the music also has to be prevented.
For improved music sound, sound absorbers should be fitted to walls and ceilings are described above or hanging acoustic elements or acoustic sails should be used.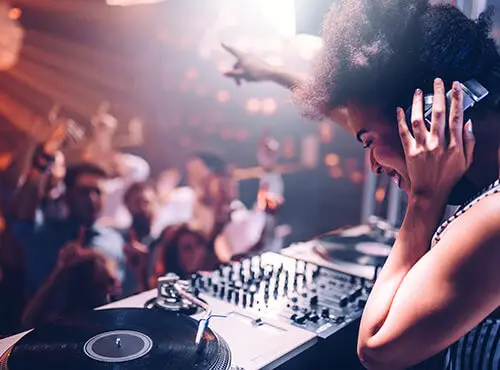 Sound insulation in the disco or club ensures an optimum sound for partying and dancing. Soundproofing and noise proofing prevents music becoming a problem for the neighbours.
Heavy weights against noise from the disco and club
In order to prevent noise escaping, targeted measures for soundproofing and sound insulation have to be taken. To this end, the walls and ceilings of the disco or club should be fitted with sound insulation. Sound absorbers with the greatest possible density, such as heavy acoustic foam or flat sound absorbers with a high material thickness, are especially good for reinforcing the material of the construction elements and stopping sound transmission. Decoupling the walls and ceiling using so-called room-in-room concepts is also very effective as noise insulation. Partition walls made, for example, from drywall or plywood are placed in front of the walls of the disco or club and the cavity is filled with noise insulation mats.
Sound insulation and fire protection in gastronomy
For discos, restaurants, clubs, cafés and bars – as well as for other public and commercial buildings – fire protection class DIN 4102 B1 typically applies. Which is why you will find sound absorbers with a higher fire protection class in our "Architect Line". Our recommendation: Find out first about the applicable fire protection provisions in your pub and then get advice from our experts in order to find the right products.
Why should you choose sound insulation from aixFOAM for your restaurant, café or disco?
In order to create an inviting atmosphere with a better ambience for your guests, you need sound insulation that combines high sound absorption coefficients with an attractive, modern look. We at aixFOAM are specialised in exactly this! As a manufacturer of effective acoustic elements, we place particular value on a high quality finish for our absorbers.
Sound insulation
maximum
sound absorption
Surfaces
profiles to
choose from
Heights
different heights
can be selected
Colour selection
as desired
Fire protection
in different
classes
Installation
multiple
options
aixFOAM sound absorbers reduce noise, improve the room acoustics and are available in various fire protection classes and material thicknesses. Choose your favourites from several colours and surface profiles. Installation options such as the elegant aluminium hanging cassettes simplify the fitting and removal of the absorbers and provide visual highlights to the design of your bar.
Now it's your turn: Get sound insulation for your bar – direct and cheap from the manufacturer!
Choose your sound insulation conveniently in the aixFOAM Online Shop or contact our experts directly. We provide advice free of charge and will make you a non-binding offer with the right sound absorbers for your restaurant, café, bar, disco or club.
The aixFOAM technical planners can be contacted by telephone or email.
Free advice
This is where you can find sound insulation products for restaurants, cafés, bars, discos and clubs.
To the products
Looking for inspiration?
Here you will find pictures from our customers of sound insulation in gastronomy.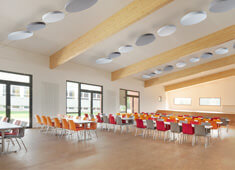 To the gallery