Bass absorbers for that perfect sound
Roar. Boom. Muddy sound. It's not just musicians and home cinema lovers who know how difficult it is to optimise bass in room acoustics. But why is it that your high-end hi-fi system does not deliver the desired sound at home and what can you do about it?
On the trail of bass
The biggest hurdle in improving room acoustics is bass. Around 75% of the problems with the acoustics of rooms are in the bass range and regularly cause sound absorption related despair. Sound optimisation of low frequencies is generally multifaceted and more complex compared to the mid or high range.
The reason for this is the nature of low frequencies or bass. Low tones have a higher wavelength and have more energy, which must be absorbed during sound absorption.
Sound waves are generally reflected from the massive boundaries of a room, i.e. the walls. However, bass waves do not spread in a comparatively directional manner like high or medium frequencies, but move more spherically through the room, especially when playing with conventional three-way speakers. As a result, they are thrown back particularly often.
The superimposition of these reflections creates so-called "standing waves" or "room modes" between opposite walls. Standing waves have different minima and maxima, which can lead to cancellation or overemphasis on individual frequencies at different positions in the room. This creates long reverberation times and a spongy and uneven sound that negatively distorts the room acoustics.
Bass absorbers / bass traps improve room acoustics
So-called bass absorbers or bass traps, are suitable to specifically reduce the sound and ensure a clear, crisp bass sound.
In contrast to "normal" broadband absorbers, these special sound absorbers have a particularly high material thickness. This allows the bass frequencies to penetrate deep into the absorber and bass is effectively dampened.
In addition to round absorbers, there are also bass traps with a wooden housing, which are particularly popular with professional musicians and are therefore often comparatively expensive. A good, cheaper alternative and frequently chosen variant of bass or edge or corner absorbers are absorbers with a body in the shape of a prism - like our aixFOAM bass absorbers for low-frequency absorption.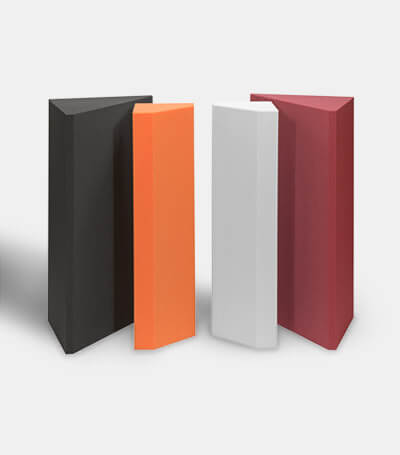 aixFOAM bass absorber for optimal sound
Save on the price, not on the bass!
Configure your bass absorber now and bring a powerful bass sound home, without flutter echoes, drones and booms.
About the product
aixFOAM bass absorber - low frequencies firmly under control
Our aixFOAM low-frequency absorbers are high-quality, open-pore acoustic elements that are made of acoustic foam in two material thicknesses. The larger the sound absorber chosen, the more effective the absorption behaviour in lower frequency ranges.
As with all of our acoustic elements, we only use the highest quality acoustic foams for our low-frequency absorbers. These not only have demonstrably good absorption values, but are also provided with a special UV blocker additive. This protects them from yellowing caused by light.
Set up the bass absorber correctly
Correctly placed in the room, the prism-shape of the aixFOAM bass absorber is ideal for absorbing sound. For this, the bass absorber is placed with the tip pointing into the room in the corners of the room. This means that the area on which the sound hits is the largest and the sound absorption is optimal. In addition, the sound pressure in corners is generally the highest in rectangular rooms. By the way: The bass absorber owes its other designations such as corner absorbers or edge absorbers to the above-mentioned installation in the corners of the room.
Ideally, the corner absorbers should also be placed behind the speakers or boxes. Depending on requirements and room height, the depth absorbers can also be simply stacked on top of one another in order to enlarge their area and thus further enhance the sound-absorbing effect.
The right combination for great sound
For optimal acoustics in the recording studio, hi-fi room or home cinema, of course, equipment with bass absorbers alone is not enough. We therefore recommend attaching further sound absorber panels to the walls as broadband absorbers in addition to the edge absorbers.
In our aixFOAM shop you will therefore find many different acoustic elements, which you can vary in surface and colour. The soundproofing panels cover the sound optimization in the mid and high range and also ensure a great look.
The selection of your bass and sound absorbers
As acoustic experts, we know that every room is unique with its sound and acoustics. As a result, the respective requirements for acoustic elements for sound absorption differ from room to room.
In order to make the selection of the right bass and sound absorbers as easy as possible for you, we have summarised all relevant data about our acoustic elements for you in our online shop. Of course, we would also be happy to support you personally with free advice on our customer hotline.
Infobox
In most cases, the bass is the biggest problem when optimizing the room acoustics. Bass waves often overlap and have a high energy. Therefore, high-quality and correspondingly thick material is required for sound absorption.
Low-frequency absorber from aixFOAM
aixFOAM bass absorbers made of open-pore acoustic foam are just as suitable as bass traps for sound attenuation of unwanted bass frequencies. To do this, the prism-shaped woofers are placed in the corners of a room, ideally behind the loudspeakers. The tip of the absorber should point into the room to increase the absorption area.
We know all about bass!
We're happy to assist you in our aixFOAM shop or during a free consultation to help you choose the right bass and sound absorbers. We will then manufacture your acoustic elements especially for you, so that you can soon enjoy the perfect bass sound.
Need help?

Call us or send us an email. Together we'll find the right acoustic solution via a free consultation with our specialist planners.
+49 2403 / 83830 - 22
Monday to Friday
08:00 o'clock untill 17:00 o'clock
sales@aixfoam.com
Daily, 24 hours a day
aixFOAM shop
Visit our aixFOAM store and find your suitable sound insulation: less noise and better acoustics with sound absorbers directly from the manufacturer.
Find your sound insulation