Improve the acoustics in your recording studio
The moment before the first note is struck: concentrated silence reigns. The previous grips, rhythm changes and riffs are re-arranged mentally, the lyrics repeated line by line. And then the time comes - the red lamp is on and sound recording begins. At this moment, perfection is required, and not just for musicians, sound engineers and producers, but also for the acoustics in the recording studio. All acoustic requirements for precise studio sound must be right.
But which factors actually determine audio quality in the recording studio and how can you improve the acoustics?
Home recording studios are becoming increasingly popular
Not only are professional recording studios particularly popular with musicians, but so-called home recording studios (home studios) are also becoming increasingly popular. One reason: The demands on high quality studio recordings - in relation to low costs - are constantly growing. The advantage offered by these small, mostly independent studios is that musicians can record and mix their compositions with more flexibility.
Soundproofing vs. acoustic treatment in the recording studio
The quality of the recording is also a top priority in home studios. Well-designed acoustic treatment can ensure optimised sound. The difficulty often lies in the fact that both the recording of the music and production of the recording (listening, mixing, mastering, producing, etc.) take place in a single room. This makes "neutral" listening relatively difficult. In addition, unwanted room noise can disturb the sound recording. This poses special challenges for the optimisation of studio acoustics.
In general there are two acoustic scenarios to consider in recording studios:
Soundproofing/ noise insulation to prevent two-way sound leakage
Acoustic treatment - acoustic optimisation within the room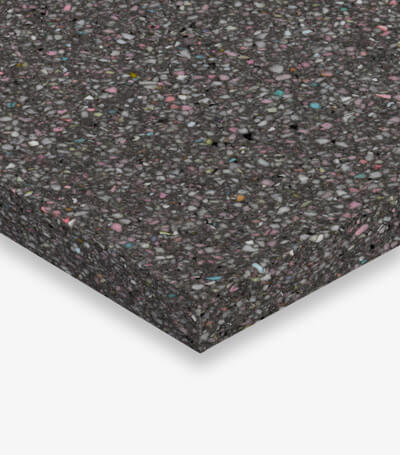 Sound absorbers for musicians and recording professionals
aixFOAM sound absorbers improve the acoustics and ensure the optimal sound in the recording studio or rehearsal room.
Here you will find sound insulation, especially for use in recording studios. Outfit your studio for perfect sound and experience precise bass reproduction without flutter echo, bass boom or drone.
Discover soundproofing
Soundproofing for recording studios
With well planned soundproofing in recording studios, you can prevent noise from leaking from or to the outside. In this way, recordings can be made at any time of the day or night, i.e. even during quiet periods in residential areas. It also prevents outside noise, such as traffic noise, from interfering with studio recordings.
To prevent noise as much as possible, we recommend covering the entire surface - ideally a room-in-room installation. This means that a second wall designed as a supporting structure is placed in front of each wall. Drywall filled with aixFOAM HEAVY Duty acoustic foam is ideal for such a support structure. This construction decouples incoming sound and prevents it from being transmitted to the walls of the building. This prevents sound bridges and the transmission of noise to the environment.
Constructional measures for sound insulation are comparatively demanding - especially when installing a ceiling structure. Therefore, pay attention to your occupational safety or, if necessary, request professional, manual support.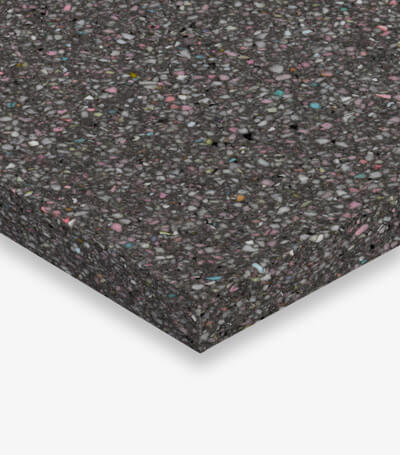 Sound insulation/ soundproofing of walls and ceilings
Your guide for effective soundproofing/ sound insulation with acoustic elements from aixFOAM - directly & cheaply from the manufacturer!
Here you'll find important information, installation examples and suitable sound insulation products for insulating walls and ceilings - for less noise and easygoing neighbours.
Read more
Optimise acoustics in the recording studio
Various acoustic elements can be used to specifically change and perfect the sound in the recording studio. Mobile acoustic partition walls or permanently installed elements such as sound absorbers, resonators or diffusers are often used for optimal results in the recording studio area. They control or direct reflections from different sound sources. This can reduce unwanted reverberation or absorb disturbing frequencies and noises.
Porous sound absorbers
Porous sound absorbers such as acoustic foam absorb sound (sound energy) and convert it into thermal energy. However, this isn't noticeable. The conversion absorbs part of the sound and only reflects a fraction of it. This reduces reverberation and improves room acoustics. Sound absorbers are particularly suitable as broadband absorbers in the medium and high frequency range and are easy to use. Special acoustic elements such as the SH012 bass absorber are also made of foam, but their structure also makes them suitable for absorption in the low-frequency range. Through special surface profiles of the foam, e.g. with egg crate or pyramid foam, the sound can also be scattered, which has a positive effect on the naturalness of the sound and enlivens the sound pallet.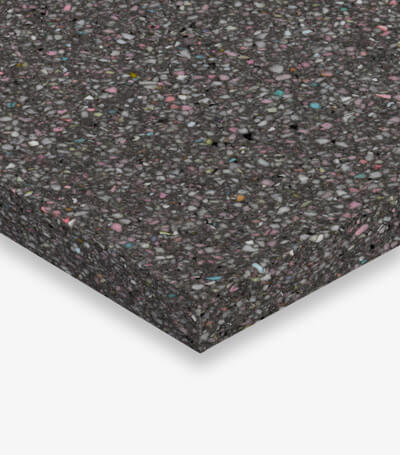 Bass absorbers for that perfect sound
Are you still looking for that perfect bass sound?
In this guide you will find all the facts about aixFOAM bass absorbers as well as tips for the correct positioning of bass traps. aixFOAM bass absorbers are high-quality acoustic elements - get them directly and at great value from the manufacturer.
Read more
Resonators
Just like sound absorbers, resonators dampen the sound. This means that they primarily reduce reverberation and prevent overlapping of individual frequencies, so-called room modes. The sound energy is converted into kinetic energy and absorbed by vibrations (resonances). However, resonators are only designed for sound absorption at low frequencies. Their disadvantage is the low acoustic treatment at medium and high frequencies.
Diffusers
Unlike sound absorbers/ resonators, diffusers generally do not absorb the incoming sound and have almost no influence on the reverberation times. Instead, they are intended to evenly disperse incoming sound waves and therefore improve the composition of the reverberation, or its quality. The "box-like" design of diffusers with chambers of different depths allows the reflected sound to be directed in different directions thereby making the reflections somewhat softer. This creates a particularly natural sound.
With aixFOAM sound absorbers for perfect studio sound
The use of acoustic absorbers made of acoustic foam in the recording studio is particularly recommended, as they cover a wide frequency range as broadband absorbers. Thanks to our many years of experience in the field of professional sound attenuation, aixFOAM products achieve the best results, especially in the field of recording studio acoustics. Thanks to many years of research in collaboration with the Institute for Technical Acoustics at RWTH Aachen University, we are able to offer highly optimized sound absorbers to our customers. aixFOAM sound absorbers are available in various designs, colours and mounting options. They are easy to assemble and ensure a precise, clear sound in the recording studio.
Reduce reverberation times in the recording studio
The installation of professional absorbers is usually intended to do just one thing: reduce reverberation times. It is often sufficient to cover 20 - 30% of the wall and ceiling surfaces with high-quality sound absorbers. For example, part of the ceiling and two of the adjacent wall surfaces can be covered with absorbers. At this point, it makes sense to choose two opposite wall surfaces to treat the possible "mirror points" of the sound.
Sound absorbers on the walls at ear level support subsequent listening and reinforce the sound-absorbing effect. Sound absorbers at ceiling height further increase sound absorption.
Important! Please note, however, that excessive soundproofing can lead to unnatural room acoustics. In general, we recommend a step-by-step approach to finding an optimal acoustic solution. This avoids "overdamping" and is also more cost efficient.
When planning acoustic treatment in the recording studio, it also makes sense to include the recommended reverberation times. The following reverberation time guidelines should not be exceeded or undercut in a professional recording studio application: Pure voice recordings should be between 0.4 to 0.5 seconds whilst reverberation times between 0.7 seconds and 1 second are desirable for music recordings. These values depend on the respective music style and type of music and of course on personal feelings.
Special case: Soundproofing for drums
In order to counteract the structure-borne noise from percussion instruments, the drums should be placed on an acoustically decoupled pedestal. Part of the floor area is covered with our SH007 acoustic foam. This should then be covered with a sturdy wooden panel. It is important to note that the wooden panel is fixed in a floating installation. This must not have any contact with the masonry or the floor, because this is the only way that all vibrations that form within the drum kit are decoupled by the absorber and, with sufficient material thickness, are not passed on to the floor.
aixFOAM: Your partner for perfect recording studio acoustics
As a manufacturer of high-quality sound absorbers, we at aixFOAM can look back on over 60 years of experience in the field of soundproofing. We would be happy to support you with this expertise. In a free consultation we help you to choose the right soundproofing for your recording studio, because every room and the associated acoustic requirements are individual and unique. Take a look at our product category "Recording studio/ rehearsal room" and let yourself be inspired or contact us by phone so that we can find the optimal aixFOAM acoustic elements for your recording studio together.
Need help?

Call us or send us an email. Together we'll find the right acoustic solution via a free consultation with our specialist planners.
+49 2403 / 83830 - 22
Monday to Friday
08:00 o'clock untill 17:00 o'clock
sales@aixfoam.com
Daily, 24 hours a day
aixFOAM shop
Visit our aixFOAM store and find your suitable sound insulation: less noise and better acoustics with sound absorbers directly from the manufacturer.
Find your sound insulation