Self-adhesive soundproofing from aixFOAM - advantages and installation
Sound absorbers made of acoustic foam generally have excellent properties for reducing sound and are often used in practice as self-adhesive sound insulation. Nevertheless, it is important to pay attention to the quality of the acoustic panels. Acoustic foam can only develop its full potential as a sound absorber and protect it from noise through high-quality workmanship.
In addition to a high-quality material, the installation of the sound absorbers is also crucial for the effectiveness of soundproofing or acoustic treatment.
Be careful when using spray and assembly glue
In most cases, acoustic foams are glued to the surface.
However, adhesives such as spray glue or conventional assembly adhesive have NOT often worked out when installing sound absorbers. So it is sometimes complicated to find the appropriate dosage of an adhesive to permanently hold the absorber on a support surface e.g. to attach to a wall. The reason: The amount of adhesive required always depends on the weight of the processed foams and whether the substrates are rough or uneven.
Especially when the sound absorbers are being mounted over a large area, it is difficult to apply the adhesive uniformly to the material. As a result, the absorbers do not adhere evenly to the surface, can slip or detach after a while. This is particularly annoying because sound absorbers often remain visible within the room.
Spray adhesives or other spreadable adhesives generally belong to the family of contact adhesives and must therefore always be applied on both sides (on sound absorber and mounting surface). This is a problem especially in architectural applications and in room acoustics, since surrounding areas can easily become dirty during application - not to mention requiring double the effort.
Another problem with gluing with spray or assembly adhesive indoors is the build-up of odours. Failure to maintain certain flash-off times and ensure the availability of fresh air, can lead to negative health consequences. Long-term evaporation of the adhesive can also affect well-being.
In addition, applying the adhesive to the acoustic elements can change the fire properties of the material and can even be dangerous in an emergency!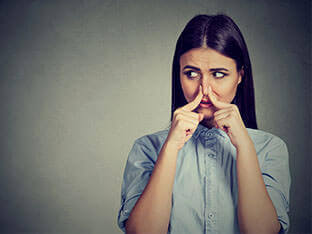 Unpleasant odours from conventional adhesives
Self-adhesive soundproofing from aixFOAM
To avoid annoyance, risks and defects when installing your soundproofing elements and to provide you with the best possible support for your soundproofing/ acoustic treatment, almost all of our aixFOAM sound absorbers come with a practical self-adhesive (STICKY) surface featuring high-quality adhesive.
Strong hold without additional adhesive
The special adhesive of our acoustic elements ensures a permanent hold of the absorber and, in contrast to other self-adhesive sound absorbers of lower quality, does not lose its adhesive force. With the aixFOAM sound absorbers, you do not need any additional adhesive and save the effort of evenly applying the adhesive as well as unsightly contamination of the surrounding surfaces or unpleasant smells.
Integrated scrim for more stability
The adhesive surface of our aixFOAM sound absorbers is also reinforced with a special thread structure, so-called "thread scrim". We use a special diagonal laid scrim. This special flat structure provides additional stability against stretching and warping of the material and is mechanically incorporated into the homogeneous adhesive.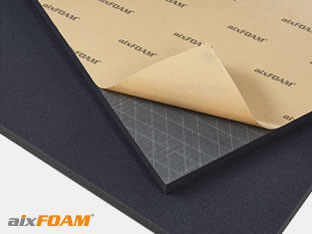 Thread scrim for material stability
Certified fire protection quality
Our sound absorbers made of duromer acoustic foam, conform to the highest fire protection class DIN 4102 B1, and have also been tested by the Materials Testing Authority of North Rhine-Westphalia (MPA). The material was examined together with the adhesive and has been awarded a building inspection certificate. The important thing to realise here: By applying the adhesive, conventional acoustic foams lose fire protection class B1. Please note that in practice often only the fire protection properties of the material itself are specified. The addition of adhesive, however, generally invalidates this certification. This cannot only be irritating for consumers, but also really dangerous in the event of a fire. Our aixFOAM products have therefore been successfully tested together with the adhesive on the most difficult mounting surface (metal) and are therefore also approved for all other surfaces.
Precise information on the fire protection classes of our sound absorbers is available on the individual product pages of our aixFOAM shop or from our customer advisers in a free consultation. It is best to inform yourself in advance about the fire protection regulations of your construction project so that we can then help you to select the right acoustic elements.
Five simple steps for optimal soundproofing with self-adhesive sound absorbers from aixFOAM
STICKY (self-adhesive) acoustic foams from aixFOAM make installation child's play. In the following, we will show you how you can achieve your desired soundproofing in just five simple steps with our self-adhesive sound absorbers.
After you have conveniently ordered your suitable, self-adhesive sound absorbers in our aixFOAM online shop, you can start assembling the acoustic elements for your soundproofing or acoustic treatment.
Step 1: Clean the mounting surface
As with all adhesive bonds, it is also important when installing self-adhesive sound absorbers that the mounting surface is clean, dry and free of grease, oil and all separating agents. We therefore recommend cleaning the surface thoroughly with a non-greasy cleaning spirit. Be sure to check the compatibility of the mounting surface with petroleum spirit in advance. Then you should rub the mounting surface dry with a clean cloth and let it dry for 30 minutes.
Step 2: Mark and plan
For professional installation, it is essential that you carefully plan the arrangement of the sound absorbers. We recommend that you visualise the desired arrangement completely in advance using a pencil and ruler.
Step 3: Remove covering material
Carefully remove the covering material from the underside of the sound absorber. Be careful not to touch the adhesive layer with your fingers, as the fatty layer of human skin, like any other contaminant, significantly reduces the adhesive strength of the adhesive.
Step 4: Attach the sound absorber
Position the absorber according to the markings made previously. It is important for a durable connection that the self-adhesive material is not under tension and is covers the entire area of the surface. The adhesive strength of a cold bond depends crucially on the contact pressure. Avoid air bubbles and uneven contact pressure by using a pressure roller. Pressing by hand is usually insufficient.
Step 5: Drying time
The bond between the self-adhesive sound absorber and the mounting surface can be subjected to slight mechanical stress after a period of around five hours. However, the composite only achieves its highest possible adhesive force after drying for 24 hours.
General information on installing self-adhesive sound absorbers
When installing the self-adhesive aixFOAM sound absorbers, you should also note some basic information for successful soundproofing/ acoustic treatment:
Separation of the adhesive bond after initial adhesion (initial stack) reduces or destroys the adhesive strength of the glue. Therefore, careful planning in advance is extremely important.
With freshly painted surfaces, you should make sure that the paint has fully cured.
When gluing to plastics, we recommend carrying out tests to determine whether the plastic contains components that could be damaged by the adhesive.
The material should be processed within half a year, otherwise the shelf life will be exceeded and the function of the adhesive could be impaired.
Soundproofing experts at your side
We at aixFOAM have been dealing with soundproofing as a manufacturer of acoustic foam for 60 years. Through a special manufacturing process and strict quality controls, we guarantee a large selection of high-quality acoustic foams in various material thicknesses.
If you are unsure about the right sound absorber or have questions about the installation of our acoustic elements, we will be happy to help you.
In our aixFOAM shop we have collected detailed information about all our products (sound absorption level, recommended application, fire protection class, etc.) for you. In addition, the aixFOAM specialist planners at the customer hotline are at your disposal for free consultation.
Infobox
In addition to a high-quality material, the installation of the sound absorbers is also crucial for the success of soundproofing or acoustic treatment. To avoid defects, risks and hassle with conventional adhesives and glues when installing a soundproofing solution, we at aixFOAM have developed self-adhesive sound absorbers.
Easy installation of sound absorbers
Self-adhesive aixFOAM sound absorbers can be easily mounted in five simple steps and ensure optimum soundproofing/ acoustic treatment.
Branded goods and tips from the manufacturer
Our aixFOAM online shop has the right sound absorbers for your needs. In addition, we are available with practical tips and a free consultation via our service hotline.
Need help?

Call us or send us an email. Together we'll find the right acoustic solution via a free consultation with our specialist planners.
+49 2403 / 83830 - 22
Monday to Friday
08:00 o'clock untill 17:00 o'clock
sales@aixfoam.com
Daily, 24 hours a day
aixFOAM shop
Visit our aixFOAM store and find your suitable sound insulation: less noise and better acoustics with sound absorbers directly from the manufacturer.
Find your sound insulation