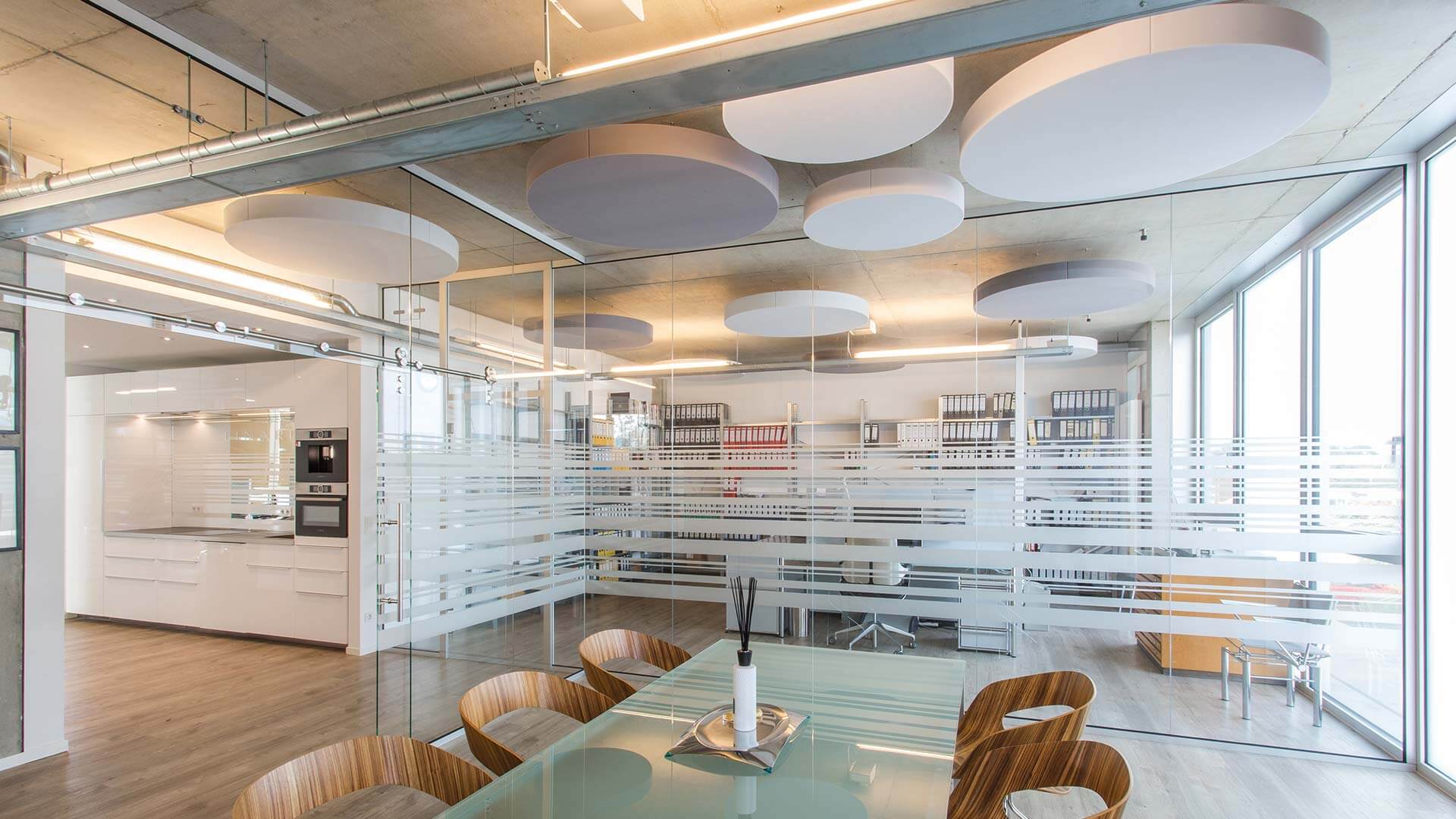 Sound insulation for a quieter office
Discover pictures from our aixFOAM sound absorbers in use in offices and workplaces!
To the gallery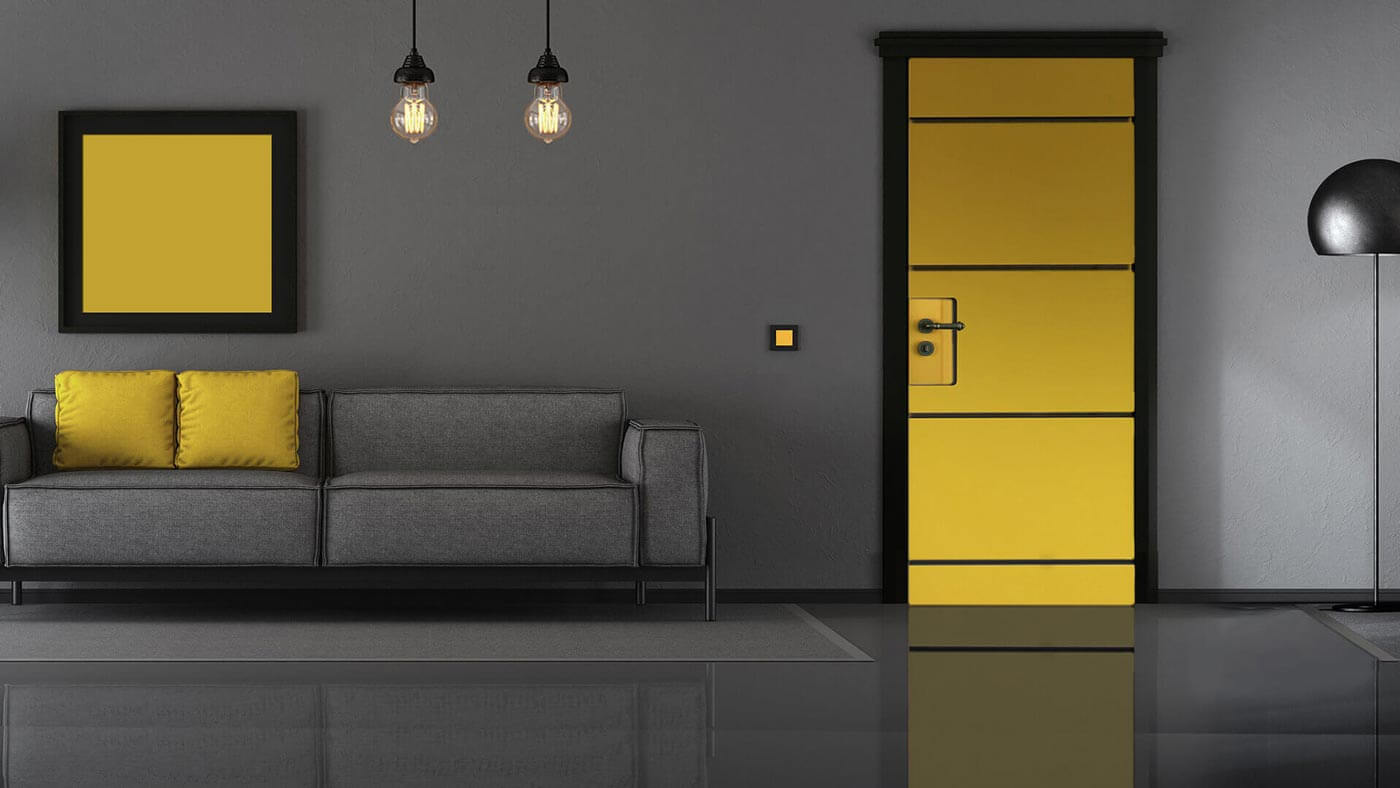 Colourful is beautiful.
Discover aixFOAM door insulation sets in 20 attractive colours and block out noise.
Discover them now!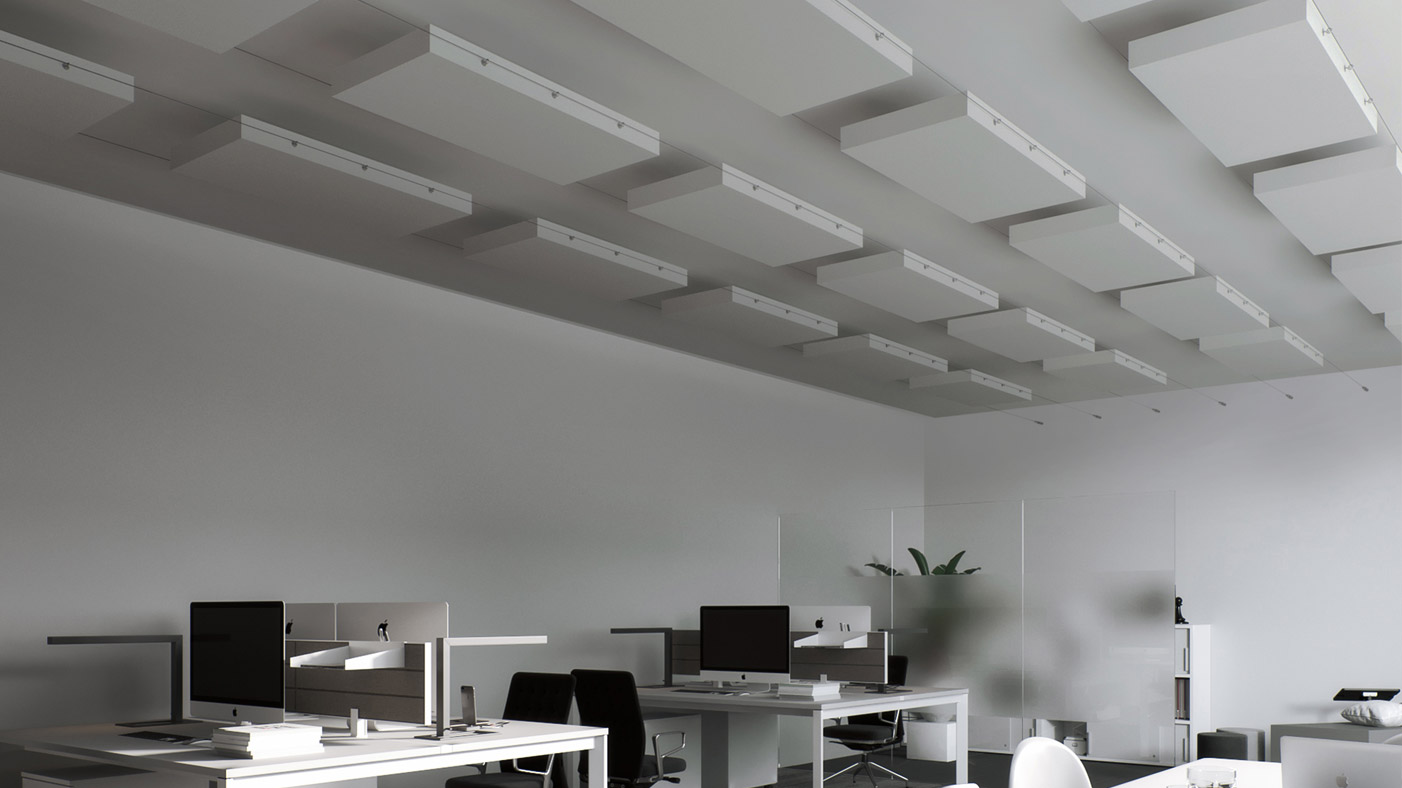 All good things come from above
Sound insulation for ceilings: Discover our sound absorbers for more quiet and crystal-clear acoustics!
Discover now!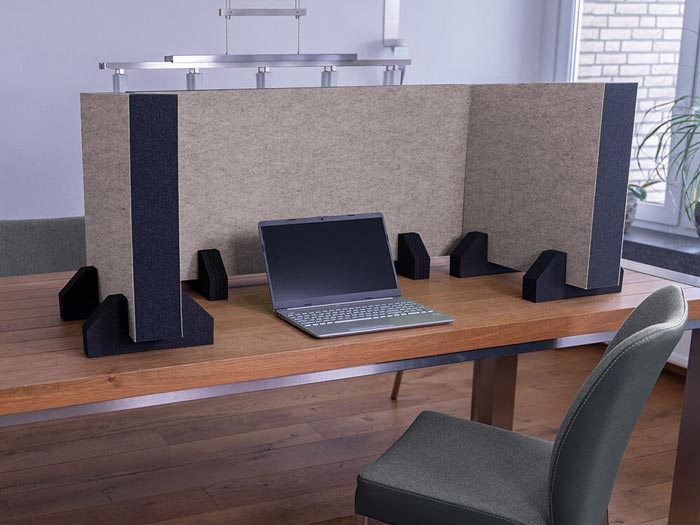 Peace for your workplace.
Calls, telephone and video conferences without noise and reveberation - with our mobile table absorbers.
Buy now!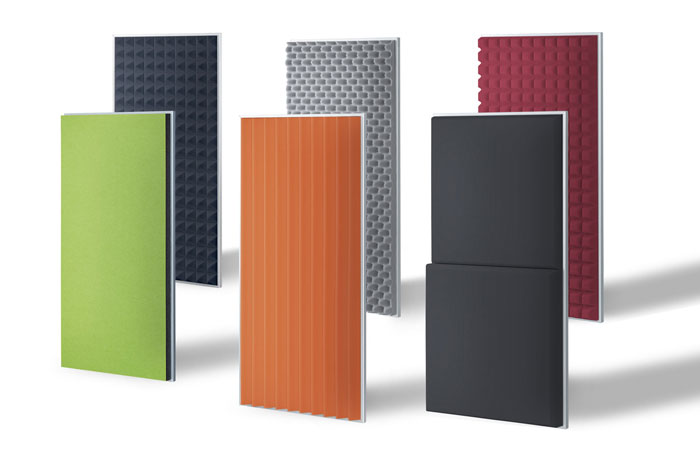 The right frame for your acoustics
Effective sound insulation as beautiful and flexible as never before - with aixFOAM acoustic frames
Discover them now!
Location
Ceiling
Wall
Door
Floor
Table
Optics
Smooth surface
Felt surface
Acoustic fabric surface
Structured surface
Fastening system
Self-adhesive
Suspension system
Mounting cassette aluminium, anodised
Products without fixed mounting
Cable system
Noise source
Air-borne sound, high frequency
Air-borne sound, medium frequency
Air-borne sound, low frequency
Matching products: Reset Filter
Classic Line
Classic sound absorbers for improved sound, less noise and reverberation
Professional Line
Exclusive designs as well as acoustic elements with soundproofing and flame protection Plus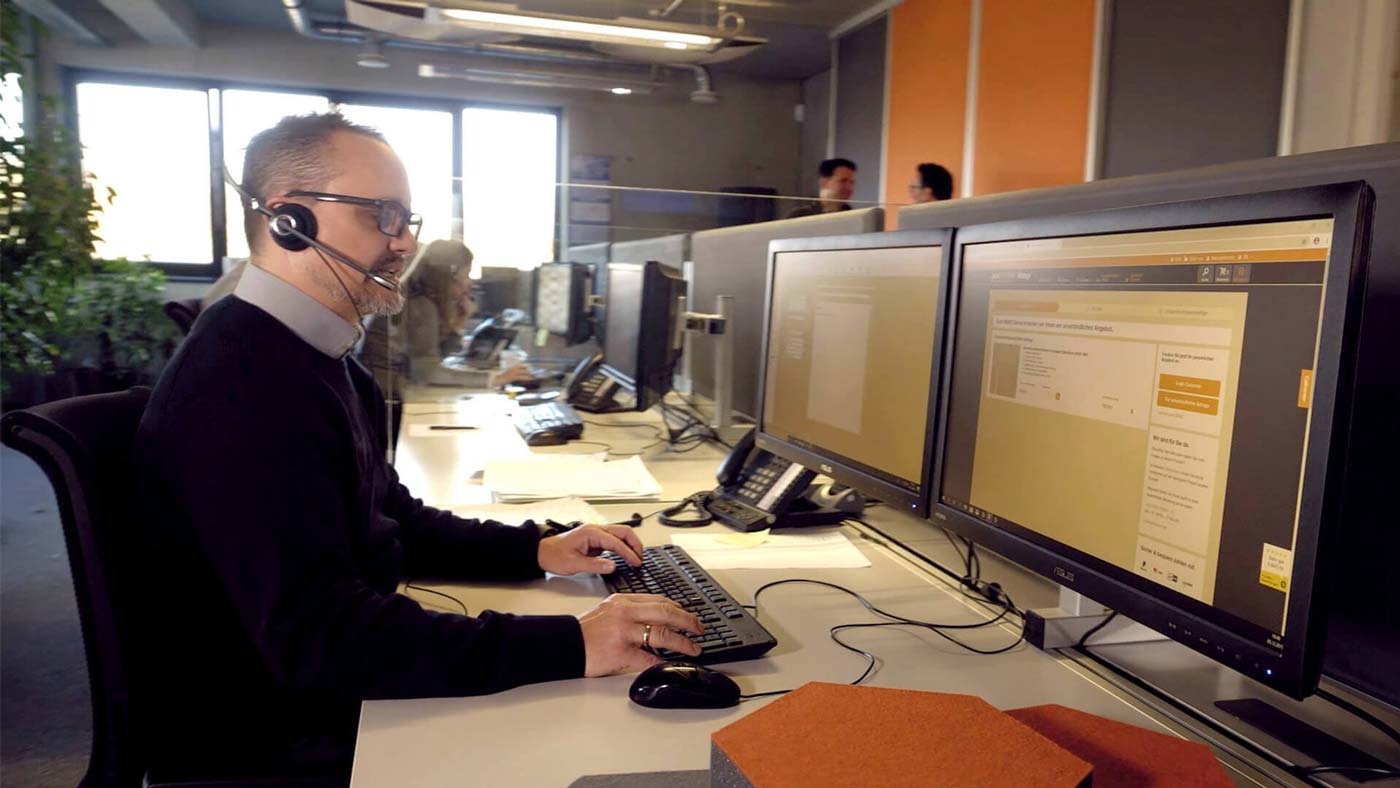 Individual service requests
Are you a major customer? Do you need different delivery quantities than in the shop? Do you have special requirements for packaging or special shipping and delivery conditions? Talk to us!
To contact page
Sound insulation for offices and call centres
Telephones ring, printers and copiers chatter without end, colleagues call or discuss important projects and the air-conditioning fans fight with the computers to be the noisiest. The numerous noise sources in offices or call centres cause the sound level to increase unpleasantly. Additionally, the structural features, i.e. hard and sound-reflective materials such as concrete walls, glass fronts and furniture, favour long reverberation times so that noises remain in the room for longer. Without sound insulation, this noise level can quickly become an issue in the office.
Why is sound insulation so important in the office or call centre?
Apart from the statutory regulations, there are many good arguments for using sound insulation in offices and call centres.
Sound insulation promotes health and productivity
A high noise level not only disturbs employees' concentration and lowers performance. Permanent noise pollution also leads to health problems that have to be taken seriously. Stress, tension, nervousness, along with disturbed sleep and heart or circulatory complaints are possible consequences of too much noise, and can cause health-related absences.
Noise in offices increases the psychological pressure, causes stress and impairs concentration. The use of sound insulation is a necessary tool, especially in open-plan offices or call centres, for maintaining the health and efficiency of the employees.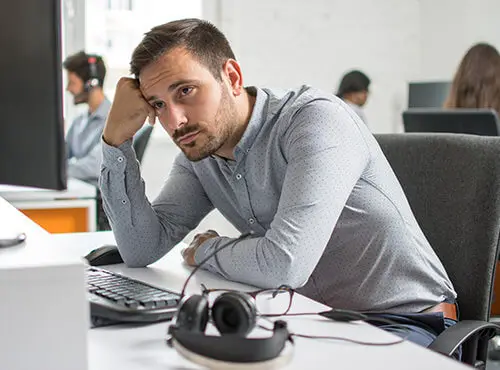 According to the Workplace Ordinance, the permitted threshold for the sound pressure level in the office is between 55 dB(A) and 70 dB(A). Directive DIN 18041 for "Acoustic quality in small and medium rooms" also provides valuable arguments for the use of sound insulation in offices and call centres and should be referenced in the design and soundproofing.
Sound insulation improves the quality of services
If added-value is achieved especially or exclusively through communication by a company's employees, such as in a call centre, good room acoustics are especially important. Here the focus is less on the applicable sound insulation provisions and instead more on increasing the quality of service. Lots of background noise or "warehouse acoustics" with too much reverberation have an untrustworthy effect for the customer or business partner on the other end of the telephone and reduce the willingness to buy and cooperate. Using sound absorbers helps.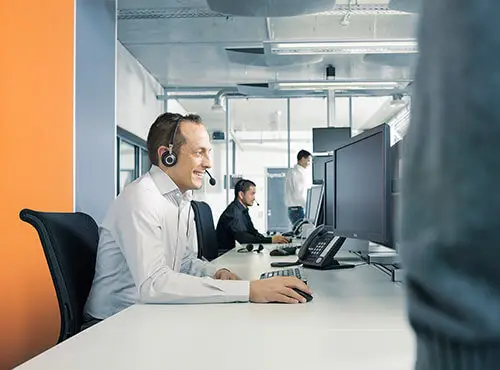 Despite the busyness in the call centre or office, effective sound insulation ensures good communication and thus promotes the quality of the service and of sales.
How can sound insulation in an office and call centre improve room acoustics?
With simple measures and the right acoustic elements, noise in the office or call centre can be reduced and the acoustics improved.
Sound insulation for walls and ceilings
In order to dampen reverberation in office rooms, system solutions such as fitting acoustic ceilings or suspended ceilings can be sensible. Acoustic sails and sound absorbers in hanging cassettes on the walls or ceilings are also a very good alternative for improving room acoustics. In addition, they provide visual highlights and, for example with an elegant felt cover, match the existing room design.
In order to reduce noise in the office or call centre, it is necessary to fight it at the source. In other words: Sound absorbers should be installed at the employees' workplace. Sound absorbers can be fitted directly above the workplaces.
Acoustic sails and sound absorbers in hanging cassettes above the workplaces improve the acoustics and fit perfectly into the design of modern offices and call centres.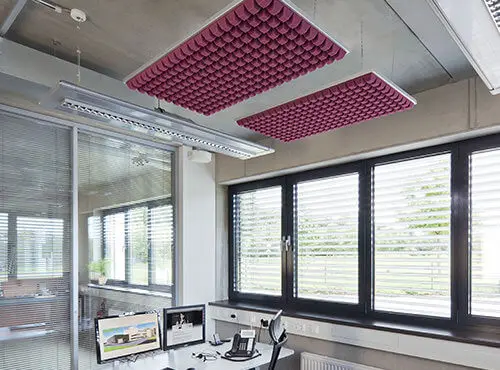 Sound absorbers at the workplace
In order to dampen noises at the workplace, table dividers and table partitions for the desk are particular good. However, the acoustic elements must be installed at a sufficient height so that direct noise cannot affect the person next door or opposite. A simple test is sufficient: If employees can still see over the table dividers, this typically means they are too low. Alternatively, a existing desk partition call can be fitted with sound insulation mats in order to stop noise pollution.
Free-standing acoustic elements in offices or call centres
Free-standing acoustic elements such as acoustic columns or acoustic partition walls are also used in order to improve the room acoustics. They block sound from spreading in the room and thus ensure more peace.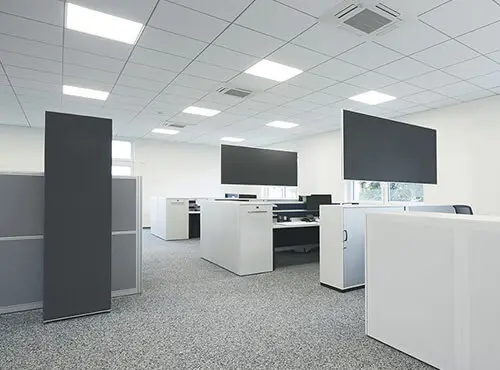 Hanging acoustic partition walls and free-standing acoustic columns are room dividers block the spreading of sound and help protect the individual workplaces in the office or call centre from noise.
Why should you choose aixFOAM as sound insulation in the office or call centre?
As a manufacturer of high quality acoustic elements, we know how important sound insulation at the workplace is. The productivity and health of the employees are closely connected with good room acoustics and the requirements for effective sound insulation are correspondingly high. Over the years, we at aixFOAM have therefore developed sound absorbers, which both absorb sound and also fit the design of modern offices and call centres.
Sound insulation
maximum
sound absorption
Surfaces
profiles to
choose from
Heights
different heights
can be selected
Colour selection
as desired
Fire protection
in different
classes
Installation
multiple
options
aixFOAM sound absorbers reduce noise, improve the room acoustics and are available in various fire protection classes and material thicknesses. Choose your favourites from several colours and surfaces. Various installation options such as our elegant aluminium hanging cassettes simplify the fitting of the absorbers and provide visual highlights to the room design.
Now it's your turn: Get the right sound insulation for your office or call centre – for a working atmosphere for relaxation!
Now choose the right sound insulation from our aixFOAM products for office and call centre or use our free advice service. Our experts will help you find the right solution for your offices or create a non-binding office for your requirements.
The aixFOAM technical planners can be contacted by telephone or email.
Free advice
This is where you can find sound insulation products for less noise in offices and call centres.
To the products
Looking for inspiration?
Here you will find pictures from our customers of sound insulation in offices and call centres.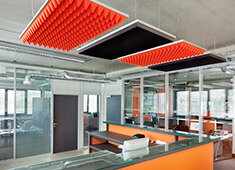 To the gallery