Art.nr.

Flexible flat sound insulation mats

Rectangular plate (100 cm x 50 cm) with flat surface
Breitbandabsorber
Colour: anthracite
Suitable for sound absorption. In the fields of mechanical engineering, vehicle construction, machine housings

...

starting at

Price per package unit
incl. 19% VAT

Art.nr.

Acoustic convoluted foam for industrial sound protection

Industry standard for noise reducing foam
Rectangular plate (100 cm x 50 cm) with convoluted profile ("egg crate pattern")
Colour: anthracite
Versatile, e.g. For machine housings, motors, electroni...

starting at

Price per package unit
incl. 19% VAT

Art.nr.

Effective acoustic absorber with trapezoidal structure and solid basic strength

Rectangular sound absorber (100 cm x 50 cm) with trapezoidal profile
Available in anthracite
Flexible, e.g. For machine housings, server cabinets, machine rooms, server room...

starting at

Price per package unit
incl. 19% VAT

Art.nr.

Highly robust acoustic foam with perforated artificial leather surface

Rectangular absorption panel (100 cm x 50 cm) with perforated artificial leather surface
Insensitive, washable broadband absorber for technical acoustics
Suitable for machine housing...

starting at

Price per package unit
incl. 19% VAT

Art.nr.

Heavy foam - absorption panel with surface lamination

Rectangular acoustic plate (100 cm x 50 cm) with silvery smooth surface
Oil resistant membrane
Multicolored absorption core
Suitable for a wide variety of applications, e.g. Engine enclosures, ventila...

starting at

Price per package unit
incl. 19% VAT

Art.nr.

Absorption foam with acoustic felt lamination

Rectangular acoustic panel (100 cm x 50 cm) with robust textile surface lamination
Textile color black / absorption foam in anthracite
Suitable for use e.g. In mechanical engineering, for claddings, cabins, ...

starting at

Price per package unit
incl. 19% VAT

Art.nr.

Heavy Foam Absorption Panel

Rectangular plate (100 cm x 50 cm) with flat surface
Multicolored gray foam
For various fields of application, e.g. Machine housing, insulation of motors, engine rooms, machine insulation

...

starting at

Price per package unit
incl. 19% VAT

Art.nr.

Highly effective acoustic foil for body sound insulation

Rectangular acoustic plates (100 cm x 50 cm) with self-adhesive back
Ideal for minimizing material vibrations
Flexibly applicable in technical fields of application, e.g. Car body and vehicle cons...

starting at

Price per package unit
incl. 19% VAT

Even more choices?

Higher fire protection, more design, printable elements and much more can be found in our ARCHITECT LINE.
Art.nr.

Highly effective sound insulation with duromere acoustic foam

Rectangular plate (100 cm x 50 cm) with homogeneously porous surface
Extraordinary heat and / or flame resistance according to DIN4102 B1 (without acoustic heavy foil lamination)
Chemically r...

Art.nr.

Highly effective convoluted foam made from duromere acoustic foam

Rectangular acoustic plate (100 cm x 50 cm) with homogeneously porous surface with knurled profile
Exceptional heat and flammability according to fire protection class DIN4102 B1 (withou...

Art.nr.

Highly effective acoustic foam with trapezoidal profile in duromatic acoustic foam

Rectangular plate (100 cm x 50 cm) with homogeneously porous surface with trapezoidal profile
Extraordinary heat and flame resistance according to fire protection class ...

Even more choices?

Felt-laminated acoustic elements, classic acoustic foams and much more can be found in our CLASSIC LINE.
Sound insulation for machinery and plant
What causes noise on machinery and plant?
When machinery and industrial plant are running, loud noises often occur, which are not only an issue, but which can even be harmful to health over the long term. Large engines are moving parts generate vibrations, which transfer into the metal structures of the equipment and cause them to vibrate. These vibrations migrate as "structure-borne sound" through the machines and are emitted into the environment again – noise occurs. This drumming is amplified by the reflections on the hard walls and ceilings in factories. As several machines or plant are frequently located at one site, the noise level soon increases uncomfortably.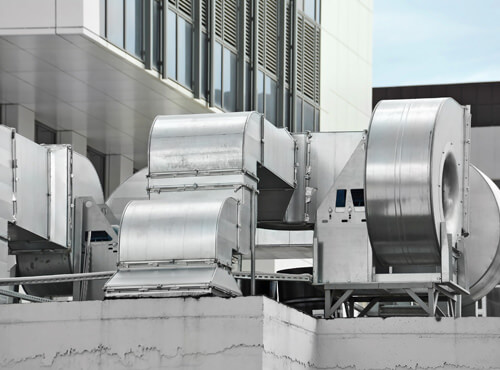 When is noise insulation/ sound insulation necessary in machine construction?
The perception of sound and noise is always subjective, or in other words: Everyone perceives noise differently. What is tolerable for one person may already be a problem for someone else.
However, there are also statutory provisions, which regulate the use of sound insulation against noise, for example the machine noise protection ordinance. It applies to various equipment and machinery, from construction machines to construction and cleaning vehicles and garden and landscaping machinery. Together with the workshop directives and the generally applicable provisions for reasonable soundproofing, it regulates the use of noise insulation on machines. So a noise level (sound pressure level) of 80dB must not be permanently exceeded, otherwise there is an increased risk of heart and circulatory illnesses and hearing damage.
In order to prevent health problems, to lower the stress load and to increase productivity, targeted measures for hearing protection and sound insulation should be taken.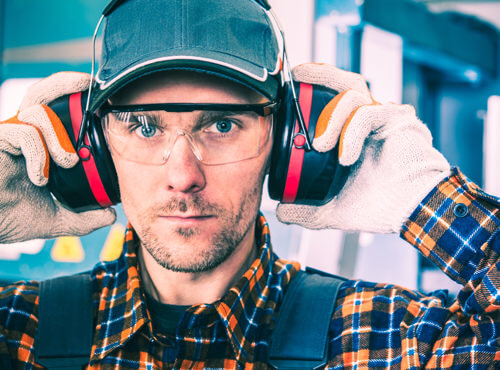 What are the possibilities for retrofitting sound insulation to machines?
First of all it is important to identify the source of the noise. For often it is sufficient just to insulate individual components such the engine or the transmission of a machine with sound insulation mats.
Soundproofing individual components
If only specific components cause the noise and vibrations are not or are only slightly transferred to the machine, dampening these is sufficient. Sound insulation for individual components can be fitted to the existing cladding or casing around the machine using our self-adhesive aixFOAM sound insulation elements. In most cases this is enough to lower the noise level considerably.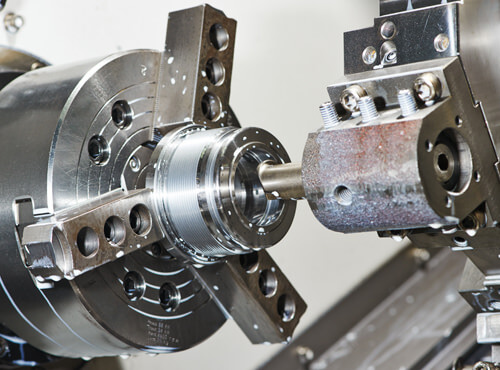 Sound insulation on the entire machine, machine casing and sound insulation container
If several components add to the development of the noise and generate material vibrations, it is advisable to insulate the entire machine. The cladding already fitted here can also be used for attaching acoustic elements or a separate casing can be built for the machine. In most cases, plastic, metal or wooden casings are erected around the machine. In some cases, metal sound insulation containers are also used, which should also insulate the machine. There is also a risk of internal vibrations as a result of the low mass of the material. In order to prevent this, the casing should also be fitted with sound insulation panels.
For anti-drumming and to reduce vibrations, the material of the casing must be reinforced. Acoustic elements with a high density, such as heavy acoustic foil, heavy acoustic foam or ideally a combination of both elements, are particularly good. Alternatively, all aixFOAM sound absorbers can already be given a lamination made from heavy acoustic foil in the factory. Simply select the corresponding option in the configurator.
Noise insulation on compressors and lifts
Compressors and lifts represent a particular challenge for soundproofing/ sound insulation of machinery and plant.
Sound insulation on a compressor
Compressors are among the most noise-intensive machines in industry and labour. Frequently only the right soundproofing can ensure the permitted sound pressure level for these machines. Specific casings, which are fitted with sound insulation mats, are used for this. Nubbed foams and sound insulation mats with liquid-repellent surfaces are preferred, which adjust individually to the shape. In any case, when using sound insulation on compressors, it should be ensured that there is sufficient ventilation for the machine in order to prevent danger from heat development.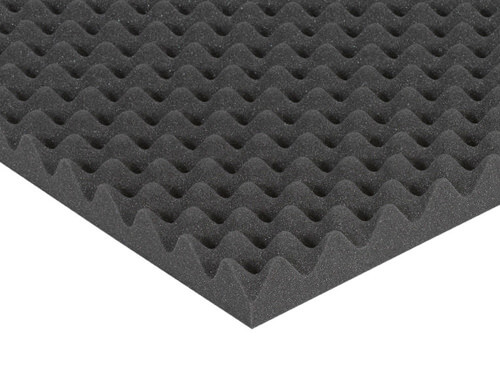 Sound insulation for lifts
Shafts for cargo and person lifts are frequently directly adjacent to living areas or workplaces. Architects and lift builders therefore have to observe the general conditions on noise insulation in high-rise buildings (DIN 4109) and the prescribed limit values and sound insulation measures (VDI 2566). Our aixFOAM sound insulation elements, which correspond to the fire protection standard DIN 4102B, are a good choice for less noise in the lift shaft.
Soundproofing for ventilation systems and air-conditioning
The soundproofing of technical building facilities such as air-conditioning or ventilation systems is particularly challenging because they not only generate noise, they also transport it.
For noise sources such as power units or generators, the construction of a casing around the device is recommended in order to stop the spread of air-borne sound. To this end, a casing can be erected around the device, which is then fitted with sound insulation mats. Porous absorbers such as the SH0011 with smooth surface or the SH0051 with trapezoid profile are suitable for this. For the casing, ensure that there is enough distance from the power unit or generator in order to guarantee the ventilation for the device.
In addition, the casing as well as the generator / power unit should ideally be decoupled from the floor or walls, i.e. that the walls of the casing or the power unit should not have direct contact with these construction elements. A special rubber sealing tape or an underlay heavy acoustic foam is suitable for decoupling. In order to distribute the device's weight consistently, the heavy foam should also be covered with a wooden panel.
The far-reaching ventilation pipes and air-conditioning ducts of technical building facilities transport structure-borne sound if there is insufficient soundproofing. As a result, noise can spread from room to room within a building. Disturbing noises also easily penetrate the inside of the building from the outside or are transmitted from the building to the surrounding area. This can quickly lead to problems with neighbours, irrespective of the development area. In order to prevent this, heavy acoustic foam can be used as anti-drumming for the pipes or they can be wrapped with sound insulation mats.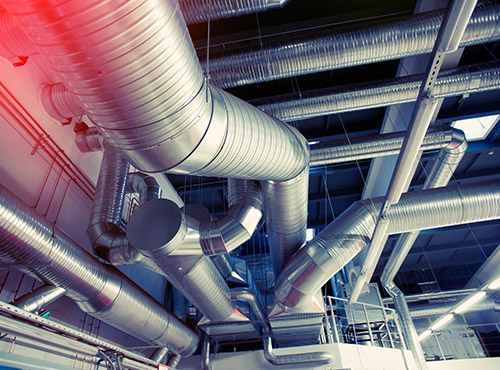 Sound insulation in the area of energy generation
Ever more plants for generating regenerative energies are being built. In particular, wind farms are noise producers as well as electricity generators. Heat pumps also generate noise and because of their proximity to residential buildings – like a cogeneration plant – are a challenge for sound insulation.
Soundproofing wind farms
Noise is generated at several locations on wind farms. While the noise caused by the wind swirling around the rotor blades cannot be dampened, the technical components such as motors and transmissions, which also generate noise, can be insulated with suitable sound absorbers. A separate casing around the noise components may also be sensible here.
Sound insulation for heat pumps and cogeneration plants
Heat pumps and cogeneration plants are mostly located in built-up areas and generate low-frequency, high-energy sound that easily penetrates into neighbouring houses and adjacent buildings. Retrofitting soundproofing of these energy plants is therefore particularly sensible. The most effective option is sound insulation here through separate casing of the noise-intensive motors and power units. Alternatively, the existing casting can also be fitted with sound insulation panels.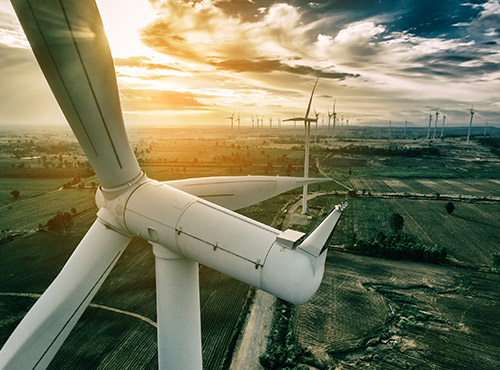 You have the choice: Individually made sound insulation or standard solutions for machinery and plants
As a manufacturer of high quality sound insulation elements made from acoustic foam, we at aixFOAM know that sound insulation on machines is an extremely complex and individual subject. Many machines are tailored to the respective requirements of production and thus are special products. We therefore offer tailored parts for sound insulation on machines alongside the standard sound absorbers in panels.
Our modern production technology allows the custom-made special contours for precise installation in existing housings and machines. For the soundproofing of machine cladding and the soundproofing of soundproof hoods, we offer both large, medium or small series as well as a standard range of modularly designed acoustic absorbers. Upon request, we are also happy to produce prototypes for your planned soundproofing solution.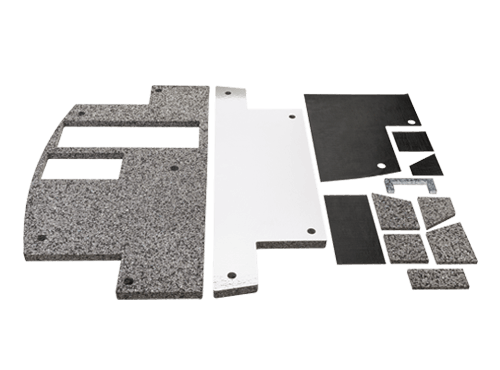 aixFOAM convinces with brand quality – machinery soundproofing "Made in Germany"
Through 60 years of experience and continuous optimization of our high-quality acoustic foams, we have succeeded in developing flexible and robust soundproofing elements with high absorption values. aixFOAM sound absorbers reduce noise and structure-borne noise and are available in various fire protection classes and material thicknesses. Choose from several colors and surface profiles for your favorite. Various surface laminations make aixFOAM soundproofing elements resistant to liquids and dirt, and practical self-adhesive equipment makes assembly easier even in demanding areas.
Now it's your turn: make an end of machine noise!
Choose from our aixFOAM products for mechanical engineering your sound insulation or use our free consultation service. Our specialist planners will support you in your projects to find a suitable solution for your requirements to find.
Customer reviews:
»By using aixFOAM sound absorbers, we have been able to achieve a considerably hearable noise dampening for our industrial machines«
»The installation of aixFOAM sound insulation elements in our machines led to a considerably more comfortable working environment in our factories. The permitted noise insulation limit values are not consistently complied with.«
»In cooperation with the expert team from aixFOAM, we have been able to design sound insulation mats that fit perfectly in our machine. The noise insulation effect is impressive.«
»We are an internationally active appliance manufacturing company and for approx. 15 years have relied on the competence of the aixFOAM engineers in the development of sound absorbers for our appliances. Because of the high level of automation in the production of the aixFOAM sound absorbers, of which we able to convince ourselves on our regular visits, series production and delivery also takes place at a very pleasing quality level.«