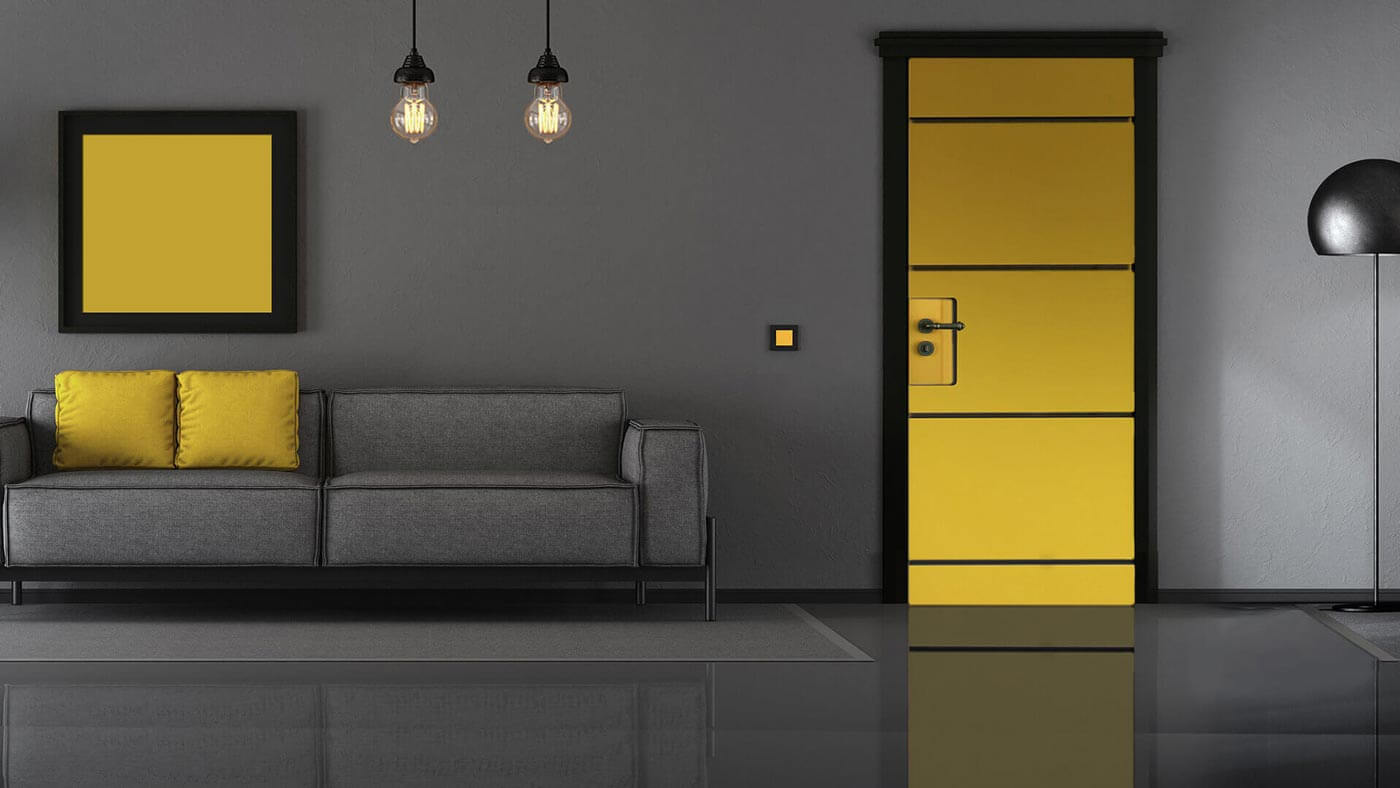 Colourful is beautiful.
Discover aixFOAM door insulation sets in 20 attractive colours and block out noise.
Discover them now!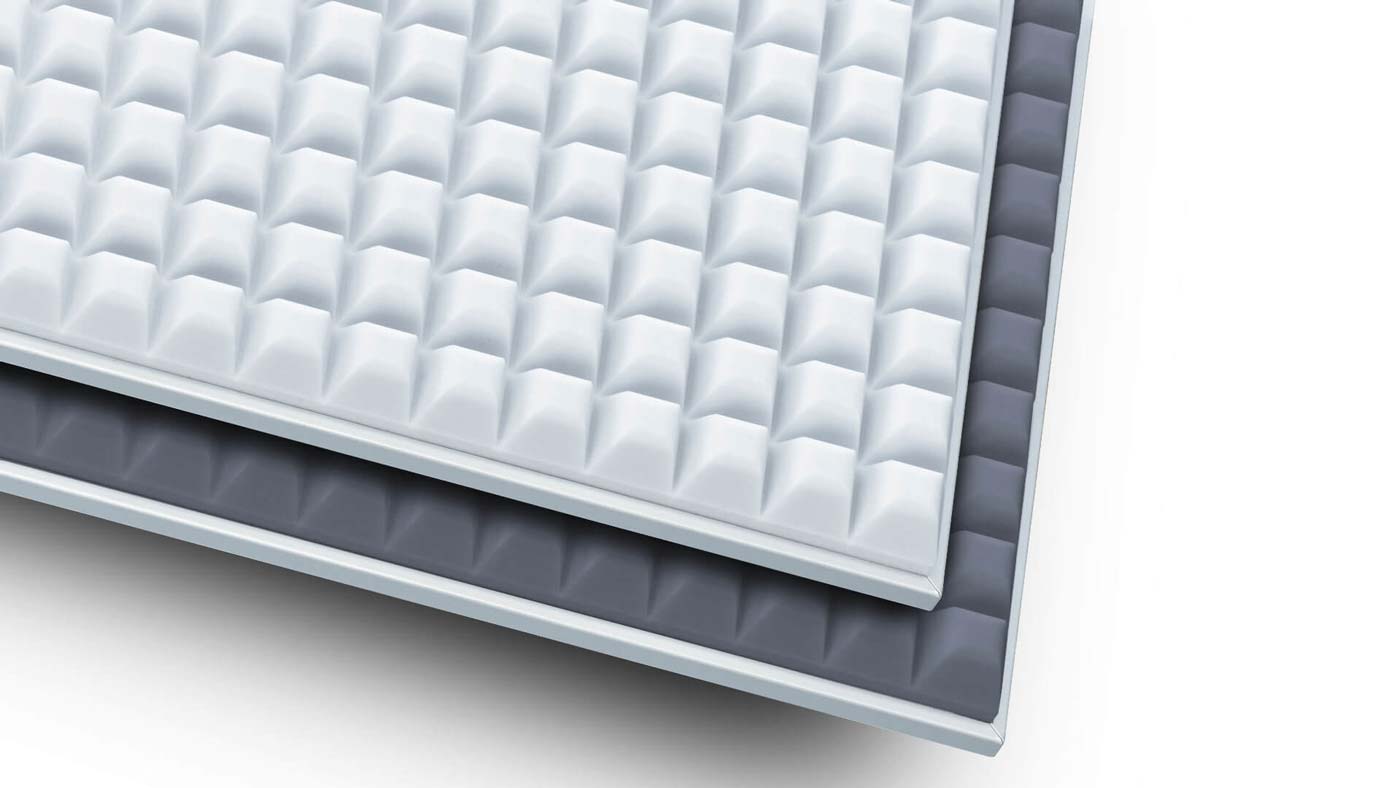 The most effective soundproofing ever
Our aixFOAM Premium absorbers with Fire Protection Plus allow you to redefine soundproofing.
Discover them now!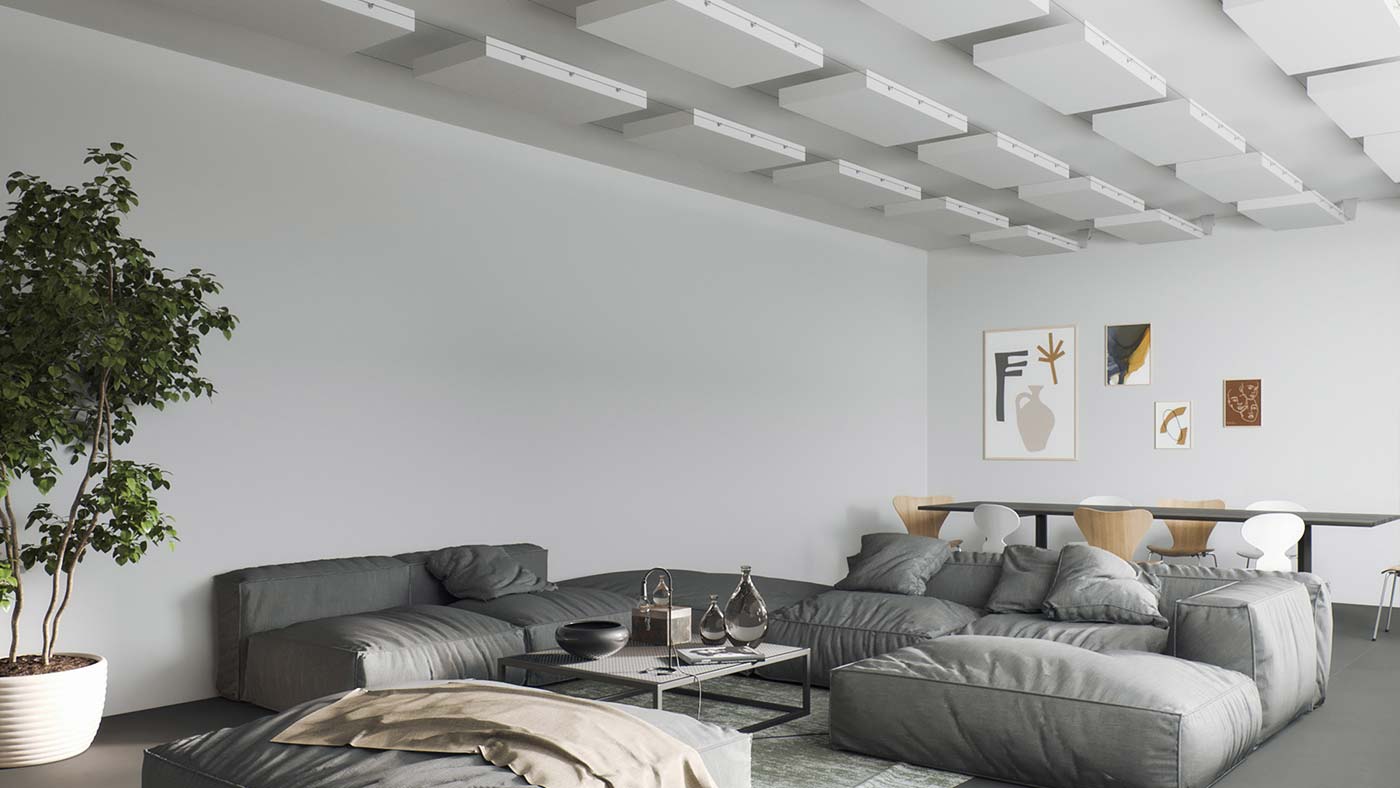 All good things come from above
Sound insulation for ceilings: Discover our sound absorbers for more quiet and crystal-clear acoustics!
Discover now!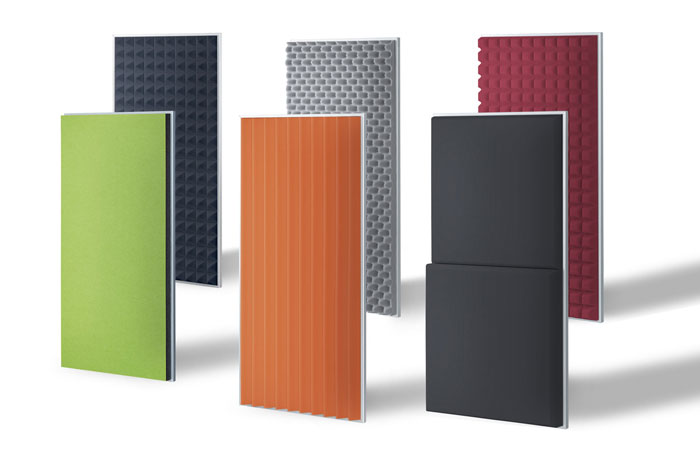 The right frame for your acoustics
Effective sound insulation as beautiful and flexible as never before - with aixFOAM acoustic frames
Discover them now!
Location
Ceiling
Wall
Door
Table
Floor
Optics
Smooth surface
Felt surface
Structured surface
Acoustic fabric surface
Fastening system
Self-adhesive
Suspension system
Mounting cassette aluminium, anodised
Products without fixed mounting
Cable system
Noise source
Air-borne sound, high frequency
Air-borne sound, medium frequency
Air-borne sound, low frequency
Structure-borne sound
Matching products: Reset Filter
Classic Line
Classic sound absorbers for improved sound, less noise and reverberation
Professional Line
Exclusive designs as well as acoustic elements with soundproofing and flame protection Plus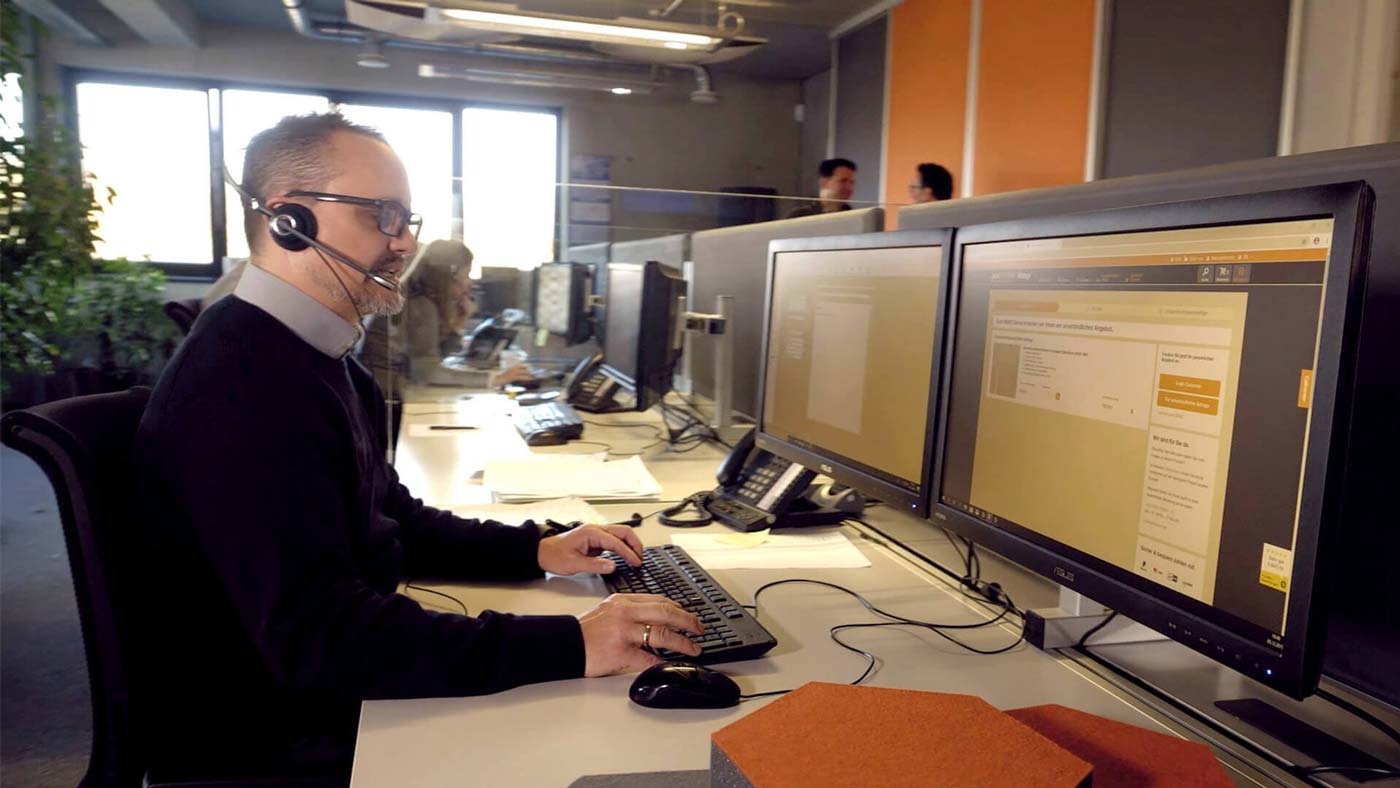 Individual service requests
Are you a major customer? Do you need different delivery quantities than in the shop? Do you have special requirements for packaging or special shipping and delivery conditions? Talk to us!
To contact page
Sound insulation for the home
Architecture and the interior are not the only critical components for a relaxing atmosphere in your own four walls, but also the acoustics. The room acoustics in the living rooms and home affect communication and the quality of the accommodation considerably and can be improved by the targeted use of sound insulation.
Relaxation and well-being at home: Good acoustics make a decisive contribution to the well-being and increase the quality of the accommodation. With aixFOAM sound absorbers, the room acoustics in the home can be selectively enhanced.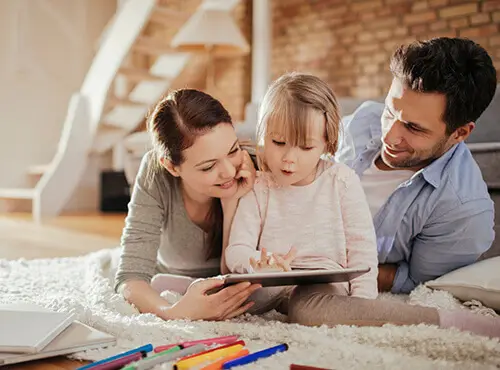 What are the causes of poor acoustics in the home?
There are mostly two different causes of poor or unpleasant room acoustics. Direct noise can be one disturbing factor, another can be unwanted reverberation or excessive reverberation times.
High noise level at home
A high noise level or sound pressure level describes the dominant volume in a room. If this is particularly high, noises quickly become a problem. The noise source here may be outside the room or the building, e.g. loud noises from the neighbourhood or traffic noise. The noise source may also be in the building, e.g. a juddering washing machine can cause noise. In any case: Once the noise source is known, targeted measures for sound insulation and soundproofing can be taken.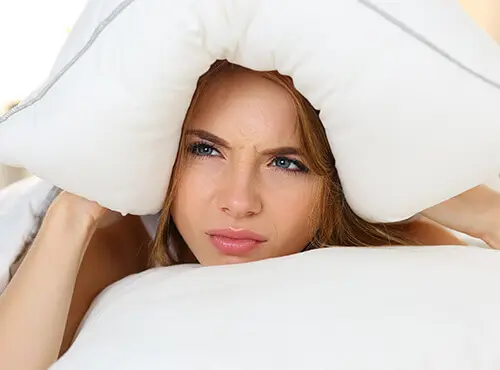 If a home does not have sufficient soundproofing, noise becomes a problem. Your home becomes a calm oasis of relaxation with the right sound insulation and sound absorbers from aixFOAM.
Unpleasant reverberation and long reverberation times in the home
Reverberation describes how long noises remain in the room after the source of the sound has been switched off. This time is call the reverberation time. In modern architecture, visually elegant, but sound-hard materials such as glass, concrete and hard woods are used. These surfaces reflect incident sound, thus increasing the reverberation time, and ensure that noises sort of get stuck in the room.
If there are many noise sources in a room, there is often an overlaying of multiple frequencies. As a result this creates a sort of "noise stew", which not only makes hearing and understanding uncomfortable, it even makes it impossible.
By installing sound absorbers on walls and ceilings, the reverberation can be reduced and the room acoustics in the home or building can be improved.
How can noise in the home or in the building be reduced by soundproofing?
In order to stop noise transmission in a home or a building, it is necessary to shield off the noise source. To do this, the walls, ceilings and floors can be fitted with sound insulation mats. Flat sound absorbers with a high intrinsic weight and a high material thickness are best for this, e.g. sound insulation panels made from heavy acoustic foam.
Soundproofing the wall and ceiling
Sound insulation on walls and ceilings can prevent noise from outside entering a room or a building, but can also preventing noises escaping from inside to outside. This is sensible, above all, if you want to avoid problems with neighbours or prevent disturbing noise such as traffic noise.
So-called room-in-room concepts for decoupling building elements in particular have proven themselves in practice. This soundproofing method prevent walls and ceilings becoming sound conductors. We have summarised the most important factors and instructions for soundproofing in our aixFOAM knowledge article "Soundproofing wall and ceiling" (German).
Soundproofing walls and ceilings ensures peace in the home or the building. Read more on soundproofing walls and ceilings in our aixFOAM knowledge article (German).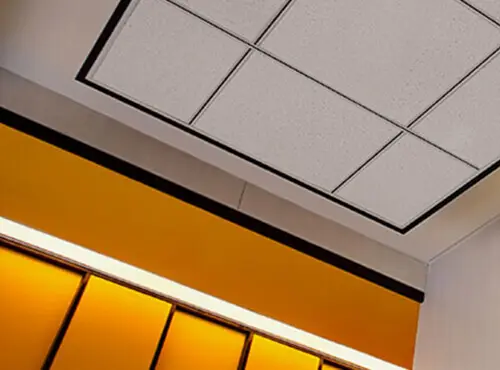 Footstep dampening – Sound insulation for the floor
Footstep dampening has a very special place in the area of soundproofing. Footstep noise is a specific form of structure-borne sound and is not caused by air vibrations hitting a solid body and then passing through it, but instead by the impact of two solid bodies. Supposedly light steps can quickly become an annoying plague for neighbours in the apartment below.
Especially with modern parquet and laminate floorings, the right choice of insulating underlay can be critical. There are different possibilities here, such as laying rolled products, but also heavy acoustic foam panels are footstep dampening beneath the pressure distribution layer in the floor.
Soundproofing for doors and windows
Retrofitting soundproofing on windows and doors is a particular challenge. Unlike the solid brickwork of buildings, these construction elements vibrate easily when air-borne sound (street noise, music, etc.) hits them and they become sound conductors. The retrofitting of sound absorbers can be a good alternative here to the relatively price-intensive sound insulation windows and doors. In our aixFOAM knowledge area (German) you will find extensive articles (German) about sound insulation on windows and doors and instructions for DIY solutions.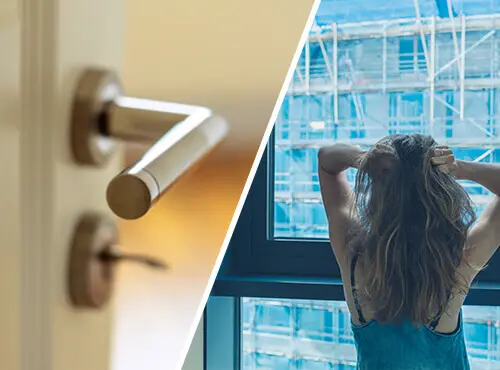 Light construction elements such as windows and doors quickly become sound conductors. In the aixFOAM knowledge area (German) you will find out how retrofitting sound insulation can prevent this.
How can sound absorbers improve the acoustics at home or in the building?
Acoustic foam sound absorbers are excellent for improving the room acoustics in the home or in the building. The material of the porous absorbers allows sound waves to penetrate deep into the acoustic elements and absorbs disturbing frequencies.
By fitting absorbers on hard surfaces such as walls and ceilings, the reverberation if reduced by targeted sound dampening. Typically, in order to lower the noise level and create a pleasant climate, it is enough if 20 – 30 % of the wall area of the room is fitted with absorbers.
In addition, we know from experience that it is sensible to proceed gradually with the sound dampening to find the optimum room acoustics. This not only prevents "over-dampening" and thus unpleasant artificial acoustics in the home, it also saves money.
Alongside traditional acoustic absorbers for walls and ceilings, acoustic sails or free-standing acoustic elements offer another alternative for sound insulation indoors.
aixFOAM sound absorbers are not only highly effective sound dampeners, they are also characterised by their elegant design. In various colours, shapes and installation options, they bring the optimum feel-good acoustics to your home.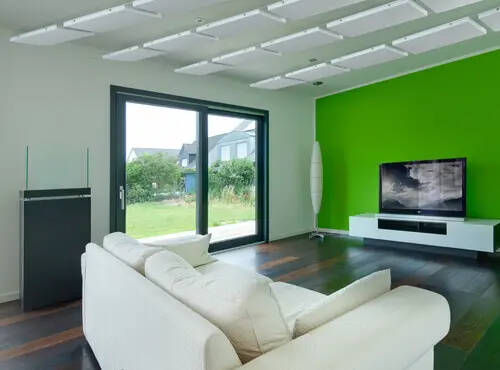 Acoustics meet design: This is why sound insulation from aixFOAM is the best choice for your home.
For acoustics for well-being and relaxation, you need a professional sound insulation partner. As a manufacturer with 60 years' experience, we make high quality sound absorbers "Made in Germany" and know what is critical for good room acoustics. Through constant further development of our products, and with an open ear for the needs of our customers, we have succeeded in combining effective sound absorbers with attractive designs.
Sound insulation
maximum
sound absorption
Surfaces
profiles to
choose from
Heights
different heights
can be selected
Colour selection
as desired
Fire protection
in different
classes
Installation
multiple
options
aixFOAM sound insulation not only stands for less noise and improved sound, but also for a variety of shape and colour options, which give your home a high quality look as well as the perfect acoustics. Choose your favourites from multiple surface profiles or fire protection classes and with our innovative installation options you can be your own interior designer. Elegant aluminium
cassettes
, as well as cable and suspension systems, are the perfect addition to your sound absorbers for that special something when designing your room. Of course you will receive our sound insulation mats with practical self-adhesive kit – for installation as easy as child's play and for the perfect hold.
Now it's your turn: Get the perfect sound insulation for your home!
Choose the right sound insulation for your living area in our online shop now and bring your feel-good acoustics home. Or get free advice from our experts: We will help you find the optimum sound insulation for your needs. Upon request you will also receive individual and tailored sound insulation solutions and sound absorbers for your project – simply contact our service team.
The aixFOAM technical planners can be contacted by telephone or email.
Free advice
This is where you can find sound insulation products for your living area or your building.
To the products
Looking for inspiration?
Here you will find pictures from our customers of sound insulation in the home.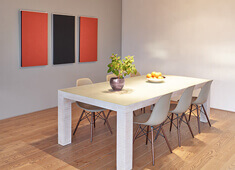 To the gallery