Optics
Smooth surface
Felt surface
Structured surface
Acoustic fabric surface
Fastening system
Self-adhesive
Suspension system
Mounting cassette aluminium, anodised
Cable system
Products without fixed mounting
Magnetic
Noise source
Air-borne sound, high frequency
Air-borne sound, medium frequency
Air-borne sound, low frequency
Matching products: Reset Filter
Classic Line
Classic sound absorbers for improved sound, less noise and reverberation
Professional Line
Exclusive designs as well as acoustic elements with soundproofing and flame protection Plus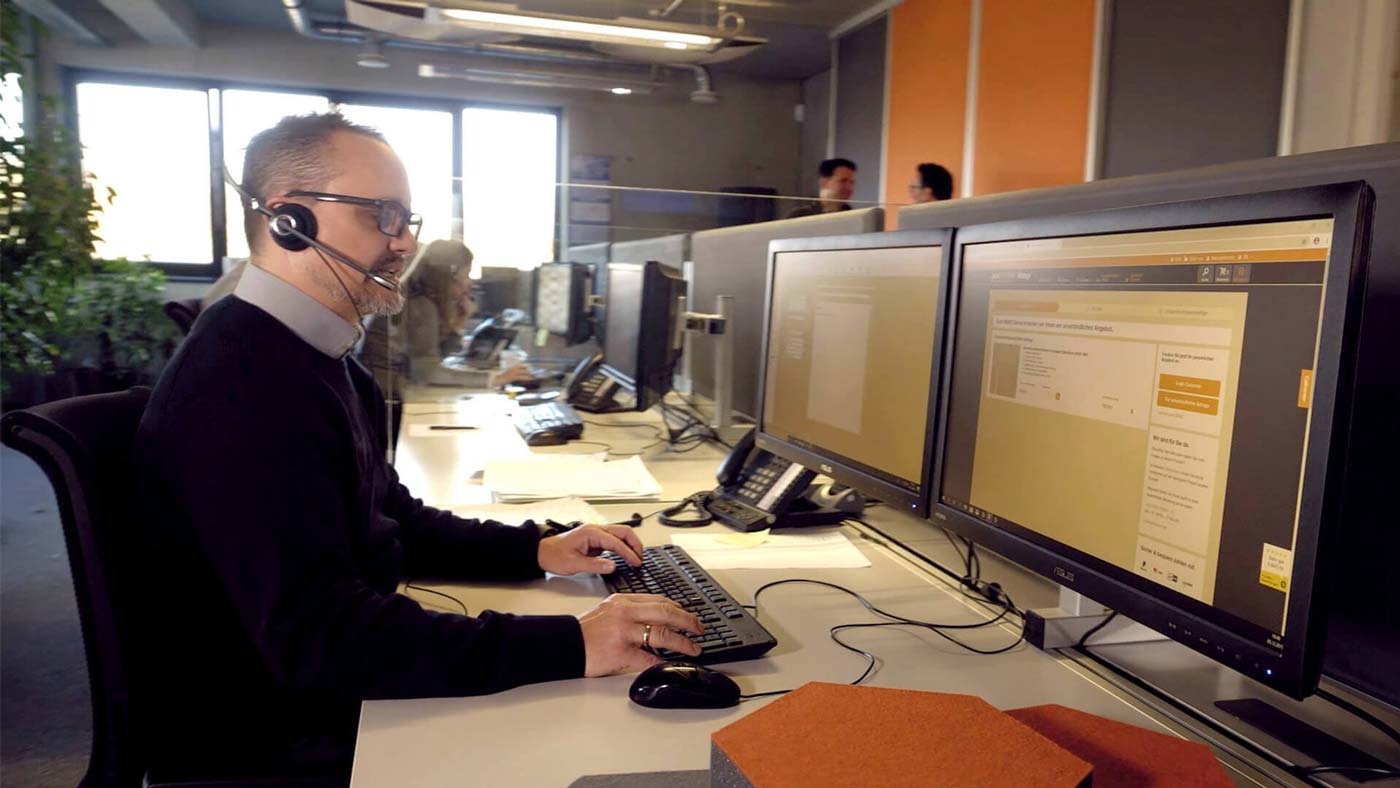 Individual service requests
Are you a major customer? Do you need different delivery quantities than in the shop? Do you have special requirements for packaging or special shipping and delivery conditions? Talk to us!
To contact page
Sound insulation and perfect acoustics for concert halls and function rooms
What are the challenges for sound insulation in concert halls and function rooms?
The light in the room goes off, the stage or podium is lit, the public listens excitedly. Now comes the decisive moment when perfection is required – not just from the musicians, artists and speakers, but also from the acoustics in the function room.
Typically there are two factors that the critical for optimum acoustics with regard to sound insulation in function rooms and concert halls: Firstly, the insulating sound from the outside, or insulating noise inside, and secondly improving the sound in the room.
The perfect acoustics for the great moment on the stage – without echoes, reverberations, noise and disturbing sounds. Sound absorbers improve the acoustics in the concert hall or in the function room and ensure great sound moments.
How can the acoustics in the concert hall or function room be improved?
Large floor areas and high ceilings: Two features, which frequently cause poor acoustics and noise in concert halls. The sound spreads unhindered and even quiet tones and noises cause distorted echoes. In order to prevent this and for a targeted influence on the room sound, sound absorbers are used for sound dampening. Unpleasant reverberations, echoes and bass drumming are prevented and the spectators can enjoy the events in full.
Sound absorbers against problems with flatter echoes and reverberations
Flatter echoes, which occur due to long reverberation times due to unwanted sound reflections from wall and ceiling surfaces, should be dampened with sound absorbers. aixFOAM sound dampening mats can be fitted as broadband absorbers on walls and ceilings.
For large spaces with high ceilings, free-handing sound absorbers with suspension or cable systems, as well as acoustic sails beneath the ceiling, are possible. They absorb disruptive sounds and frequencies and reduce reverberation.
Profiled sound absorbers, like the classic nubbed foam or pyramid foam, disperse incident sound as well and thus ensure a particularly natural and pleasant sound.
In order to avoid "over-dampening" and unnatural acoustics, you should proceed gradually and first start with a smaller quantity of sound absorbers.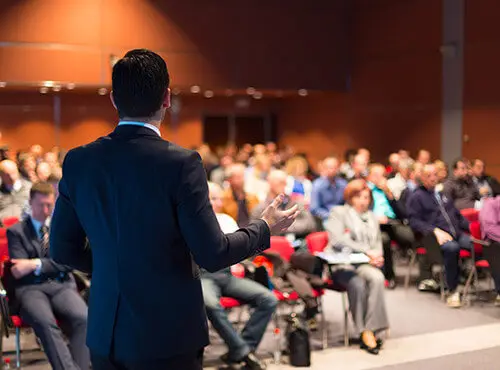 Clear the stage – for good acoustics in the function room or concert hall. aixFOAM sound absorbers improve the room acoustics and the sound and voice quality. As a result, the spectators can listen to and follow the events without problems.
How does the soundproofing work in the concert hall and function room?
The soundproofing in concert halls and function rooms should prevent noise from outside (street noise, train noise, plane noise, etc.) from entering the room and disturbing the concerts and events. Additionally, noises should not escape from the room or hall and thus become an issue for the surrounding area. This is important above all in locations in residential areas or for buildings where several halls have performances at the same time.
Soundproofing the wall and ceiling
If sound insulation is not taken sufficiently into account during the construction of the event building, subsequent soundproofing actions are needed. Depending on the sound pressure level and the location of source of the noise or sound, structural measures are necessary in order to effectively soundproof the walls and ceilings of the hall.
Extensive information and detailed instructions about soundproofing walls and ceilings can be found in our aixFOAM knowledge article (German).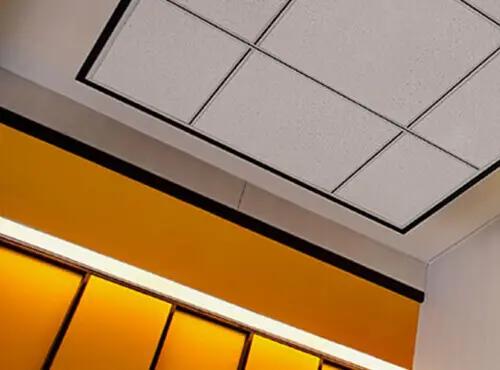 Which role does fire protection play when selecting the sound absorbers for concert halls and function rooms?
Selecting the right sound absorbers for concert halls and function rooms is critically determined by the required fire protection provisions for these premises. aixFOAM sound absorbers are available in various fire protection classes. The absorbers with the designation "MH" in our "Architect Line" are certified, e.g. according to fire protection directive DIN4102 B1, which typically applies to public and commercial buildings. Information about your local fire protection conditions is available from your architect or fire protection planner.
Why is aixFOAM sound insulation the best choice for your concert hall or function room?
In order to meet the high expectations and demands of visitors, artists and organisers, perfection is also required from sound insulation. For more than six decades, we at aixFOAM have been making high quality sound insulation "Made in Germany" and know that is important for good acoustics in concert halls and function rooms. Over the years we have constantly developed our products and adjusted them to the needs of our customers. As a result, today we can offer you effective sound absorbers in attractive designs.
Sound insulation
maximum
sound absorption
Surfaces
Profiles to
choose from
Heights
different heights
can be selected
Colour selection
as desired
Fire protection
in different
classes
Installation
multiple
options
aixFOAM sound absorbers reduce noise and remove reverberations and disturbing echoes. As a result they improve the room acoustics and communication quality decisively in the concert hall or function room. The great selection of different shapes and colours also guarantee you interesting possibilities with regard to the visual room design. For example, choose your favourites from several surface profiles and installation options. With our practical self-adhesive kit, installing the absorbers is almost as simple as using a sticker. With the elegant aluminium installation cassettes, your sound insulation not only gets an especially high quality look, it is also extremely flexible. The cassettes can be easily removed again or repositioned as desired, and without residue. You can choose from several fastening options such as our cable systems.
Now it's your turn: Get the right sound insulation for your function hall or concert hall!
Now choose the right sound insulation from our aixFOAM products for function halls and concert halls or use our free advice service. Our experts will help you find the right solution for your premises.
The aixFOAM technical planners can be contacted by telephone or email.
Free advice
This is where you can find sound insulation products for your function room.
To the products