Noise insulation in the car with sound absorbers
It roars, it rustles and it's loud. Drivers of commercial vehicles and agricultural machinery, as well as motorists who spend a lot of time on motorways and longer distances, are aware of the problem: persistent volume in the vehicle due to insufficient sound insulation.
Sound insulation for more safety and comfort in the car
A lack of sound insulation and the associated noise shears in the vehicle are, of course, primarily annoying. However, the unwanted noise not only affects comfort, but can also have a negative impact on safety when driving. A steady flood of noise influences the driver's concentration and performance and can lead to inattention, especially on longer distances. Continuous noise can also have unpleasant consequences for passengers. Therefore, according to medical experts, a persistent noise level above 85 dB can lead to permanent damage to the hearing. Older vehicles, commercial machinery, agricultural vehicles or classic cars in particular often fail to provide adequate sound insulation.
What causes car noise?
Ambient noise, engine noise, rolling noise of the tyres. During a journey, all kinds of ambient noises affect the car. However, the cause of disturbing noise can often be found in the construction of the vehicle itself. A common problem in machinery, automotive and boat construction is the roaring of large sheet metal constructions. Especially in the automotive industry, there is often a large sheet metal surface, such as the floor, doors or the roof. These components tend to vibrate, especially at high speeds or large motors that produce strong vibrations. This transmits structure-borne sound and causes an unpleasant roaring. That's why large automotive manufacturers invest heavily in the development of new technologies such as noise reduction systems.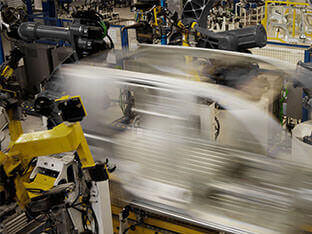 Sound insulation plays an important role in vehicle construction.
However, targeted, retrospective sound-absorbing and sound-absorbing measures can also provide more peace of mind in the vehicle. In order to eliminate the vibrations, the sheet metal construction must be reinforced. Since the attachment of additional struts to the components is usually not possible, only the reinforcement of the material remains. Acoustic elements are used for targeted sound insulation and sound attenuation.
Acoustic heavy film as reinforcement
Acoustic heavy film is usually used to reinforce the material, and is glued directly to the sheet metal. Acoustic heavy films or anti-dry mats have an above-average weight and surface density, which means that they have excellent insulation and damping properties.
The degree of attenuation is defined in DIN EN ISO 6721-3 and is described by the loss factor tan δ. The higher this factor, the lower the cooldown of a material. The shorter the cooldown, the lower the sound output to the environment. For example, steel sheet has a loss factor of 0.0015. On the other hand, aixFOAM acoustic heavy film has a loss factor of 0.080. It follows that the cooldown of the heavy film in combination with sheet metal is about 50 times lower than that of simple steel sheet without heavy foil.
Sound insulation in vehicles
A combination of acoustic heavy film and acoustic heavy foam is often used for sound insulation of floor groups in vehicles. This connection insulates both the sound and the airborne sound and reliably insulates noise. The aixFOAM HEAVY Duty heavy foam together with the FLEXO anti-drone mat made of heavy acoustic film has proved particularly successful in the practice.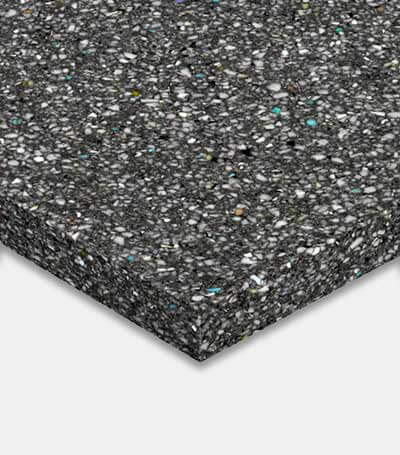 Heavy acoustic foam for soundproofing
Heavy foam absorption panels
Discover with the SH0071 a sound absorber for effective sound insulation in technical applications such as machine enclosures or insulation of motors and engine compartments.
About the product
Heavy foam is characterised by being easy to work and its good adaptation. These properties make it almost perfect as a base layer for carpets, as floor groups are usually divided into several parts for stability reasons. Using heavy foam, an even surface for the carpet can be created in a multi-layer edging process. However, care must be taken to ensure that the material application is not too large in the sum, as the fit is not variable for modern moulded carpet tubs. In older vehicles, the carpet is usually multi-part, so that there is more room for manoeuvre when processing.
Sound insulation in the engine and transmission compartment
Sound insulation in engine and transmission compartments is particularly interesting for heavy commercial vehicles or agricultural machinery. The large engines of these vehicles produce particularly strong vibrations, which make the sheet metal constructions vibrate and cause strong roaring. But even with older cars and classic cars, a subsequent sound insulation can be useful.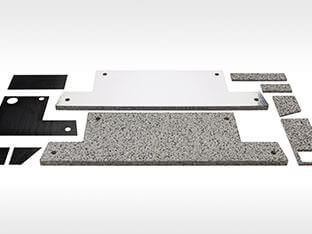 Soundproofing elements for the engine compartment
For soundproofing and insulation in the engine and transmission area, heavy foam with a metallic surface lamination is recommended due to its anti-splash quality. This is a thin, sound-permeable film that simultaneously protects the absorber from oils and cooling water.
The aixFOAM soundproofing panels with membrane absorber are particularly suitable for installation in the engine compartment. The absorber panels can be seamlessly joined together. The resulting impact points can be glued over with a suitable aluminium tape, which also protects larger areas.
Fire protection in the sound insulation of cars
The processing of sound insulation mats in the engine area is only recommended on the bonnet! Installation of soundproofing panels around the exhaust or manifold is expressly discouraged, because installation of soundproofing elements on the bonnet is usually sufficient. All aixFOAM products for use in technical acoustics meet the fmVSS302 fire class commonly used in vehicle construction. However, a sufficient distance from the engine should be ensured to avoid unnecessary sources of danger.
Sound protection in vehicle production
Discover our acoustic elements for use in vehicles.
Here you will find soundproofing for retrofitting in cars, classic cars as well as heavy agricultural and forestry machines. aixFOAM sound absorbers reduce engine and driving noise as well as material vibrations.
Discover soundproofing
Soundproofing for your vehicle
We at aixFOAM are happy to assist you with the subsequent sound insulation on your car. In our shop you will find suitable acoustic foams and other accessories for more peace and safety while driving. Our experts advise you free of charge on our customer hotline.
Infobox
Insufficient sound insulation can produce material vibrations on large sheet metal surfaces of the vehicle, such as the roof and doors, which cause an unpleasant roar in the vehicle. Subsequent measures for soundproofing and sound attenuation can reduce disturbing noise.
Soundproofing in engine compartment and vehicle
Especially in heavy machinery such as commercial vehicles or agricultural machinery, strong material vibrations occur. Older vehicles and classic cars can also have defects in sound insulation. With our aixFOAM products you will find the right soundproofing solution for every area of your vehicle. Whether you want to insulate the interior of your vehicle or soundproof the engine compartment. We are happy to help.
Need help?

Call us or send us an email. Together we'll find the right acoustic solution via a free consultation with our specialist planners.
+49 2403 / 83830 - 22
Monday to Friday
08:00 o'clock untill 17:00 o'clock
sales@aixfoam.com
Daily, 24 hours a day
aixFOAM shop
Visit our aixFOAM store and find your suitable sound insulation: less noise and better acoustics with sound absorbers directly from the manufacturer.
Find your sound insulation