Sound insulation and noise insulation in industry and technology
Apart from sound absorbers for applications in room acoustics, we at aixFOAM also offer sound insulation solutions specifically for technical acoustics or industrial acoustics. But what does this term actually mean?
In the area of room acoustics, the focus is often on sound optimisation in order to improve intelligibility or the sound of music. Technical acoustics instead involves removing noise as much as possible.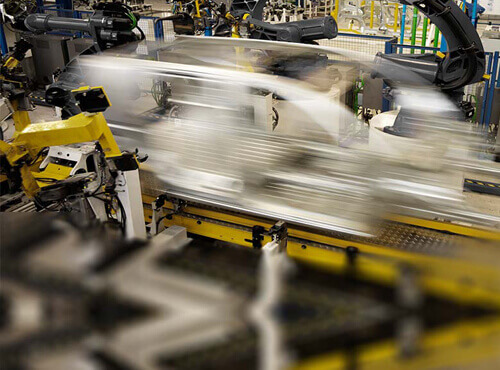 In contrast to room acoustics, where the causes of acoustic problems are mostly in the room itself, e.g. because ceilings are too high and there are hard surfaces that promote reverberation, technical acoustics mostly deals with insulating individual noise sources such as heavy machinery, plant or engines and lowering the sound pressure level..
Why is soundproofing important in technology and industry?
In industry, there are two critical arguments for well planned noise insulation and the use of sound absorbers in the technical area.
Noise as disturbance for people and the environment
With soundproofing in technical acoustics, the first aim is to switch off noise as a disturbance and source of danger for people and the environment. Otherwise, loud machinery, engines and plant in factories quickly become an issue for employees or an irritation for neighbours. Additionally, noise has a strong negative effect on communication and productivity and dangerously increases the risk of ear damage and heart-circulatory illnesses. A noise level of 80 dB therefore should not be permanently exceeded.
In addition, a reduction in noise pollution at the workplace is also required by statutory regulations such as the workplace directive or the noise protection ordinance.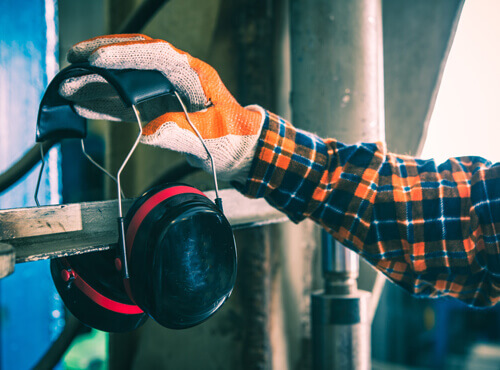 Quiet machines and industrial plants as quality feature and competitive advantage
Increasingly, silence has also become established in technical acoustics as a quality factor. Quietly working machinery and plant are seen as modern, clean, high quality and efficient. Thus quiet machines can become a genuine competitive advantage over the competition. This development gives engineers and designers in particular the task of lowering the noise level of their "charges". Especially for machinery, plant and equipment production, we at aixFOAM therefore offer individual, tailored productions for the perfect fit for your sound insulation in housings and machinery alongside standard sound insulation mats.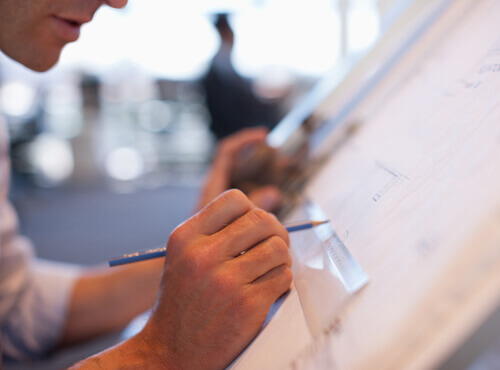 How can the noise pressure level be lowered in technical acoustics and industrial acoustics?
Large machines, plant or vehicles often cause noise in the form of an unpleasant, loud drumming, which is caused by the transmission of structure-borne sound in the machine body or chassis and is subsequently emitted into the surroundings. There are two different ways to insulate noise on technical equipment.
On one hand, individual components or components can be dampened. In other cases, a complete, sound-insulating housing / enclosure makes sense. In any case, the sound absorbers should be positioned as close to the source of the noise as possible.
Soundproofing and anti-drumming of individual parts and components
The soundproofing of individual components, machine or vehicle parts is always sensible if the source of the noise can be precisely named, the noise area can be clearly delineated and there are no excessive vibrations on the overall construction. For example, even the partial fitting of sound absorbers in engine rooms on vehicles, ships and yachts can ensure considerably lower noise emissions.
Server rooms or switch cabinets, where there is a high noise level because of the large number of different fans and cooling systems, can also be dampened through the use of the right sound insulation components, e.g. absorbers for sound insulation of a system base.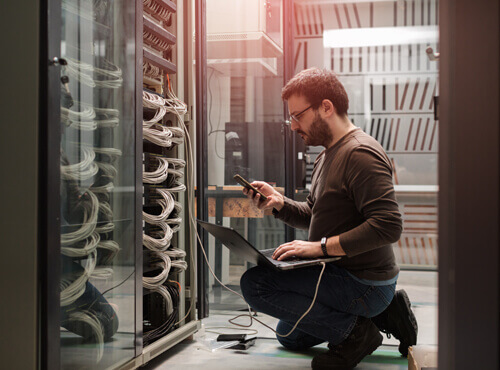 Sound insulation through enclosures, encapsulating and sound insulation containers
If the machine generates very strong vibrations, the noise source cannot be restricted to a specific component or the corresponding components of a machine / plant cannot be insulated separately, a complete enclosure or encapsulation (isolation or enclosure) is sensible.
To this end, a casing (encapsulation) made of wood, plastic or metal is built around the machine or production plant. Ideally, this is then completely clad with a combination of heavy acoustic foam and sound absorbers as soundproofing. For example, a sound insulation container or sound insulation casing can be erected around particularly loud generators, compressors or lathe and milling machines.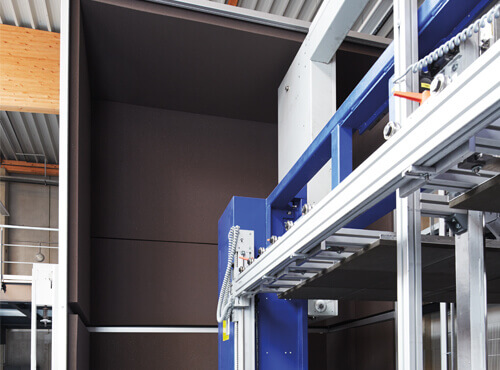 Quality "Made in Germany" – Why is sound insulation from aixFOAM particularly suitable for technical applications?
At aixFOAM we look back on 60 years of manufacturing high quality sound absorbers. Through constant research and optimisation of our acoustic foams, we have succeeded in developing flexible and robust sound absorbers with high absorption coefficients. The porous structure of our absorbers allows sound to penetrate into the material, where it is converted through friction into (imperceptible) heat energy and absorbed.
aixFOAM sound absorbers reduce noise and material vibrations and are available in several fire protection classes and material thicknesses. Different surface laminations make our sound absorbers especially resistant to dirt and liquids and thanks to the practical installation options the elements can be quickly and flexibly installed.
Standard or tailor-made: Get the optimum sound insulation and bring an end to noise!
We know from experience that sound insulation in technical acoustics / industrial acoustics form an extremely complex and individual subject. Many plants, machines and devices are special productions, designed to meet the respective requirements in production and the company. We therefore offer tailored sound insulation components in addition to the standard sound absorbers in platforms from our Online Shop. As a manufacturing company, we are able to realise small and series production, as well as the development of prototypes.
Customer reviews:
»Very good material for noise reduction of a diesel engine in the boat. Also after the season, no impairment, very good isolation of the sound.«
Stefan K., Potsdam
»I had several questions about the soundproofing of my motorhome. All questions were clarified in advance by phone and so I was able to order the right goods in the online shop. The processing of the mats was also very simple and self-explanatory. The result: 100 points! I am very satisfied and it is much quieter in the motor home.«
Wolfgang M., Aichstetten
»By using aixFOAM sound absorbers, we were able to achieve a clearly audible noise insulation of our industrial machines.«
»In cooperation with the expert team of aixFOAM, we were able to design a tailor-made soundproof mat that fits exactly into our machine. The noise protection effect is convincing.«
»We are an internationally active appliance manufacturing company and for approx. 15 years have relied on the competence of the aixFOAM engineers in the development of sound absorbers for our appliances. Because of the high level of automation in the production of the aixFOAM sound absorbers, of which we able to convince ourselves on our regular visits, series production and delivery also takes place at a very pleasing quality level.«
Art.nr.

Acoustic convoluted foam for industrial sound protection

Industry standard for noise reducing foam
Rectangular plate (100 cm x 50 cm) with convoluted profile ("egg crate pattern")
Colour: anthracite
Versatile, e.g. For machine housings, motors, electroni...

starting at

Price per package unit
incl. 19% VAT

Art.nr.

Highly robust acoustic foam with perforated artificial leather surface

Rectangular absorption panel (100 cm x 50 cm) with perforated artificial leather surface
Insensitive, washable broadband absorber for technical acoustics
Suitable for machine housing...

starting at

Price per package unit
incl. 19% VAT

Art.nr.

Effective acoustic absorber with trapezoidal structure and solid basic strength

Rectangular sound absorber (100 cm x 50 cm) with trapezoidal profile
Available in anthracite
Flexible, e.g. For machine housings, server cabinets, machine rooms, server room...

starting at

Price per package unit
incl. 19% VAT

Art.nr.

Absorption foam with acoustic felt lamination

Rectangular acoustic panel (100 cm x 50 cm) with robust textile surface lamination
Textile color black / absorption foam in anthracite
Suitable for use e.g. In mechanical engineering, for claddings, cabins, ...

starting at

Price per package unit
incl. 19% VAT

Art.nr.

Flexible flat sound insulation mats

Rectangular plate (100 cm x 50 cm) with flat surface
Breitbandabsorber
Colour: anthracite
Suitable for sound absorption. In the fields of mechanical engineering, vehicle construction, machine housings

...

starting at

Price per package unit
incl. 19% VAT

Art.nr.

Heavy foam - absorption panel with surface lamination

Rectangular acoustic plate (100 cm x 50 cm) with silvery smooth surface
Oil resistant membrane
Multicolored absorption core
Suitable for a wide variety of applications, e.g. Engine enclosures, ventila...

starting at

Price per package unit
incl. 19% VAT

Art.nr.

Heavy Foam Absorption Panel

Rectangular plate (100 cm x 50 cm) with flat surface
Multicolored gray foam
For various fields of application, e.g. Machine housing, insulation of motors, engine rooms, machine insulation

...

starting at

Price per package unit
incl. 19% VAT

Art.nr.

Highly effective acoustic foil for body sound insulation

Rectangular acoustic plates (100 cm x 50 cm) with self-adhesive back
Ideal for minimizing material vibrations
Flexibly applicable in technical fields of application, e.g. Car body and vehicle cons...

starting at

Price per package unit
incl. 19% VAT

Even more choices?

Higher fire protection, more design, printable elements and much more can be found in our ARCHITECT LINE.
Art.nr.

Highly effective convoluted foam made from duromere acoustic foam

Rectangular acoustic plate (100 cm x 50 cm) with homogeneously porous surface with knurled profile
Exceptional heat and flammability according to fire protection class DIN4102 B1 (withou...

Art.nr.

Highly effective acoustic foam with trapezoidal profile in duromatic acoustic foam

Rectangular plate (100 cm x 50 cm) with homogeneously porous surface with trapezoidal profile
Extraordinary heat and flame resistance according to fire protection class ...

Art.nr.

Highly effective sound insulation with duromere acoustic foam

Rectangular plate (100 cm x 50 cm) with homogeneously porous surface
Extraordinary heat and / or flame resistance according to DIN4102 B1 (without acoustic heavy foil lamination)
Chemically r...

Even more choices?

Felt-laminated acoustic elements, classic acoustic foams and much more can be found in our CLASSIC LINE.