Art.nr.

Highly effective acoustic foil for body sound insulation

Rectangular acoustic plates (100 cm x 50 cm) with self-adhesive back
Ideal for minimizing material vibrations
Flexibly applicable in technical fields of application, e.g. Car body and vehicle cons...

starting at

Price per package unit
incl. 19% VAT

Art.nr.

Heavy foam - absorption panel with surface lamination

Rectangular acoustic plate (100 cm x 50 cm) with silvery smooth surface
Oil resistant membrane
Multicolored absorption core
Suitable for a wide variety of applications, e.g. Engine enclosures, ventila...

starting at

Price per package unit
incl. 19% VAT

Art.nr.

Highly robust acoustic foam with perforated artificial leather surface

Rectangular absorption panel (100 cm x 50 cm) with perforated artificial leather surface
Insensitive, washable broadband absorber for technical acoustics
Suitable for machine housing...

starting at

Price per package unit
incl. 19% VAT

Art.nr.

Flexible flat sound insulation mats

Rectangular plate (100 cm x 50 cm) with flat surface
Breitbandabsorber
Colour: anthracite
Suitable for sound absorption. In the fields of mechanical engineering, vehicle construction, machine housings

...

starting at

Price per package unit
incl. 19% VAT

Art.nr.

Absorption foam with acoustic felt lamination

Rectangular acoustic panel (100 cm x 50 cm) with robust textile surface lamination
Textile color black / absorption foam in anthracite
Suitable for use e.g. In mechanical engineering, for claddings, cabins, ...

starting at

Price per package unit
incl. 19% VAT

Art.nr.

Acoustic convoluted foam for industrial sound protection

Industry standard for noise reducing foam
Rectangular plate (100 cm x 50 cm) with convoluted profile ("egg crate pattern")
Colour: anthracite
Versatile, e.g. For machine housings, motors, electroni...

starting at

Price per package unit
incl. 19% VAT

Art.nr.

Heavy Foam Absorption Panel

Rectangular plate (100 cm x 50 cm) with flat surface
Multicolored gray foam
For various fields of application, e.g. Machine housing, insulation of motors, engine rooms, machine insulation

...

starting at

Price per package unit
incl. 19% VAT

Even more choices?

Higher fire protection, more design, printable elements and much more can be found in our ARCHITECT LINE.
Art.nr.

Highly effective sound insulation with duromere acoustic foam

Rectangular plate (100 cm x 50 cm) with homogeneously porous surface
Extraordinary heat and / or flame resistance according to DIN4102 B1 (without acoustic heavy foil lamination)
Chemically r...

Art.nr.

Highly effective convoluted foam made from duromere acoustic foam

Rectangular acoustic plate (100 cm x 50 cm) with homogeneously porous surface with knurled profile
Exceptional heat and flammability according to fire protection class DIN4102 B1 (withou...

Even more choices?

Felt-laminated acoustic elements, classic acoustic foams and much more can be found in our CLASSIC LINE.
Soundproofing for boats, ships and yachts
The dream of many boat and yacht owners of gliding relaxed and almost noiselessly over the water all to often bursts because of the loudly drumming reality from under the deck. Engine noise from the ship's engine room frequently disturbs passenger's relaxation. Subsequent soundproofing on the boat or yacht reduces noise and ensure more sailing fun.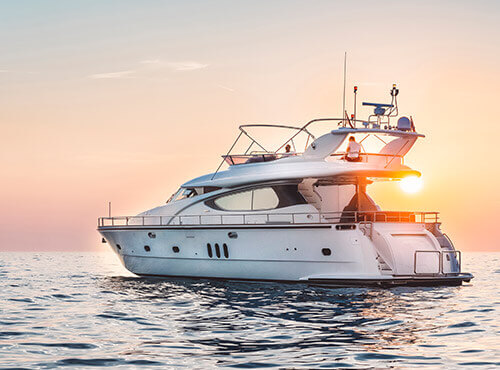 What are the causes for noise on the ship?
The powerful engines and generators on ships,boats or yachts frequently cause a lot of noise even at low speeds. This can be heard in the medium and high frequency range directly as air-borne sound. Ship engines typically also generate strong vibrations, which are transmitted to the ship's body is there is not sufficient dampening. These vibrations – also known as structure-borne sound – migrate through the ship's hull (body), are emitted into the surroundings at other locations as air-borne sound and thus can be perceived as noise. Improved engine room proofing is therefore essential for boats. This not only applies to private boats and yachts, but also to cruise liners on seas and rivers, research vessels, container ships and tankers.
For space and weight reasons, savings are often made with regard to acoustic insulation on yachts, boats and ships although this is critical for an optimum engine room soundproofing and high sailing comfort.
Additionally, in modern boat and yacht building, a material combination of glass fibre reinforced plastic (GFP), steel, aluminium, wood and – in extremely rare cases – ferrocement is used. All in all, therefore, a collection of hard materials and strongly sound-reflecting surfaces, which promote sound formation and sound spread. In order to prevent this, the use of soundproofing absorbers is sensible.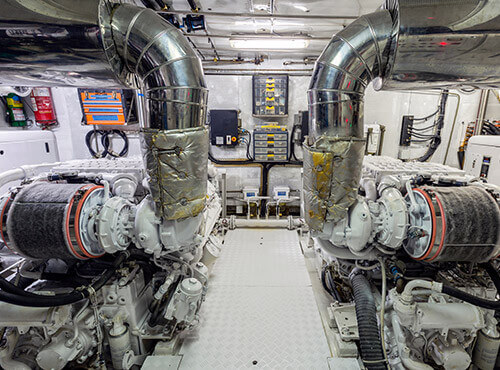 How does noise insulation work on the boat?
For an effective and extensive noise insulation and the lowest possible noise level on the boat, it is necessary to consider the noise in its entirety. This means both the dampening of the structure-borne sound and the dampening of the air-borne sound should be considered.
Sound insulation: Heavyweights against noise in the machine room
In order to stop the transmission of structure-borne sound, the material of the "vibrating" parts on board a ship or yacht must be reinforced. This means that, for example, the area around the engine, the bulkheads, the walls of the engine room and the boat's engine room ceiling should be fitted with insulation material as completely and seamlessly as possible.
Soundproofing mats with a high material density and a high surface and intrinsic weight, for example, our heavy acoustic foam or our membrane absorbers, are predestined for sound insulation in the engine room. These absorbers are ideal for dampening low frequencies – such as engine noise – because of their high mass and reduce structure-borne sound and vibrations.
In addition, the acoustic absorbers are available with practical self-adhesive kit, which simplifies installation in difficult locations on the ship. All our aixFOAM sound absorbers can be worked and cut with standard tools, e.g. with a sharp cutter or a belt saw. This is helpful above all in winding and narrow engine rooms, where there is a large number of pipes and cables.
The membrane absorber is also coated with a surface lamination made from special foil. This membrane protects the sound-absorbing core from oil, dirt and spray, and through its vibrating also affected the soundproofing in the low frequency range.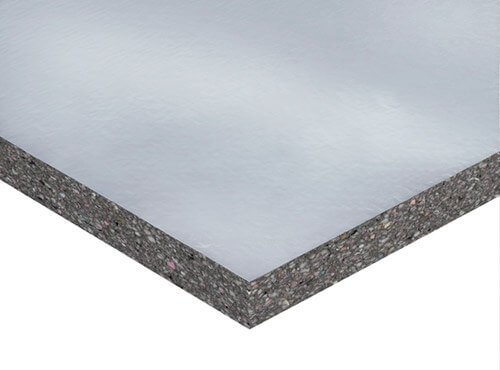 As the vibrations generated by ship engines and yacht engines are particularly strong, we recommend a combination of the above heavy foam absorbers with our anti-drumming mat made from heavy acoustic foil. A thin and very flexible heavy foil increases the stability of thin-walled components and is optimal for anti-drumming and material vibrations in the ship.
In the area of technical acoustics, all our aixFOAM acoustic absorbers can alternatively be fitted with a lamination of heavy acoustic foil. Simply choose the corresponding option for this in the product configurator. In this way you will receive highly effective sandwich elements for anti-drumming and sound insulation in ship and yacht building.
Sound absorption: Open-pore acoustic elements against air-borne sound
To dampen the high frequency sound (air-borne sound), which is not transmitted via the ship's body, we recommend using our acoustic foam sound insulation mats, for example our sound absorbers with smooth surface or the classic nubbed foam for technical dampening. The open-pore material allows the sound to penetrate deep into the absorber, as a result of which the sound is converted into (imperceptible) heat energy and absorbed. The sound absorbers can be fitted on the bulkhead walls of the engine room of the boat or yacht, for example, in order to lower the noise level.
From the design to the launch: Sound insulation in shipbuilding and yacht building
Years of thinking and planning often pass between the first design to the launch of a boat or yacht. The well-designed constructions ultimately not only have to be fast and buoyant, but also offer a pleasant ambience for crew and passengers. We at aixFOAM therefore support shipbuilders with our sound insulation solutions. As a qualified partner to ship planners and shipyards, we are always happy to advise you in the design phase and to contribute our many years' experience in the area of ship's engine room sound insulation.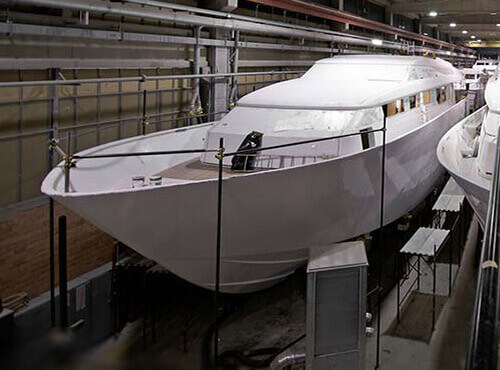 Why is aixFOAM sound insulation the best choice for soundproofing boats and yachts?
Through 60 years of experience and constant, customer-oriented optimisation of our products, we have succeeded in developing flexible and robust sound insulation elements with high absorption coefficients.
As a modern manufacturer, we not only offer you standard panel absorbers, but we can also make individual contours for a perfect installation in your boat or yacht. Simply tell our engineer team your needs.
aixFOAM sound absorbers reduce noise and structure-borne sound and are available in various fire protection classes and material thicknesses. Choose your favourites from several surface profiles. Different surface laminations make aixFOAM sound insulation mats resistant to dirt and liquids and the practical self-adhesive kit simplifies installation, even in difficult locations on the ship. Our sound absorbers can be easily worked and this are tailored perfectly for use, e.g. in narrow engine rooms.
Now it's your turn: Get the right sound insulation for your boat!
Now choose the right sound insulation from our aixFOAM products for shipbuilding and yacht building or use our free advice service. Our experts will support you with your projects and help you find the optimum solution for your requirements on the boat or yacht.