Location
Ceiling
Wall
Door
Floor
Table
Optics
Smooth surface
Felt surface
Acoustic fabric surface
Structured surface
Fastening system
Self-adhesive
Suspension system
Mounting cassette aluminium, anodised
Products without fixed mounting
Cable system
Magnetic
Noise source
Air-borne sound, high frequency
Air-borne sound, medium frequency
Air-borne sound, low frequency
Matching products: Reset Filter
Classic Line
Classic sound absorbers for improved sound, less noise and reverberation
Professional Line
Exclusive designs as well as acoustic elements with soundproofing and flame protection Plus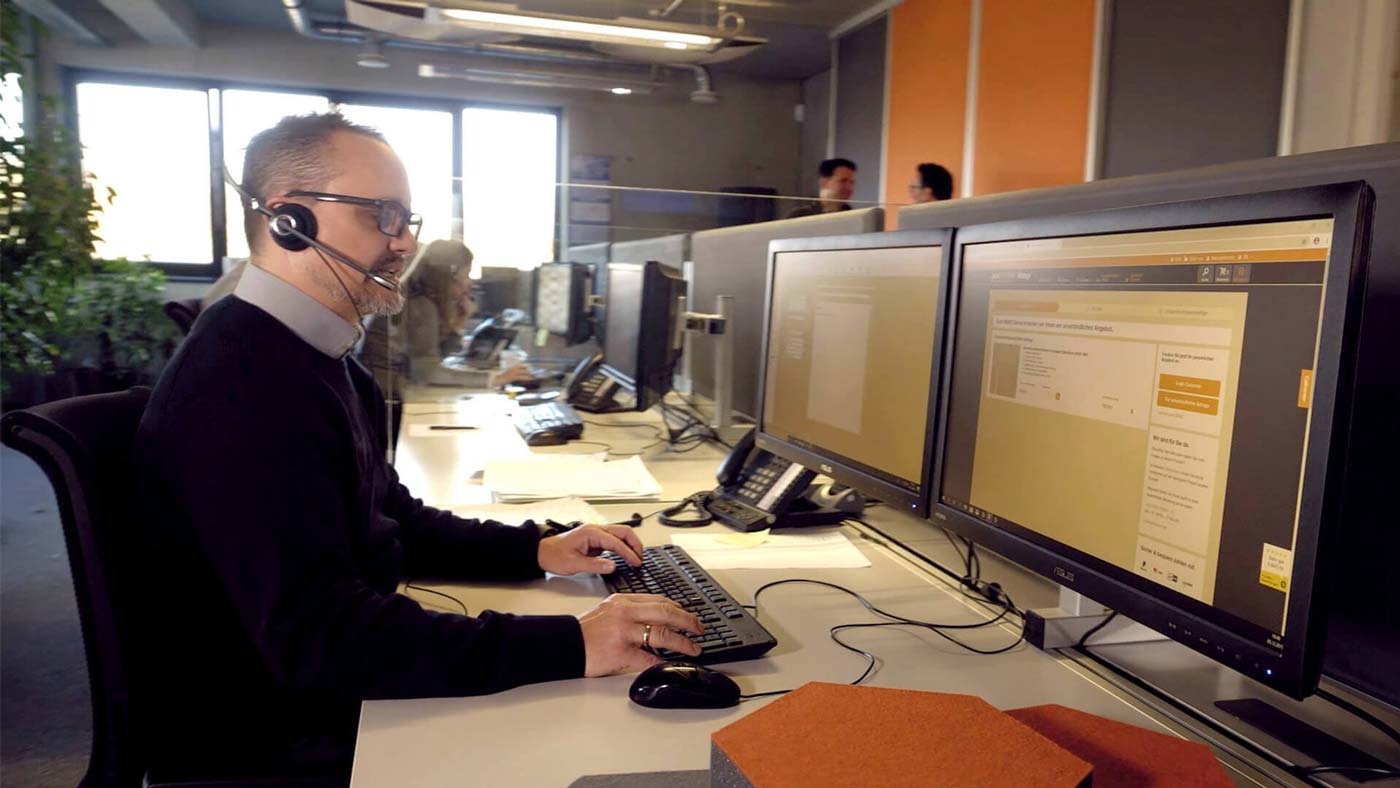 Individual service requests
Are you a major customer? Do you need different delivery quantities than in the shop? Do you have special requirements for packaging or special shipping and delivery conditions? Talk to us!
To contact page
Sound insulation in surgeries and law firms
There is always hustle and bustle in reception and waiting areas, in particular, of surgeries, hospitals and law firms. Every minute visitors enter or leave the premises, patients chat, the telephone rings, the printer rattles and reception arranges appointments, coordinates treatments and welcomes new patients or clients.
All of these noises together quickly raise the noise level and create a busy atmosphere. In addition, the spatial features can have a negative impact on the room acoustics. Especially in areas where a hygienic and sterile environment is needed, hard construction materials are frequently used, which reflect the sound and favour unwanted reverberation. Good room acoustics without noise is particularly necessary in the medical or legal area, however.
Good room acoustics are critical for successful communication between doctor and patient or lawyer and client. Sound absorbers in the surgery or law firm reduce noise and create a trusting environment.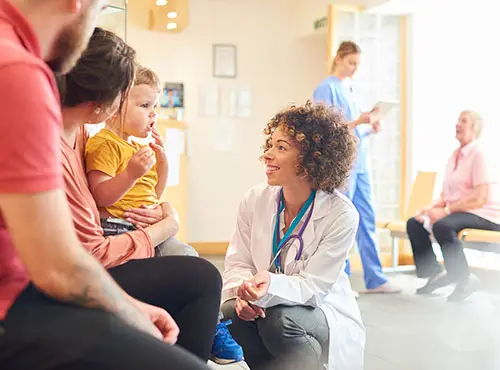 Why is sound insulation so important in the surgery or law firm?
There are many good reasons for using sound absorbers in order to improve the room acoustics or to prevent noise in surgeries and law firms.
Sound insulation guarantees discretion and the quality of treatment and service
Data protection – especially in view of the new General Data Protection Directive (GDPR) – and the use of sensitive data from the medical or legal area play a critical role in the life of surgeries and law firms. Whether during anamnesis, treatment or legal disputes – wherever very personal and strictly confidential data is involved. So discretion is particularly important.
Additionally, good acoustics improves the quality of treatment and service. Clients and patients find it easier to talk openly about problems and issues if they can do so in a discreet environment without putative eavesdroppers.
The use of sound insulation in the surgery or law firm helps to protect the private sphere of patients and clients and creates trust.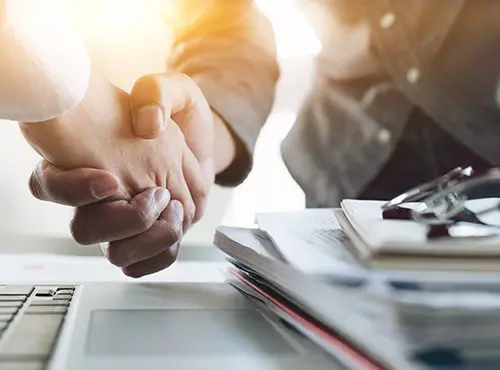 Sound insulation in the surgery or law firm improves room acoustics and ensures discretion. This creates trust among patients and clients and gives the impression of competence and seriousness. Additionally, the quality of treatment and service increases.
Sound insulation promotes health, concentration and motivation
A high noise level not only quickly becomes a problem for clients or patients, it can also affect the productivity of your employees. Concentrated, attentive and careful work is particularly important here when working with people and health.
Sound insulation helps to prevent noise escaping a room. For example, sound insulation in a treatment room can be sensible for a dentist in order to "capture" the noises of drilling and suction. Anxious patients in the waiting room are not unnecessarily worried as a result. On the contrary, sound insulation can also safeguard peace in a room and "block out" noise, for example in meditation or quiet rooms.
Good room acoustics also reinforces the general well-being, which is particularly important during therapy sessions in medical surgeries or physiotherapy clinics where cooperation from the patient is particularly helpful. It has been known for a long time that mental well-being is critical for recovery, has a positive effect on the course of treatment and promotes the healing process.
Good acoustics in the medical surgery or physiotherapy clinic simplifies communication between doctor or therapist and patient. This facilitates concentrated and motivated cooperation and promotes the treatment.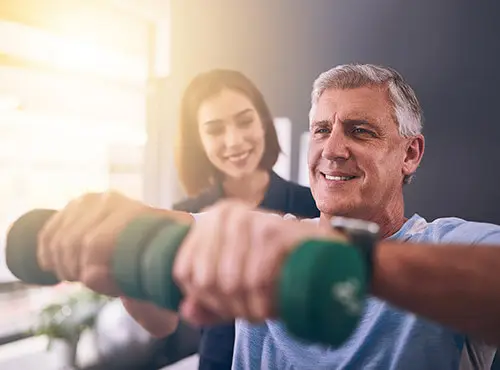 What at the possibilities for preventing noise in the surgery or law firm or improve the room acoustics?
The possible uses of sound absorbers in a surgery or law firm are varied and can be adjusted to the respective local situations.
Sound absorbers for walls and ceilings
Sound absorbers on walls and ceilings of the surgery or law firm are especially good for dampening noise from talking in a waiting room, reducing reverberation and improving acoustics. Depending on the size of the room, just a few absorbers are enough for achieving a hearable and noticeable effect. We therefore recommend proceeding gradually in order to avoid "overdampening" and an unnatural room acoustics.
So that the sound insulation not only suits the acoustics requirements, but also the aesthetic and hygienic demands of a surgery, we recommend our sound absorber FELT with felt laminate. The robust surface offers hardly any area for dirt to accumulate and can be cleaned easily with a vacuum cleaner, for example. The design absorbers are also available in many different shapes and attractive colours and thus can be used selectively for the room design.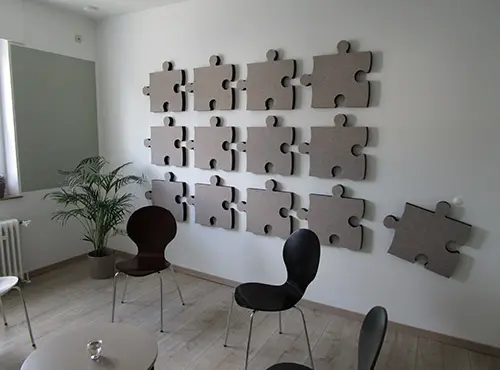 Sound absorbers on walls and ceilings not only improve the acoustics in the surgery or law firm, they can also create interesting interior design compositions.
Noise insulation through discreet wall covers
A wall covering with acoustic fabric is particularly effectively for dampening noise in a room. First of all sound absorbers in a frame are stuck to a wall. The fabric is then tightened over the absorbers using special wall cover profiles. This creates a very pleasant and chic room atmosphere, which is particularly useful for appointment rooms or yoga rooms, for example.
Acoustic sails and free-hanging absorbers
Free-hanging sound absorbers on cable systems or in hanging
cassettes
, as well as acoustic sails, are especially good for damping sound directly at the source. For example the absorbers can be installed directly above the reception counters in order to dampen telephone noise or ensure more discretion when registering the patient. The acoustic sales are also popular as room dividers for waiting corners.
Sound insulation about the reception area combats noise at the source. Free-hanging sound absorbers ensure discretion, for example when registering patients or clients in the surgery or law firm.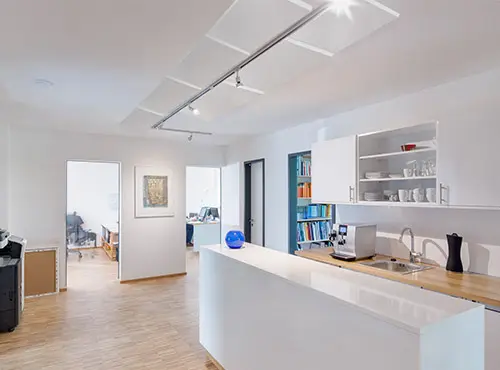 Free-standing acoustic columns and partition walls
Free-standing acoustic elements such as partition walls or acoustic columns are also a good way to reduce noise and reverberation in the surgery or law firm. At the same time they can be used as room dividers and privacy protection.
Sound insulation and fire protection in the surgery or law firm
n order to ensure the necessary safety in an emergency, we at aixFOAM offer sound absorbers in various fire protection classes. In our "Architect Line" you will find, for example, sound insulation corresponding to the requirements of fire protection directive DIN 4102 B1. This directive frequently applies in public institutions and buildings. Ideally, find out the required fire protection conditions in your property before buying in the aixFOAM Shop. These are typically available from your architect or fire safety officer. Our experts will then be happy to help you choose the right absorbers.
Why sound insulation from aixFOAM is the best choice for your surgery or law firm?
We at aixFOAM can look back on more than 60 years' experience in sound insulation as a manufacturer of high quality acoustic elements. Over this period we have further developed our sound absorbers so that they not only absorb sound effectively, but also fit the design of modern surgeries and law firms.
Sound insulation
maximum
sound absorption
Surfaces
hygienic,
easy to clean
Heights
different heights
can be selected
Colour selection
as desired
Fire protection
in different
classes
Installation
multiple
options
aixFOAM sound absorbers improve the room acoustics and are available in various fire protection classes and material thicknesses. Choose your favourites from several colours and discover the low-maintenance surfaces for hygienic application in the medical area. Various installation options such as our elegant hanging cassettes made from aluminium or special cable systems simplify the fitting of the absorbers and provide visual highlights to the room design.
Now it's your turn: Get the right sound insulation for your practice or law firm!
Now choose the right sound insulation from our aixFOAM products for surgeries and law firms or use our free advice service. Our experts will help you find the right solution for your rooms or create a non-binding office for your requirements.
The aixFOAM technical planners can be contacted by telephone or email.
Free advice
This is where you can find sound insulation products for less noise in your surgery or law firm.
To the products