Art.nr.

Rectangular acoustic panels made of fine-pored acoustic foam

Surface: plane
Format 100 x 50 cm in various material thicknesses
Colour: anthracite, raspberry red, orange, light grey
Various fire protection classes
Application areas: noise reduction in offi...

Art.nr.

Sound absorbers in different colors

Acoustic core in anthracite with easy-care felt surface
Format 100 x 50 cm in various material thicknesses
available in 15 different colours
Different material thicknesses and fire protection classes
Flexibly applicable...

Art.nr.

Soundproofing Panel with Acoustic Felt Lamination

available as circle or ellipse
14 different colours, from trendy and eye-catching to classic and discreet
deliverable in various material strengths and fire classifications
versatilely applicable, e.g. fo...

Art.nr.

Acoustic foam with convoluted surface for sound insulation and sound damping

Rectangular plate with convoluted profile surface
Colour in anthracite, raspberry red, orange, light gray
Format 100 x 50 cm in various material thicknesses
Various fields of ap...

Art.nr.

Acoustical pyramid foam with a solid base

Format 100 x 50 cm in various material thicknesses
Color in anthracite, light gray, orange, raspberry red
suitable for various applications, eg Soundproofing of HiFi rooms, sound studios, screening rooms, s...

Art.nr.

Square sound absorbers with rounded edges

Rectangle with smooth surface and rounded edges
Format 50 x 50 cm in various material thicknesses
in anthracite, raspberry red, orange, light gray
e.g. for sound insulation in studios, offices, living rooms, H...

Art.nr.

Acoustic absorber with profiled triangular surface

Rectangular plate with triangular profile
Colour:anthracite, raspberry red, orange, light grey
Format 100 x 50 cm in various material thicknesses
Flexibly applicable for acoustic optimization in e.g. Sou...

Art.nr.

High-impact acoustic absorber with a trapezoidal surface

Rectangular plate with trapezoidal profile
Format 100 x 50 cm in various material thicknesses
Color in anthracite, light gray, raspberry red, orange
Flexibly usable, e.g. for soundproofin...

Art.nr.

Bass absorbers in two different sizes

Body shape: prism, chamfered wall edges
In anthracite, raspberry red, orange, light gray
Highly effective as bass attenuation in the HIFI room, home cinema, recording studio, music room

...

Art.nr.

Acoustic Fabric Trevira CS

Available in fire protection class DIN 4102 B1
Available in colors bordeaux, red, orange, dark blue, sky blue, beige or black
Suitable for stringing loudspeakers, for loudspeaker cover frames, visible panels of sound absorbers...

Art.nr.

Heavy foam sound insulation panel

Rectangular plate with mottled surface
Multicolored acoustic foam
Format 100 x 50 cm in various material thicknesses
flexible use, eg For sound insulation, deadening, impact sound insulation, drier decoupling, sound insu...

Art.nr.

Highly effective acoustic foil for body sound insulation

Rectangular acoustic plates (100 cm x 50 cm) with self-adhesive back
Ideal for minimizing material vibrations
Flexibly applicable in technical fields of application, e.g. Car body and vehicle cons...
Soundproofing home cinemas and hi-fi studios
Please, check out some examples of our product range of highly efficient sound absorbers for a perfect performance.


Practical Tipps
Use absorbers as thick as possible for low frequencies.
Combine plain elements with profile absorbers, such as convoluted foam or pyramid foam panels, in order to achieve balanced acoustics and an appealing design at the same time.
Please, always arrange our corner bass trap with the edge pointing into the room.
Install the absorber easily by using our pendant system or aluminium acoustic frame
If you have any questions, please, contact us at any time.
Modern HIFI technology for self-build home cinema installations and HIFI rooms often conflicts with the room acoustics of residential spaces. Reverberation and disturbing background noise reduce the listening experience, to say nothing of unwanted noise pollution for the neighbours. Nonetheless, home cinema sound insulation and home cinema soundproofing is quite simple with professional tools. If you want to improve your home cinema sound you can bring professional quality to your home theatre ambience by perfectly matching the positioning of the room's loudspeakers, sound and seating position.
With purposeful soundproofing you can improve HIFI room acoustics and home cinema acoustics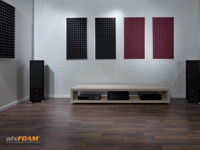 Installing loudspeakers in a home cinema on speaker stands or on the floor may promptly mean a booming sound and a vibrating bass. The sound in your home cinema from the speakers may overlap, and lead to undesired reflections that considerably impair listening pleasure. Materials considered "acoustically hard", such as concrete, glass and some smooth plastics that we find in most rooms, enhance this effect. Just a few strategically placed aixFOAM sound absorbers can help optimize the home cinema room acoustics in a home cinema room. The absorption should be done with the maximum possible bandwidth (home cinema build absorbers). Different absorbers for side walls can be combined with installing a home cinema acoustic ceiling according to the space available. Special "bass traps" in the corners particularly help counteract the "humming" in the bass: these edges absorbers improve HIFI acoustics and HIFI acoustic if placed with their tip directed towards the room.
aixFOAM acoustic foam insulates both inward and outward sound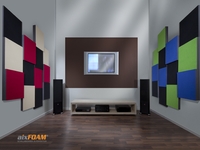 aixFOAM porous acoustic absorbers are made out of highly effective high-end acoustic foam and provide a purposeful acoustic channel. How to insulate a home cinema? The HIFI room acoustics and the HIFI high end sound insulation home cinema can be improved to your liking with sound absorbers made out of fine-pored pyramid foam, bass absorbers for low frequencies, or insulation boards. Outwardly insulating or HIFI sound insulation for a home cinema or HIFI studio is a thoroughly desirable side effect. An aixFOAM sound absorber is available in many stylish colours and diverse profiles. They unite technical perfection with high aesthetic qualities, and give you free reign when designing individual rooms. aixFOAM sound absorbers can be easily attached, thanks to modern technique like hanging installation cartridges in combination with vibration plugs. So, improve home cinema room experience movies or a concert at home with undisturbed pleasure in your high-end home cinema and improve home cinema best sound by improving HIFI sound (home cinema absorber installation).
Experiment with different home cinema absorbers and HIFI sound absorption when building a home cinema room with room acoustics HIFI and sound absorber HIFI or if you want to install a HIFI room, or if you want to optimize home cinema acoustics and improve room acoustics HIFI or let one of our experts help you to improve home cinema sound.