The aixFOAM sustainability principle
This is what we do for our environment:
Safety quality and management standards according to DIN EN ISO 9001:2015 and DIN EN ISO 14001:2015 for more environmental safety
Responsible use of natural resource
Waste and recycling concept
Optimization of transportation and packaging
Working climate-efficiently and expansion of sustainable mobility and energy solutions
Environmental safety
Environmental safety begins with the prevention and the containment of potential sources of danger. For this reason, we rely on modern production facilities that are constantly updated to the latest state of technology. In addition to this, we have an environmental management system that is certified according to the international safety and management standards of ISO 14001. Regular safety briefings for all employees and the training of in-house fire assistants reduce the risk in the event of an emergency.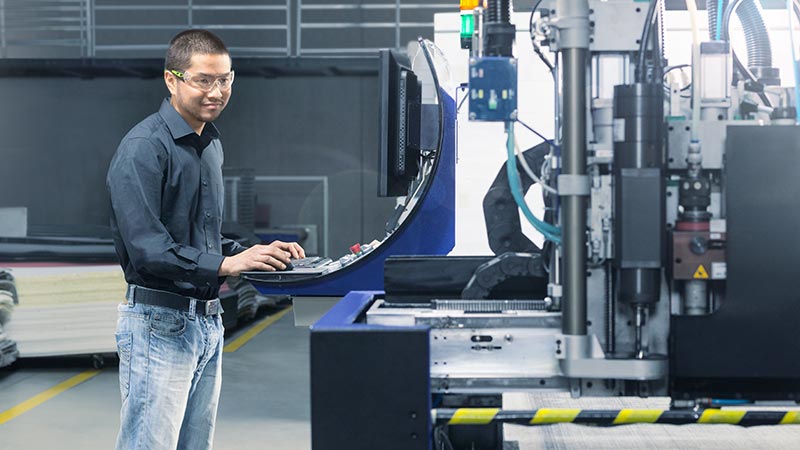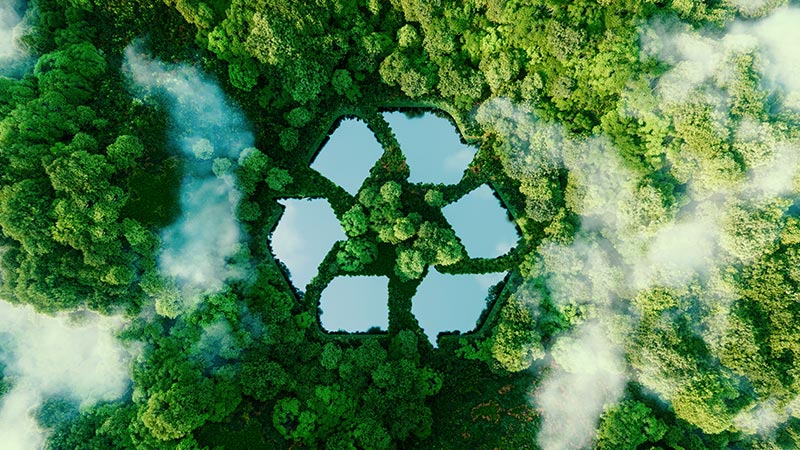 Energy and resource conservation
aixFOAM absorbers are manufactured to order and therefore optimized in terms of material and waste. By bundling orders, we avoid overproduction and therefore work with maximally efficiently.
The continuous expansion of our machinery, the optimization of our products and the training of our employees ensure a reduction in material and energy consumption. Our quality management (DIN EN ISO 9001) guarantees a minimum error rate and almost completely avoids faulty production.
Our disposal concept aims at consistent waste avoidance. To encourage an internal material cycle, our recyclable material residues are always preferably returned to our suppliers.
We have largely minimized additional packaging material. Large orders are transported on reusable pallets. For major customers with recurring series requirements, we have initiated a packaging-free shuttle service with permanently usable lattice containers. Energy-efficient transport is carried out through collective pick-ups and maximum utilization of the loading capacity.
Climate protection
In addition to a mindful use of natural resources, we are constantly working on making our everyday life more climate-efficient and reducing CO emissions. Among other things, the refurbishment of our company building, the gradual switch to green electricity and the planned construction of our own solar power plant contribute to this. A separate bus stop directly outside the building and the planned expansion of electric charging stations for visitors and employees promote the connection to public transport and electromobility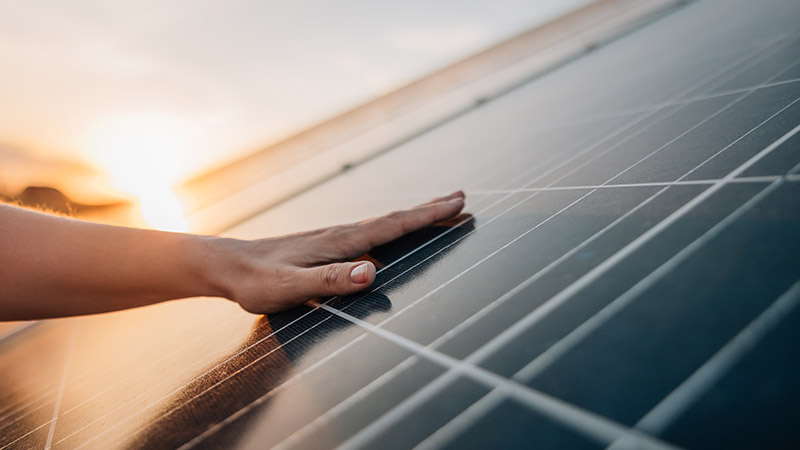 This is what we do for more sustainability:
Long-lasting products through high-quality raw materials, clever material mixes and innovative fastening options
Purchasing recyclable, certified and pollutant-free raw materials from Germany and the EU
Optimizing the sustainability along the entire product life cycle
Longevity
The sustainability of a product is determined not only by its recyclability, but also by its lifespan. In order to manufacture absorbers that are as durable as possible, we work with high-quality raw materials and clever material mixes that make the products particularly resistant to UV radiation. This ensures significantly longer color fastness and, above all, increases the aesthetic lifespan of the sound absorbers.
Surface laminations made of acoustic felt or aluminum ensure that the products are easier to clean and therefore contribute to a significantly longer durability of the sound absorbers.
Reliable and flexible fastening options guarantee that the absorbers remain in use for a long time and increase reusability.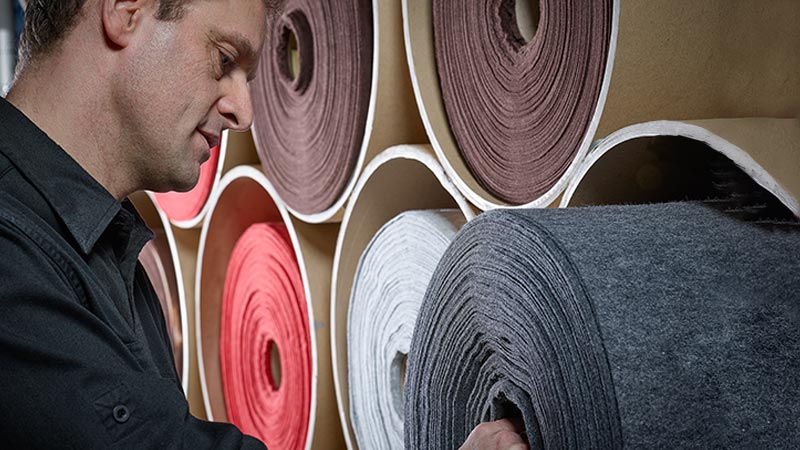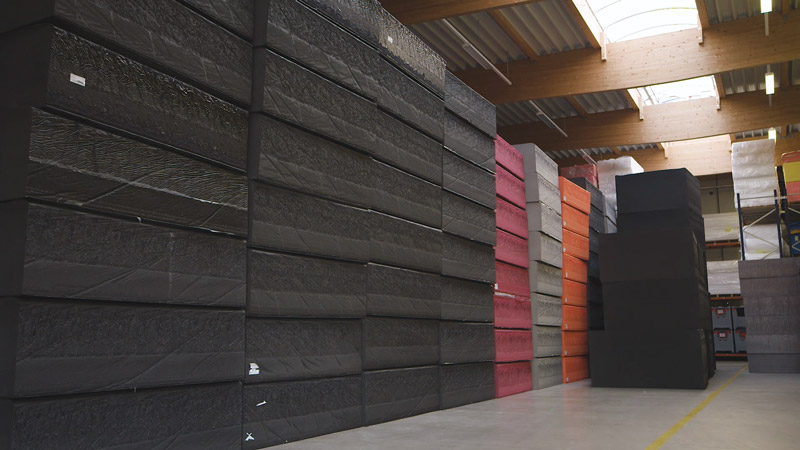 Raw materials and purchase
For our sound absorbers, we rely exclusively on certified raw materials from Germany and the EU that are as recyclable as possible. Our acoustic foams are bought in block sizes optimized for cutting and transport directly from the manufacturer. We make sure that we primarily use "OEKO-Tex®"-certified and pollutant-free (mineral fiber, CFC, etc.) materials. In addition, we prefer using products and solutions that help the digitalization our processes.
Product life cycle
We are constantly working to increase the sustainability of our products throughout their entire life cycle. To achieve this, we take a holistic approach. We are always optimizing the individual stages starting with the purchase of sustainable and certified raw materials, through to resource-saving manufacturing and energy-efficient shipping and finally responsible disposal.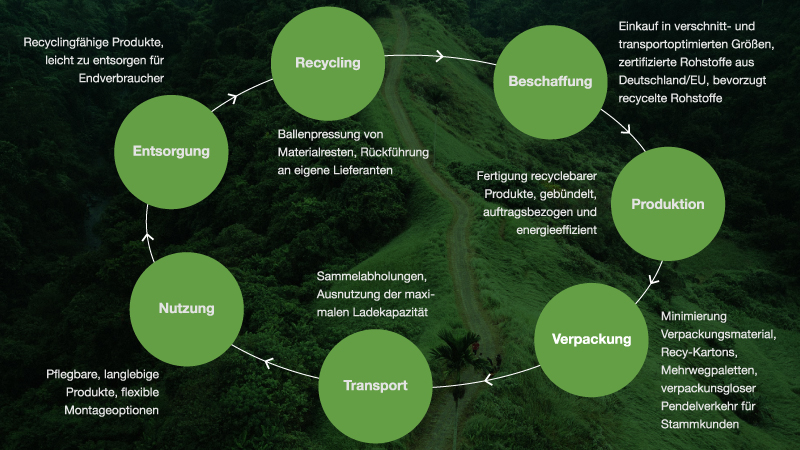 This is what we do for people inside and outside our company:
A corporate culture based on appreciation, trust, respect and reliability
Measures to promote the health and well-being of our employees
Support for social projects locally as well as internationally
Corporate culture
To ensure a successful cooperation, whether within our company or with customers and suppliers, we maintain a corporate culture based on appreciation, respect, trust and reliability.
In addition, all our employees are encouraged to contribute ideas or suggestions for more sustainability in their daily work. We believe that together and with the support and assistance of everyone can we succeed in acting in the best possible interests of our environment.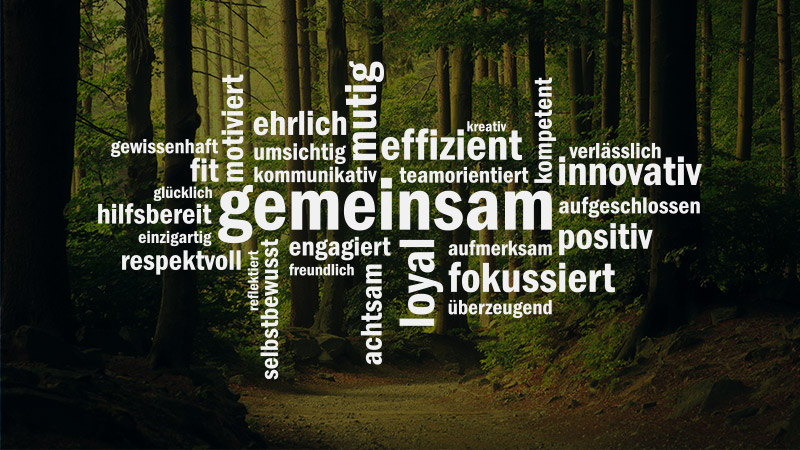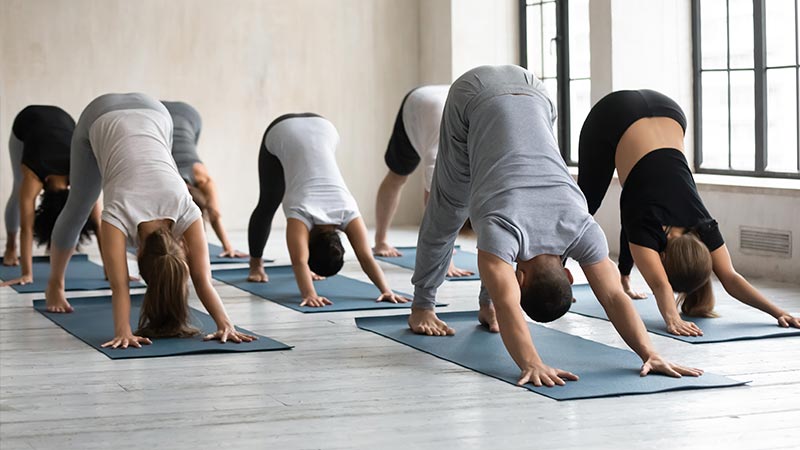 Employee development and health
Our employees have always been the foundation of our company. After all, it is only through the cooperation and help of each individual that we can operate successfully, customer-oriented and sustainably. Due to this, we particularly promote the health and satisfaction of our employees.
Modern working and protective clothing ensure the safety and well-being of our employees. Ergonomically designed workstations, an attractive break room and a recreation area outside increase the feel-good factor. Freshly squeezed fruit juice, a yoga sports group and an in-house health points program round off the health package.
Social commitment
As a company, we are not only aware of our responsibility towards the environment and our employees, but also towards the society. That is why it is particularly important to us to support charitable projects.