What is acoustic treatment?
Acoustic treatment, means an impediment to sound propagation due to the absorption of airborne sound, i.e. the range of audible signals and, above all, higher frequencies such as speech. Sound attenuation or sound absorption is the basis of room acoustics, which describes the acoustic properties of a room when the sound source is inside the room.
Acoustic treatment creates a comfortable atmosphere in the room
Acoustic treatment materials aim to improve the sound within a certain area or room. When it comes to acoustic treatment, targeted measures are used to change the ambient sound according to your needs. This can, for example, dampen the sound level or reduce the reverberation time. This contributes to the improvement of the (room) acoustics and thus decisively to the well-being in the room. In this way, distracting background noises (conversations, telephone rings, etc.) such as in open-plan offices or call centres can be minimised or the sound in the living room can be improved.
Unlike soundproofing materials (What is soundproofing?), which are intended to absorb or block incoming sound as completely as possible, acoustic treatment materials only absorb certain frequency ranges. Airborne sound is only partially absorbed and can be absorbed particularly efficiently by porous materials with a large surface area.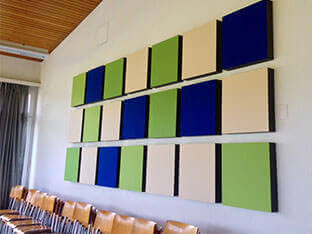 Sound absorption with FELT sound absorbers for improved room acoustics
Technology meets design
Sound absorbers use the principle of energy conversion in their function. The mechanical energy of sound (vibrations in the air) is converted into (imperceptible) heat energy in the acoustic material, so that sound is effectively minimised. The shape of the sound absorber has a significant impact on the area of ​​application and effectiveness.
In addition to the technical properties of the sound-absorbing materials, design aspects also play an important role. For this reason, we at aixFOAM have developed sound absorbers that fully meet both technical and visual requirements. For example, the FELT design absorber combines the acoustic absorption values ​​of a high-performance absorber with the high-quality look of a very fine felt surface. To improve the acoustics in a room, in addition to sound absorbers with a smooth surface, such as the SMOOD cuboid absorber, of course, aesthetically more sophisticated absorbers such as the ROWS sound absorber with a triangular profile or the MAYA sound absorber with a trapezoidal profile can also be used. Our acoustic pictures with motif print are a real eye-catcher and enhance the room both acoustically and optically equally well.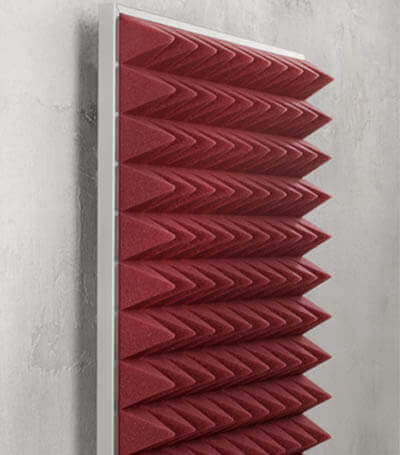 Acoustic foam with pyramid surface
Acoustic pyramid foam with solid base
Simply the best in sound suppression: Discover the GIZA, one of the most popular aixFOAM acoustic foams for sound insulation for your music or hi-fi room, or home theatre.
About the product
Your experts for better room acoustics
In addition to the shape and type of material, the strength of the sound absorber has a decisive influence on its effectiveness. Which absorber configuration is suitable for your application depends heavily on the given circumstances.
We at aixFOAM are therefore happy to advise you comprehensively and help you specifically to find an optimal acoustic solution for your individual needs. All of our acoustic elements made of foam with the corresponding degrees of absorption are available for selection in our aixFOAM shop in the corresponding application area. Visit us!
Infobox
Acoustic treatment or sound absorption describes the improvement of room acoustics. Acoustic treatment materials are used to specifically change the acoustics according to your own wishes, e.g. reduce sound levels or reduce reverberation times.
Quality and service
We at aixFOAM attach great importance to the high-quality processing of our acoustic foams, as the absorbers are usually visibly installed in the room and have an optical effect in addition to the acoustic one. Compared to other conventional foams, aixFOAM acoustic foam is optimised against yellowing or is even completely UV-resistant.
Need help?

Call us or send us an email. Together we'll find the right acoustic solution via a free consultation with our specialist planners.
+49 2403 / 83830 - 22
Monday to Friday
08:00 o'clock untill 17:00 o'clock
sales@aixfoam.com
Daily, 24 hours a day
aixFOAM shop
Visit our aixFOAM store and find your suitable sound insulation: less noise and better acoustics with sound absorbers directly from the manufacturer.
Find your sound insulation