Soundproofing not only for washing machines
Noisy washing machines often cause disputes with neighbours in apartment buildings. The reason: The spinning of the washing machine creates vibrations. These migrate as structure-borne sound into walls and ceilings and are thus transferred to adjoining rooms and apartments. There they are converted back into airborne sound, delivered to the room and perceptible as disturbing noise. In addition, washing machines are usually installed in rooms that naturally absorb hardly any sound, such as the bathroom or the kitchen. Smooth, hard wall surfaces and floorings made of flow or laminate reflect the sound and enhance the vibration. As a result, it often happens that the washing machine "walks" a little by itself over time.
But it's not just washing machines that can quickly become annoying sources of noise. Other household appliances such as dryers and fitness equipment such as exercise bikes or elliptical cross trainers, as well as industrial machines, produce strong vibrations and thus noise.
To prevent this and avoid trouble with neighbours, washing machines and other vibrating machines should be soundproofed.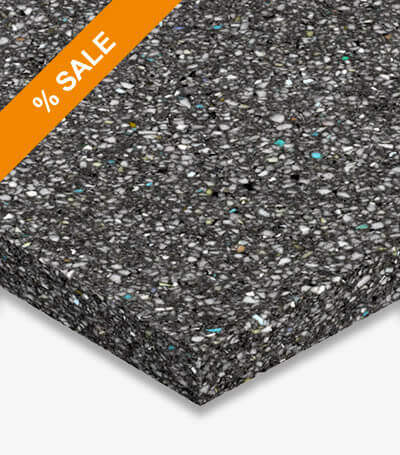 Soundproofing mat for your washing machine
Acoustic heavy foam for suppression of vibrations and structure-borne sound from machines
Discover our heavyweight sound suppression for decoupling vibrating devices from the ground. Reduces material vibrations and noise at the source.
About the product
Soundproof mats - flexible sound absorbers on vibrating machines
If, for example, you would like to prevent the washing machine from moving during the spin cycle and insulate the vibrations, it must be decoupled from the ground. The best solution is to use a sound absorption base. In practice, the aixFOAM HEAVY Duty Tec soundproofing mat in 40 or 50 mm material thickness has proven itself in the case of larger machines in the industrial or fitness sector. For washing machines in your own four walls, we recommend the HEAVY Duty-3cm or HEAVY Duty-2cm soundproofing mat from our aixFOAM sale. The insulating mat is placed under the washing machine, which prevents the machine from slipping away and effectively insulates the vibrations. In general, we also recommend placing an appropriately thick wooden board over the soundproofing mat to distribute the weight of the machine evenly. Here, a floating installation is crucial. This means that the wooden board is not fixed using adhesives etc. This allows the board to balance and absorb vibrations better. In addition, care should be taken to ensure that the wooden board does not make contact with the floor and the surrounding walls.
This method of sound insulation can also be used to decouple all other machinery in the home or industry which produces strong vibrations.
Anti-vibration mats made of heavy foam against sound
aixFOAM soundproofing mats are made of permanently elastic heavy foam. Heavy foam is a sound-absorbing recycled product that is pressed from various acoustic foams under high pressure and use of a special binder. This special manufacturing process means that the heavy foam remains permanently elastic, vibration-resistant, rot-resistant and highly resilient. Our high-quality aixFOAM heavy foam is also available with a surface lamination that effectively protects it from splashed fluids and dirt as a soundproofing mat.
Despite its very high durability, some basic points should be taken into account when using heavy foam as a sound absorber for machinery:
In all cases, it is essential to increase the support surface (weight distribution) by placing a wooden board or sheet metal panel under the machine. This prevents the machine from sinking into the elastic absorption core of the insulation mat.
If, for example, your washing machine continues to make loud noises after decoupling with a sound-absorbing pad, this is probably due to its sheet metal housing. In order to reduce vibrations in a thin sheet, the weight per unit area must be increased. aixFOAM acoustic heavy foil is extremely well suited for this. This can be installed very easily by simply sticking it on. Heavy foam SH0071 is available with a self-adhesive backing and can also be glued to the heavy acoustic film as a good sound absorber, which creates a strong noise-reducing effect, which has a major influence on the motor volume of the washing machine.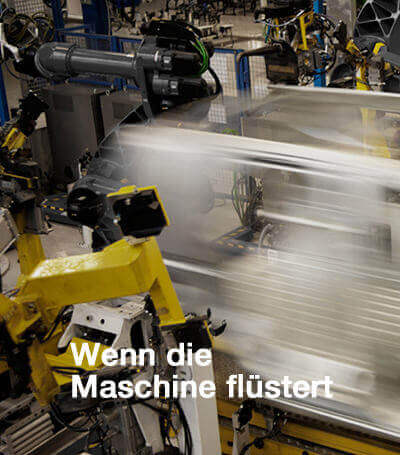 Technology against noise
aixFOAM has been developing and producing customised soundproofing since 1958
Here you'll find our soundproofing products that are particularly suitable for use with vibrating machines and heavy-duty appliances. aixFOAM sound absorbers reliably reduce noise and vibrations and combat noise effectively.
Discover soundproofing
Sound insulation of machines with aixFOAM
We would be happy to help you find the right sound insulation for the insulation of your washing machine directly in our aixFOAM shop or on our customer hotline. We are also your contact for sound insulation for other vibration-generating machines with high-quality acoustic elements made of foam.
Infobox
Washing machines, like other machines or appliances, produce relatively strong vibrations, which are transmitted as structure-borne sound through walls and ceilings into adjacent rooms and can cause noise.
Decoupling the machine
In order to avoid noise transmission, the washing machine must be decoupled from the floor. For this purpose, a base consisting of a sound absorber made of acoustic foam and a wooden plate mounted over it is suitable for evenly distributing the weight of the machine.
High-quality foams for sound insulation
aixFOAM sound absorbers are available in different material thicknesses and with coated surfaces. They insulate sound, reduce vibrations and are extremely robust against oils and other fluids. Our acoustic foams are perfect for sound insulation of any machine.
Need help?

Call us or send us an email. Together we'll find the right acoustic solution via a free consultation with our specialist planners.
+49 2403 / 83830 - 22
Monday to Friday
08:00 o'clock untill 17:00 o'clock
sales@aixfoam.com
Daily, 24 hours a day
aixFOAM shop
Visit our aixFOAM store and find your suitable sound insulation: less noise and better acoustics with sound absorbers directly from the manufacturer.
Find your sound insulation