Good acoustics are particularly important in recording or sound studios. YouTuber and technology geek Dave Cryer runs one of the oldest technology YouTube channels in the UK called 'Geekanoids'. We asked him for a short statement about the improvement of the acoustics in his recording studio with the aixFOAM sound absorbers. And that's what he wrote us:
'Producing live broadcasts is quite taxing, being producer, tester, presenter, all at the same time. Lighting and video quality is of big importance to me and I have continually worked hard to upgrade my cameras and production gear on a yearly basis. Viewers can be quite forgiving if your lighting is a little off, but if your audio is bad and they can't hear you, they soon skip and move onto another video.
When I was in a different studio, aixFOAM helped out in designing all the acoustic foam requirements and placement. This helped create a very neutral sound and I was so happy with the results. I never forgot their attention to detail and how they were very invested in delivering a superb service. At the end of 2019 I moved into a new studio space and did not hesitate about getting in touch with them again. This time around we went for these marl grey colour panels that were mounted in cassettes. Wow, the difference in the audio was simply amazing.
Fast forward to 2020 and we now have another recording space, studio two, for recording extra content for the Geekanoids channel and our clients. This is quite a compact space, but has been designed to look very clean, crisp and neutral. Again, the acoustic treatment was super important, cancelling out any potential echo and allowing my microphones to sound their best. Two hanging cassettes were used, with slightly thicker 5 cm panels and they have yet again transformed the room acoustics.
I would recommend aixFOAM time and time again, their service has proved second to none on three separate occasions.'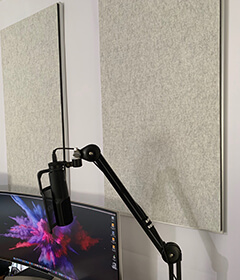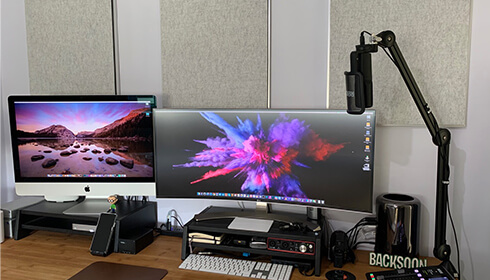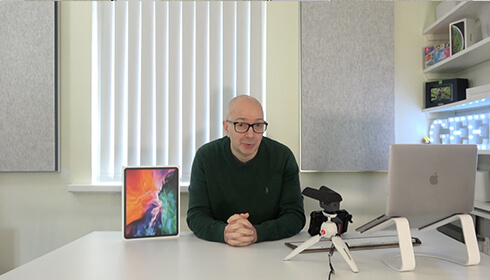 Who ist Dave Cryer?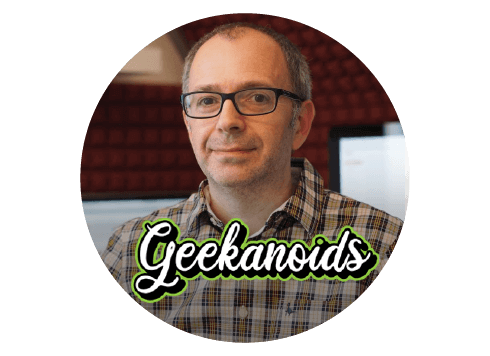 Dave runs Geekanoids, a website and YouTube channel that is one of the longest running technology channels in the UK. His vision for Geekanoids is to bring unbiased product reviews to viewers so that they can make informed buying decisions. The Geekanoids Channel brings a mix of live broadcasts and reviews of the latest products to hit the scene.