VERTICAL Industry
Floating indoor professionals
VERTICAL Industry
Floating indoor professionals
Highly effective acoustic baffles with sound insulation and Fire Protection Plus
Extra fine-pored thermoset acoustic foam for maximum sound absorption
Extraordinary heat and flame resistance according to DIN 4102 B1
Extremely low weight, chemically resistant
Available in white-grey and titanium grey
Suitable for various applications in industry, e.g., for hall insulation, workshop insulation, sound insulation in the production, etc.
Ready configured? Continue here
We will send you a binding quote asap.
Acoustic baffles industry VERTICAL Industry – Hanging element with flame proofing plus
Vertically hanging sound absorbers made from duromer acoustic foam
Highly effective sound insulation and echo reduction
Low weight and extraordinary heat and flame resistance according to fire protection class DIN 4102 B1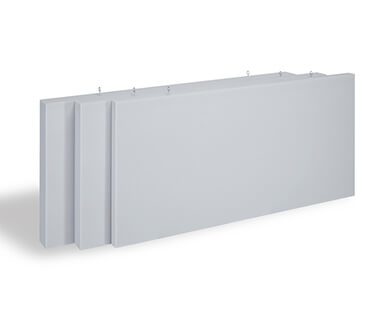 Product data
Format, surface
Rectangular plate: 100 x 62.5 cm (only in white grey), 125 x 62.5 cm, 125 x 41 cm
Material thicknesses
5 cm, 8 cm, 9,6 cm
Material
Thermoset acoustic foam
Colours
White-grey, titanium grey
Fire classes
DIN 4102 B1
More information about the fire classes of our sound absorbers is available the relevant aixFOAM knowledge article.
Fastening options
Metal hook for vertical hanging into the cable system
Temperatureresistance
- 200 °C to + 200 °C
Thermal conductivity
0,032 – 0,038 W/mK
UV-resistance
Maximum UV resistance, does not yellow
Harmful substance information
Certified according to Eco-Tex Standard 100 as not harmful to health, mineral-fibre free, CFC-free, propellant-free
Property right
Protected product, property right no. 20 2014 101 264
Tolerance
This high quality acoustic product is made on our precision machinery according to DIN 7715 Part 5 P3.
In the production (foaming) of this acoustic material different sized pores (voids) can arise. Voids are typical for the material, do not represent a quality defect and do not affect the acoustic properties of the absorber.
Recommended accessories
More information about this product is available, if required, in the accompanying datasheet. We are happy to provide you with this upon request.
For those who expect more - aixFOAM Premium sound absorbers
Our sound absorbers made of thermoset acoustic foam are the ideal solution for rooms with particularly high soundproofing and fire protection requirements. They owe their unsurpassed acoustic properties to the extremely fine, open pore structure that almost completely absorbs sound. They are flame retardant without the addition of flame retardants and thus meet many regulations to ensure fire safety in public buildings.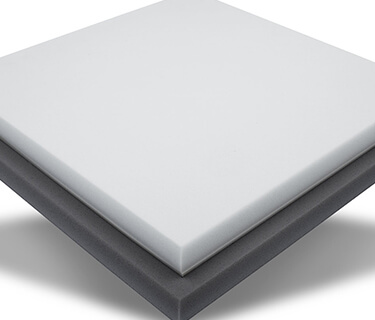 Maximum sound absorption
Flame retardant according to DIN 4102 B1
Form-stable and colour-fast – no yellowing!
Very low weight
Antistatic, fibre-free and elastic
Absorption values
The measurements of the sound absorption coefficient were determined according to DIN EN ISO 354 (reverberation room) and refer to an absorber area of 100 cm x 50 cm.
Sound absorption coefficients for VERTICAL Industry in white-grey

Frequency
range

Height
5 cm

Height
8 cm

Height
9,6 cm
125 Hz
0,12
0,16
0,19
250 Hz
0,49
0,82
0,91
500 Hz
0,90
1,00
1,02
1000 Hz
1,00
0,99
1,02
2000 Hz
1,03
1,04
1,08
4000 Hz
1,00
1,06
1,07
Sound absorption coefficients for VERTICAL Industry in titanium-grey

Frequency
range

Height
5 cm

Height
8 cm

Height
9,6 cm
125 Hz
0,18
0,26
0,30
250 Hz
0,47
0,71
0,77
500 Hz
0,75
0,93
0,97
1000 Hz
0,87
0,97
1,03
2000 Hz
0,95
1,01
1,07
4000 Hz
0,98
1,02
1,08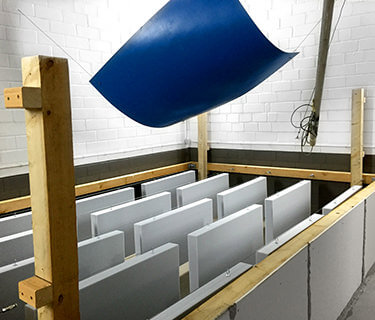 Our aixFOAM sound absorbers have been tested for Hertz and pores in the reverberation chamber of renowned institutions. The sound absorption coefficients according to DIN EN ISO 354 (reverberation chamber) stated above were calculated in extensive measurements.
Profit from sound insulation directly from the manufacturer!
At aixFOAM we make sound insulation for applications in room acoustics and technical acoustics. And because we do this particularly well, we have been doing it for 60 years. Over this time we have been constantly working on the further development of our products and therefore are able to offer you highly effective sound absorbers in a modern design.
Our aixFOAM philosophy: We combine customer-oriented advice with the individual, needs-based production of sound insulation solutions. Or in other words: We help you with free advice to find the ideal sound insulation for your project and start to make your absorbers directly after receiving your order. You then receive your sound insulation directly from the factory – naturally in the best quality.
Use of high quality acoustic foams from Germany
Precision manufacturing on the latest CNC cutting machines and systems
Standard solutions or individual small and series manufacturing of noise insulation
Advice, planning, production and brokering of assembly partners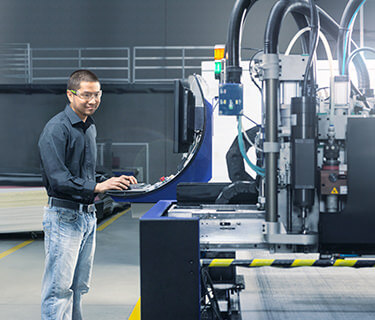 Brand quality
from the manufacturer
"Made in Germany"
Production
for you, individually
in a few days
Experience
for 60 years
soundproofing experts
Award
ISO 9001:2015 certified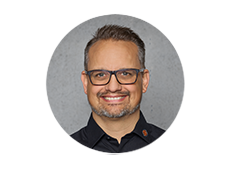 'The hanging sound absorbers VERTICAL Industry have a very strong sound-dampening effect and are used above all in large halls. They reduce noise and reverberation here. Thanks to the practical cable system for assembly, the absorbers can be installed particularly flexibly.'
Holger Thoma, customer advisor
We are here for you!
Do you need help or do you have any questions about the product?
Use our help area with brief answers to the most frequently asked questions from our customers.
Of course we are happy to help you with advice, free of charge.
+49 2403 / 83830 - 22
Monday to Friday
08:00 o'clock to 17:00 o'clock
sales@aixfoam.com
Daily from 00.00 – 24.00 o'clock
Impressions?
This is where you can find some application pictures of our sound absorber VERTICAL Industry.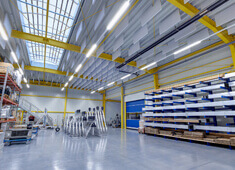 View images