BLACK Tec
The strong black one
BLACK Tec
The strong black one
Acoustic panel with robust textile surface
Rectangular panel (100 cm x 50 cm) with robust textile surface lamination
Textile colour black / absorption foam in anthracite
Suitable for use in, e.g. machine production, claddings, cabins
Ready configured? Continue here
*
incl. VAT
excl. Shipping
Acoustic panel with robust textile surface BLACK Tec – The strong black panel against sound
Sound absorber with dirt-repellent, visually attractive felt surface and anthracite-coloured acoustic core
High sound absorption even with small material thicknesses, easy to fit and work
Ideal for individual contour cuts and special shapes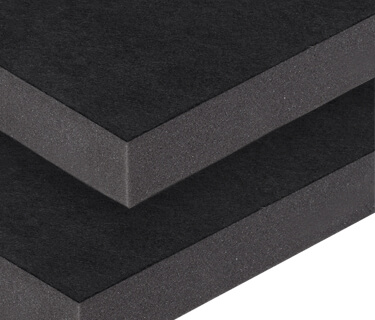 Product data
Format, surface
Rectangular panel (100 x 50 cm), acoustic foam core with felt surface
Material thicknesses
2 cm, 3 cm, 4 cm, 5 cm, 8 cm
Special sizes
Cuts, punched parts, special sizes possible upon request
Material
Open-cell PUR acoustic foam with acoustic felt lamination
Colours
Acoustic core in anthracite
Felt colour: black
Fire classes
PUR-E (without flame protection), PUR-E+ (FMVSS302), PUR-E++ (DIN 4102 B2) (only with aixFOAM STICKY kit)
More information about the fire classes of our sound absorbers is available the relevant aixFOAM knowledge article.
Fastening options
Without, STICKY (Makes your aixFOAM self-adhesive)
Lamination options
Laminated with
FLEXO
for even more effective insulation of structure-borne sound and sound absorption in the low frequency range
Temperatureresistance
- 40 °C to + 100 °C
Thermal conductivity
0,033 W/mK – DIN 52612
Harmful substance information
Mineral fibre free
Tolerance
This high quality acoustic product is made on our precision machinery according to DIN 7715 Part 5 P3.
More information about this product is available, if required, in the accompanying datasheet. We are happy to provide you with this upon request.
Absorption values
The measurements of the absorption coefficient were performed on PUR-ES acoustic foams from RWTH Aachen. All values refer to absorbers with a size of 100 cm x 50 cm and were calculated according to DIN 52212.

Frequency
range

Height
3 cm

Height
5 cm

Height
8 cm
125 Hz
0,10
0,17
0,23
250 Hz
0,50
0,73
0,75
500 Hz
0,78
0,71
0,73
1000 Hz
0,63
0,59
0,64
2000 Hz
0,49
0,57
0,59
4000 Hz
0,53
0,45
0,70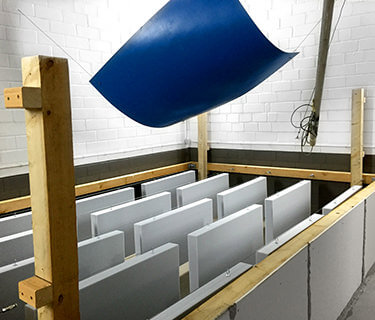 Our aixFOAM sound absorbers have been tested for Hertz and pores in the reverberation chamber of renowned institutions such as RWTH University or the Technical University in Aachen. The sound absorption coefficients according to DIN 52212 stated above were calculated in extensive measurements.
Profit from sound insulation directly from the manufacturer!
At aixFOAM we make sound insulation for applications in room acoustics and technical acoustics. And because we do this particularly well, we have been doing it for 60 years. Over this time we have been constantly working on the further development of our products and therefore are able to offer you highly effective sound absorbers in a modern design.
Our aixFOAM philosophy: We combine customer-oriented advice with the individual, needs-based production of sound insulation solutions. Or in other words: We help you with free advice to find the ideal sound insulation for your project and start to make your absorbers directly after receiving your order. You then receive your sound insulation directly from the factory – naturally in the best quality.
Use of high quality acoustic foams from Germany
Precision manufacturing on the latest CNC cutting machines and systems
Standard solutions or individual small and series manufacturing of noise insulation
Advice, planning, production and brokering of assembly partners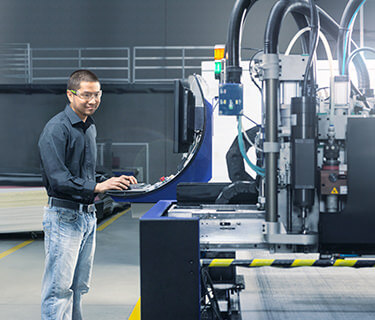 Brand quality
from the manufacturer
"Made in Germany"
Production
for you, individually
in a few days
Experience
for 60 years
soundproofing experts
Award
ISO 9001:2015 certified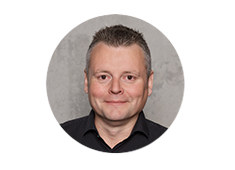 'As a broadband absorber, BLACK Tec covers a broad frequency range. In challenging environments in particular, such as machine rooms with generators or heating systems, the absorber ensures there is little noise thanks to its robust, dirt-repellent felt surface. It is easy to work and is excellent for individual contour cuts.'
Manuel Buschmann, customer advisor
We are here for you!
Do you need help or do you have any questions about the product?
Use our help area with brief answers to the most frequently asked questions from our customers.
Of course we are happy to help you with advice, free of charge.
+49 2403 / 83830 - 22
Monday to Friday
08:00 o'clock to 17:00 o'clock
sales@aixfoam.com
Daily from 00.00 – 24.00 o'clock
Impressions?
This is where you can find some application pictures of our sound absorber BLACK Tec.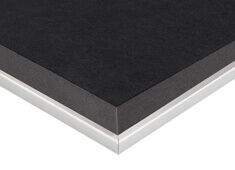 View images