Cuboid acoustic element with rounded edges
Sound reduction in a cube
#SH004
Cuboid acoustic element with rounded edges
Sound reduction in a cube #SH004
Square sound absorbers with rounded edges
As sound absorber made of open-cell PUR acoustic foam (anthracite, steel grey, raspberry red, orange)
As premium sound absorber made of extra fine-pored thermoset acoustic foam for maximum sound absorption (white-grey, titanium grey)
Optionally extraordinarily heat and flame resistant according to fire protection class DIN 4102 B1 (white-grey, titanium grey)
Format 50 x 50 cm in various material thicknesses
Can be used, for example, for sound insulation in studios, offices, living rooms, HiFi rooms, rehearsal rooms
Ready configured? Continue here
*
incl. VAT
excl. Shipping
Sound absorber SH004 – Sound reduction²
The perfect element for a creative and varied room design
Optionally with fire protection class DIN 4102 B1
High sound absorption even with small material thickness
Ideal for use both for sound insulation and soundproofing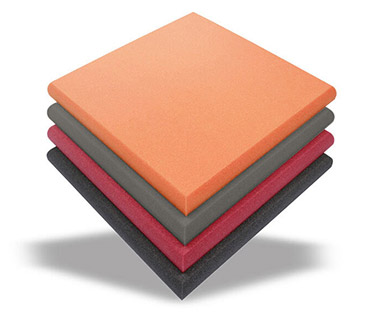 Product data
Format, surface
Square panel (50 cm x 50 cm), flat surface, rounded edges
Material thicknesses
3 cm, 4 cm, 5 cm, 6 cm, 8 cm, material thickness depends on colour selected
Material
Open-cell PUR acoustic foam (anthracite, steel grey, raspberry red, orange)
Thermoset acoustic foam (white-grey, titanium grey)
Colours
Anthracite, steel grey, raspberry red, orange, white-grey, titanium grey
Fire classes
Without, UL 94 HF 1, FMVSS 302 (DIN 75200), FAR 25.853, DIN 4102 B1, fire class depends on colour selected
More information about the fire classes of our sound absorbers is available the relevant aixFOAM knowledge article.
Fastening options
Assembly recommendation
Laying with or without shadow joint possible
More information about this is available in our relevant aixFOAM knowledge article about the subject "What is a shadow joint?".
Temperatureresistance
PUR: - 40 °C to + 100 °C
Thermoset: - 200 °C to + 200 °C
UV-resistance
PUR: UV protection against yellowing thanks to UV blocker additive
Thermoset: Maximum UV resistance, does not yellow
For further information, please refer to our matching aixFOAM knowledge article (German) on the topic of "Light ageing - UV yellowing protection".
Harmful substance information
PUR: Mineral fibre free, CFC-free
Thermoset: Certified according to Eco-Tex Standard 100 as not harmful to health, mineral-fibre free, CFC-free, propellant-free
Tolerance
This high quality acoustic product is made on our precision machinery according to DIN 7715 Part 5 P3.
In the production (foaming) of this acoustic material different sized pores (voids) can arise. Voids are typical for the material, do not represent a quality defect and do not affect the acoustic properties of the absorber.
More information about this product is available, if required, in the accompanying datasheet. We are happy to provide you with this upon request.
For those who expect more - aixFOAM Premium sound absorbers
Our sound absorbers made of thermoset acoustic foam are the ideal solution for rooms with particularly high soundproofing and fire protection requirements. They owe their unsurpassed acoustic properties to the extremely fine, open pore structure that almost completely absorbs sound. They are flame retardant without the addition of flame retardants and thus meet many regulations to ensure fire safety in public buildings.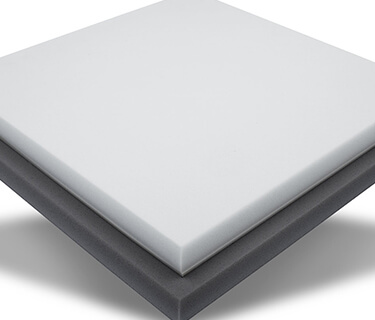 Maximum sound absorption
Flame retardant according to DIN 4102 B1
Form-stable and colour-fast – no yellowing!
Very low weight
Antistatic, fibre-free and elastic
Absorption values thermoset-absorbers
The measurements of the sound absorption coefficient were determined according to DIN EN ISO 354 (reverberation room) and refer to an absorber area of 100 cm x 50 cm.
Sound absorption coefficients for SH004 in white-grey

Frequency
range

Height
4 cm

Height
6 cm

Height
8 cm
125 Hz
0,10
0,14
0,16
250 Hz
0,37
0,60
0,82
500 Hz
0,85
0,92
1,00
1000 Hz
0,89
1,00
0,99
2000 Hz
0,94
1,03
1,04
4000 Hz
1,01
1,02
1,06
Sound absorption coefficients for SH004 in titanium-grey

Frequency
range

Height
4 cm

Height
6 cm

Height
8 cm
125 Hz
0,14
0,20
0,26
250 Hz
0,31
0,51
0,71
500 Hz
0,57
0,77
0,93
1000 Hz
0,76
0,89
0,97
2000 Hz
0,85
0,97
1,01
4000 Hz
0,90
0,97
1,02