aixFOAM Drum kit insulation set - for decoupling and insulation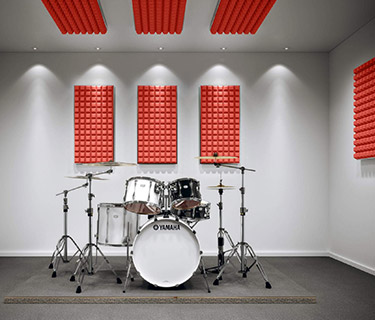 Product data
Contents
Basic set consists of:
Comfort set consists of:
Premium set consists of:

Format/ surface
SH007: Rectangular panel with flat surface, 100 cm x 50 cm SH002: Rectangular panel with pimpled profile, 100 cm x 50 cm SH005: Rectangular panel with trapezoidal profile, 100 cm x 50 cm
Material
SH002/ SH005: Open-cell PUR acoustic foam SH007: multi-coloured mottled
Colours
SH007: multi-coloured mottled SH002 Basic Set: Anthracite SH005 Comfort - & Premium Set: Anthracite, light grey, raspberry red, orange
Fire classes
SH007: FMVSS 302 (DIN 75200) SH002/ SH005: UL 94 HF 1, fire class depends on colour choice More information about the fire classes of our sound absorbers is available the relevant

aixFOAM knowledge article (German)

.
Fastening options
Basic & Comfort set: Self-adhesive kit Premium set: SH007 with self-adhesive equipment, SH005 in

mounting/hanging cassette

with

vibratory plugs

for attaching to wall or ceiling
Assembly recommendation
In order to decouple the drumset from the floor, the heavy foam panels should be laid out on the floor and covered with a stable wooden plate, so that a small platform for the drumset is created. The platform should not come into contact with the walls.
Temperature­resistance
- 40 °C to + 100 °C
Harmful substance information
Mineral fibre free
Tolerance
This high quality acoustic product is made on our precision machinery according to DIN 7715 Part 5 P3.
More information about this product is available, if required, in the accompanying datasheet. We are happy to provide you with this upon request.
Absorption values
The measurements of the absorption coefficient were performed on polyester acoustic foams from RWTH Aachen. All values refer to absorbers with a size of 100 cm x 50 cm and were calculated according to DIN 52212.
Absorption values for SH007 heavy foam panels, SH002 nubbed foam and SH005 trapezoidal absorber

Frequency
range

SH007
5 cm

SH002
4 cm

SH005
6,5 cm
125 Hz
0,36
0,11
0,11
250 Hz
0,98
0,32
0,49
500 Hz
1,15
0,63
0,91
1000 Hz
1,01
0,90
0,97
2000 Hz
1,03
0,91
0,92
4000 Hz
0,87
0,95
0,88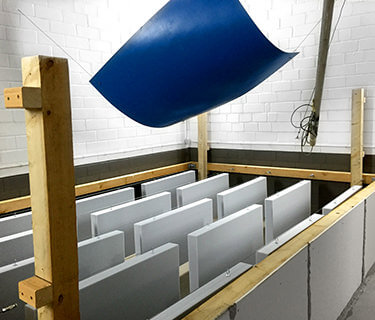 Profit from sound insulation directly from the manufacturer!
At aixFOAM we make sound insulation for applications in room acoustics and technical acoustics. And because we do this particularly well, we have been doing it for 60 years. Over this time we have been constantly working on the further development of our products and therefore are able to offer you highly effective sound absorbers in a modern design.
Our aixFOAM philosophy: We combine customer-oriented advice with the individual, needs-based production of sound insulation solutions. Or in other words: We help you with free advice to find the ideal sound insulation for your project and start to make your absorbers directly after receiving your order. You then receive your sound insulation directly from the factory – naturally in the best quality.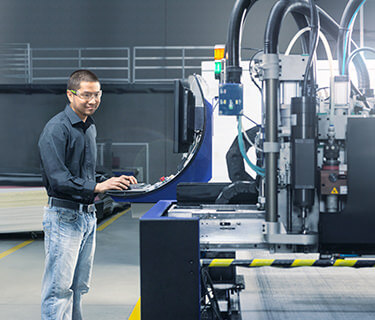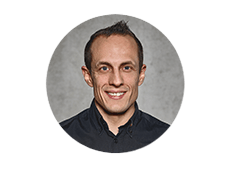 "Unlike other instruments, a drum kit requires special attention during soundproofing. Our aixFOAM drum kit insulation sets are ideal for effectively decoupling drums from the floor and attenuating noise, reducing sound transmission to adjacent rooms. You'll have no trouble with the neighbours."
Thomas Stollenwerk, customer advisor
Do you need help or do you have any questions about the product?
Use our help area with brief answers to the most frequently asked questions from our customers.
Of course we are happy to help you with advice, free of charge.
+49 2403 / 83830 - 22
Monday to Friday
08:00 hours to 17:00 hours
sales@aixfoam.com
Daily from 00.00 – 24.00 hours