Art.nr.

Acoustic convoluted foam for industrial sound protection

Industry standard for noise reducing foam
Rectangular plate (100 cm x 50 cm) with convoluted profile ("egg crate pattern")
Colour: anthracite
Versatile, e.g. For machine housings, motors, electroni...

starting at

Price per package unit
incl. 19% VAT

Art.nr.

Flexible flat sound insulation mats

Rectangular plate (100 cm x 50 cm) with flat surface
Breitbandabsorber
Colour: anthracite
Suitable for sound absorption. In the fields of mechanical engineering, vehicle construction, machine housings

...

starting at

Price per package unit
incl. 19% VAT

Art.nr.

Effective acoustic absorber with trapezoidal structure and solid basic strength

Rectangular sound absorber (100 cm x 50 cm) with trapezoidal profile
Available in anthracite
Flexible, e.g. For machine housings, server cabinets, machine rooms, server room...

starting at

Price per package unit
incl. 19% VAT

Art.nr.

Highly effective acoustic foil for body sound insulation

Rectangular acoustic plates (100 cm x 50 cm) with self-adhesive back
Ideal for minimizing material vibrations
Flexibly applicable in technical fields of application, e.g. Car body and vehicle cons...

starting at

Price per package unit
incl. 19% VAT

Even more choices?

Higher fire protection, more design, printable elements and much more can be found in our ARCHITECT LINE.
Art.nr.

Highly effective acoustic foam with trapezoidal profile in duromatic acoustic foam

Rectangular plate (100 cm x 50 cm) with homogeneously porous surface with trapezoidal profile
Extraordinary heat and flame resistance according to fire protection class ...

Art.nr.

Highly effective sound insulation with duromere acoustic foam

Rectangular plate (100 cm x 50 cm) with homogeneously porous surface
Extraordinary heat and / or flame resistance according to DIN4102 B1 (without acoustic heavy foil lamination)
Chemically r...

Art.nr.

Highly effective convoluted foam made from duromere acoustic foam

Rectangular acoustic plate (100 cm x 50 cm) with homogeneously porous surface with knurled profile
Exceptional heat and flammability according to fire protection class DIN4102 B1 (withou...

Even more choices?

Felt-laminated acoustic elements, classic acoustic foams and much more can be found in our CLASSIC LINE.
Sound insulation for server, computer or PC
Life has become unimaginable without them: Computers or servers support us in almost every task, both at work and in our free time. Despite all the advantages that modern computers give us, they can still become genuine noise makers.
Why are computers or servers frequently loud?
Noise from fans, processors and other components
Computers, PCs and servers perform genuine wonders in the shortest time. In just a few seconds, they master complex enquiries and computation processes, but the devices can quickly achieve temperatures of up to 100°C when running at full load. In order to reduce the resulting dangers and to cool the hot running hard drives and processors, powerful fans and coolers are needed. The drawback of these components: They frequently generate disturbing noises. The light metal and plastic casings of the devices quickly start to vibrate as a result of the fans, which make themselves noticeable as unpleasant vibrations or humming. Together with the typical clattering of processors, hard drives or disk drives, this creates noise.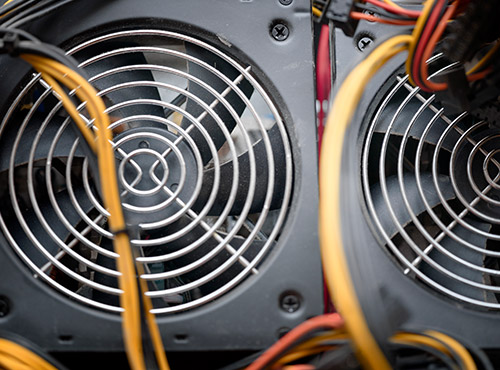 Reverberation and poor acoustics in the server room
The hard materials typically used in server rooms, such as stone, glass or metal, frequently also amplify the operating noises of the equipment by reflecting the noise of the fans or processors. Without dampening, the noises get louder and generate a volume in the server room, which can strongly impair work in particular in neighbouring offices or other rooms. Retrofitting soundproofing to walls or ceilings is the only way to reduce the sound level here.
How does sound insulation in the server room or on the computer or PC work?
There are two methods for reducing noise from the server or computer. Firstly, the server room can be soundproofed, and secondly it is possible to insulate individual computers.
Sound insulation on the PC and computer
Just like numerous other office devices, an individual PC can be loud and have a bad influence on the working climate in the office or well-being at home. Apart from measures such as replacing the old fan with a quieter model, soundproofing the casing can also ensure more peace.
For example, in order to reduce the vibrations of the casing, the thin metal or plastic material should be strengthened. Our wafer-thin and very flexible anti-drumming mats are suitable for this. It can easily be cut and worked to the right size. Porous sound absorbers can also be applied as dampening to the inside of the casing.
But beware: When soundproofing the computer, ensure in particular that the temperature in the casing does not rise! Firstly, the heat development represents a safety risk, and secondly the fans may turn even faster in order to regulate the temperature, thereby causing more noise. Because of this the dampening would be pointless. In order to prevent overheating in the casing, sufficient ventilation should be ensured, e.g. with sufficient distance from the components inside of a separate ventilation duct. Alternatively, a casing can be built around the computer or PC and fitted with sound insulation mats.
In any case, any applicable fire protection provisions must be observed when selecting the absorbers, e.g. fire protection class DIN 4102 B1, which typically applies to public buildings. Generally, it is recommended that sound proofing mats with flame retardant properties are used on components with strong heat development. All the details about the heat and flame resistance of our aixFOAM sound absorbers can be found on the respective product pages.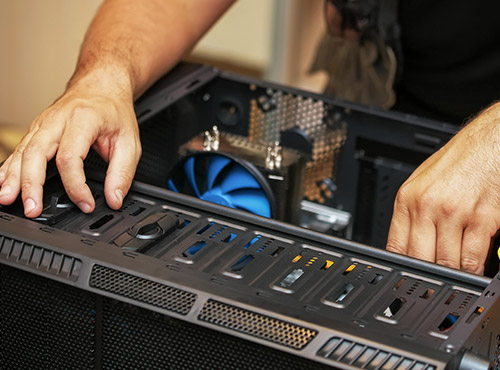 Soundproofing / sound installation in the server room
Server rooms typically contain several computers or serves that generate noise and are mostly in use 24 hours a day. In this case, sound insulation of the entire room is sensible. Especially as this almost completely rules out the danger of the devices overheating.
Depending on the intensity of the noise, it may be sufficient to insulate just one wall of the server room, e.g. if the relevant wall direct abuts the room where the noise from the server room is transmitted.
In order to prevent sound waves from hitting the wall and being transmitted to neighbouring rooms, sound insulation mats should be fitted to the walls to absorb the sound. The material thickness of the absorbers should be adjusted to the noise from the servers / computers. The more noise emitted from the devices, the greater the selected thickness of the sound insulation mats should be for effective sound absorption.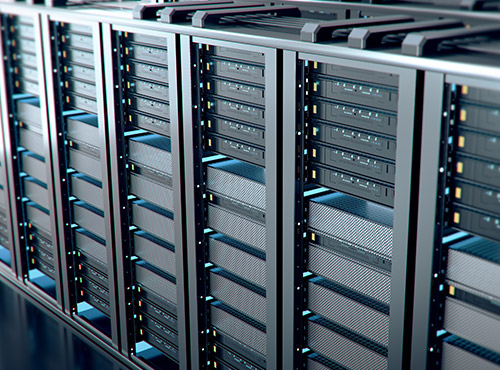 Why is aixFOAM the best solution for sound insulation for your computer or server room?
As manufacturer of high quality acoustic foam sound absorbers, we know how important but also challenging the subject of the sound insulation is for the IT area. Firstly, the noise from the devices should be minimised, secondly the performance of the sensitive technology should not suffer from the noise insulation. We have therefore developed sound absorbers, which meet these high requirements.
As a result of 60 years' experience and constant optimisations of our acoustic foams, we have succeeded in developing effective and flexible sound insulation elements, which are ideal for use on technical components. They reduce noise and are available in various fire safety classes and material thicknesses. Choose your favourites from several surface laminations or profiles. Thanks to various installation options, such as the practical self-adhesive kit, the sound absorbers can be installed particularly easily.
Now it's your turn: Get the right sound insulation for your computer, PC or server room!
Now choose the right sound insulation from our aixFOAM products for computer and server room or use our free advice service. Our experts will support you with your projects and help you find the optimum solution for your requirements.